gaba concept
Published: 23-04-2016 - Last Edited: 16-11-2022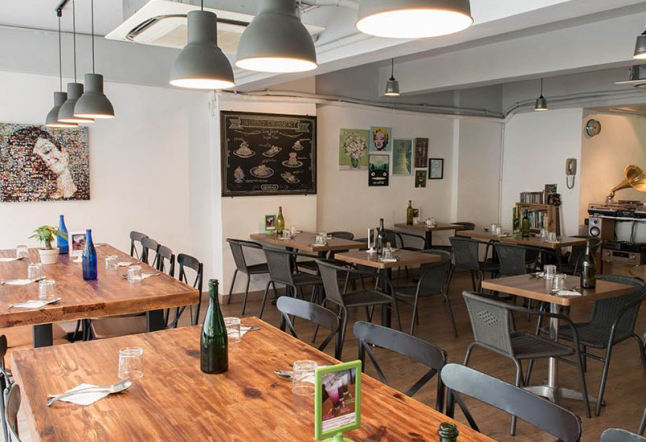 Located in an old building, on Lockhart Road, Gaba Concept is a cozy and quiet place to relax while looking at the always-busy Causeway Bay through a huge class window. The selection of dishes at this restaurant is great for health-conscious foodies. The offerings include vegetarian and dairy-free dishes, as well as desserts low in Glycemic Index (GI), sugar and fat.
GABA is an acronym for the neurotransmitter Gamma-Aminobutyric Acid, which aids in relaxation, better sleep and improved brain functions. The shop founder, Ocean, believes everyone needs a boost in their GABA levels to improve his or her overall well-being. He hopes his customers come to enjoy the savory dishes, luscious and healthy desserts, and aromatic coffee as much as to enjoy the experience of relaxation, happiness and a sense of well-being when he or she is in Gaba Concept.
Gaba Concept updates their menu from time to time, to make sure you can try out different healthy dishes when you visit. They now have a new brunch menu. You should not miss their Air Fried, hand-cut root vegi chips, served with cheese, truffle dip and beetroot dip. Who dares to say all crispy chips are junk food!
Remember to try their desserts before you leave. Ocean, who suffers from diabetes, has designed and created many low to no sugar and healthy–yet amazingly delicious–desserts for his customers. Gaba Concept makes its own low GI ice cream in-house to satisfy the sweet tooth with diet restriction. They also feature sweet potatoes in some of their desserts and special drinks. The purple sweet potato cheesecake with homemade raspberry ice cream is all I need after a long week!
What are you waiting for? Ask your friends out and enjoy a guilt-free afternoon at Gaba Concept this weekend!
Read next >> linguini fini