danu satu ionic nebulizing aromatherapy diffuser
Published: 18-04-2018 - Last Edited: 28-09-2022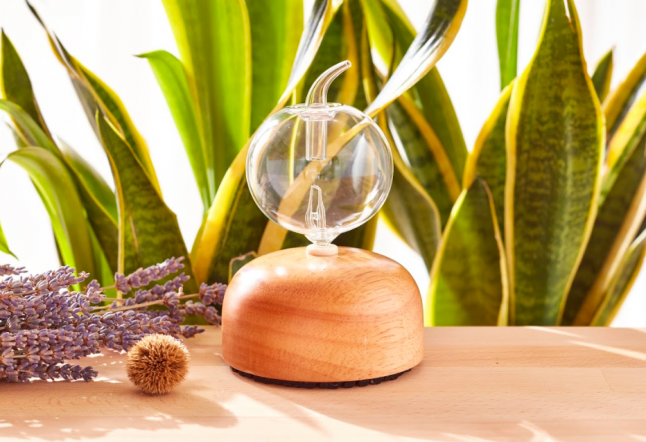 the perfect way to bring aromatherapy home
There is something invigorating about walking into a room where the air is filled with the soothing scent of essential oils. One of the most effective ways to fill any space with your favorite aroma is to use a diffuser.
The Danau Satu is a deluxe nebulizing personal diffuser that instantly turns natural oils into a fine spray. Its scented mist fragrances parched air to quickly become therapeutic, energized or relaxed.
Its quiet, compact and efficient design allows it to fit perfectly into subtle spaces. Unlike other diffusers that are tall and imposing, this one sits low on a hand-made wooden base with a delicate crystal clear top. A soft glowing mood light lets you know when it's working, while adding ambient lighting to the room. It's a great looking natural décor piece for your home.
Not only is this smart bit of equipment easy to set up and clean, but no water tank is needed with this device. This means just a few drops of your favorite oil will go a long way without it being diluted or constantly refilled. It features a fully adjustable dial so you can fine-tune mist intensity to your liking. The diffuser automatically runs for 2 minutes then pauses for 1 minute, allowing it to fill any space with your favorite scent quickly without becoming overpowering.
Furthermore, it has a low energy cycle with a 120 minute auto shut off, so you don't have to worry about it running dry. It comes with an extended USB charger giving you the flexibility to use and display it with space.
Pure essential oils are best used for this device. Thicker oils and synthetic perfumes can clog diffuser nozzles and make them harder to clean. 'Utama Spice Essential Oils' are free from impurities and solids, and are available to order with this diffuser so you will have the perfect aromatherapy kit at home.
This diffuser innovatively blends abundant aromas with beautiful aesthetics and functionality. We have loved having it close by on our workdesks here at YOGI TIMES.
More on Utama Spice products here
Watch a useful how to video of the diffuser below.
You might also like to learn about aromatherapy yoga mat cleanser.