bisma eight
Published: 11-06-2015 - Last Edited: 24-10-2022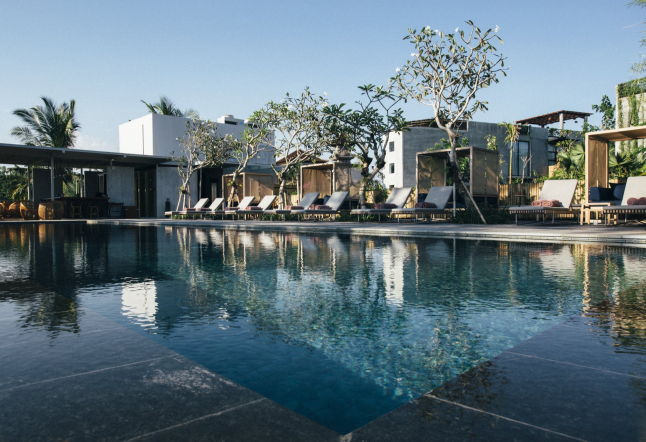 If you're looking for a cool, stylish, hip, tropical modern boutique hotel in Ubud, look no further. I can say with confidence, you won't be disappointed. 
This is the kind of boutique hotel you would usually find in NY or San Francisco, so finding it in Ubud is a pleasant surprise. 
Coming up the brick road that leads to the hotel is a bit third world but the unassuming location is actually quite nice considering its walking distance from the hustle & bustle of the Ubud village turned recently city, yet super zen & quiet.
When arriving, expect to be greeted by the gracious staff in true balinese style. The lobby sets the tone for your stay in the entry way, where you are given a traditional balinese offering and invited to set it at the feet of a majestic Ganesh statue for protection & good luck. This small but mindful detail is one of the many you'll appreciate about this refined boutique hotel.
The eclectic "Library Cafe" is stacked with books and magazines galore if you fancy a bit of entertainment, or just need to do some quiet biz indoors while sipping on one of their specialty coffees or teas. On the way to your room you'll pass the small but "best" workout  gym in Ubud. They spared no expense when furnishing it with state of the art equipment. And there's a particular dessert at the restaurant (The Copper Kitchen & Bar) that will make you run to the gym after eating it because chances are you'll want more than one serving. Read on to get dessert details… 
All 38 rooms are SUITES.. yes "suites only" with a full living room equipped with small dining area, comfortable sleeper sofa and flat screen TV. You'll almost feel at home until you step into the bedroom and try the bed. Ahhhhhh, now you're home! There's nothing like a hotel with luxurious beds. You'll want to sleep in all morning no matter what your plans are. The bathrooms are fully loaded with all amenities and a cool little addition: a deep wooden japanese-style soaking tub. How whimsical indeed!  
After staying here just a few days, there's a chance you won't want to leave, especially after you've taken a trip down to what I call "The pool with the view". Bathing in the infinity pool will bring you that deep sigh of relief you take when you finally 
realize " Yes! I'm on vacation." Enjoy drinks & food alongside the pool at the pool bar or have anything you like brought to your own private cabana. 
When you're ready for a proper meal you'll have the perfect excuse to stay in. The Copper Kitchen & Bar is on the hotel rooftop with forest views for days. The menu is an eclectic modern asian/western combo, and yet you can also enjoy a good old-fashioned burger if you please. 
The food preparation & presentation is impeccable and a real treat for the taste buds to experience. 
Now I'm about to let you in on a secret.. they have what I believe to be one of the best desserts I have ever had. The "Salted Caramel Tart". No joke, it's TO DIE FOR! Enough said. 
And at last, if you want to have a fancy cocktail or nightcap, the Copper Kitchen & Bar is a cozy throwback to the speakeasy days & serves up delicious concoctions to ease you back into that heavenly bed. 
Last note: You can ask for a private tour of the hotels own organic farm located a short bicycle ride away in the middle of the rice fields. 
For more info on Bali's best spots for the modern yogi STAY | SPA | PLAY | EAT | SHOP | YOGA –
Download our ULTIMATE BALI GUIDE for free.
Read next >>
wapa di ume – ubud resort and spa