garuda wisnu kencana statue
Published: 27-11-2018 - Last Edited: 24-10-2022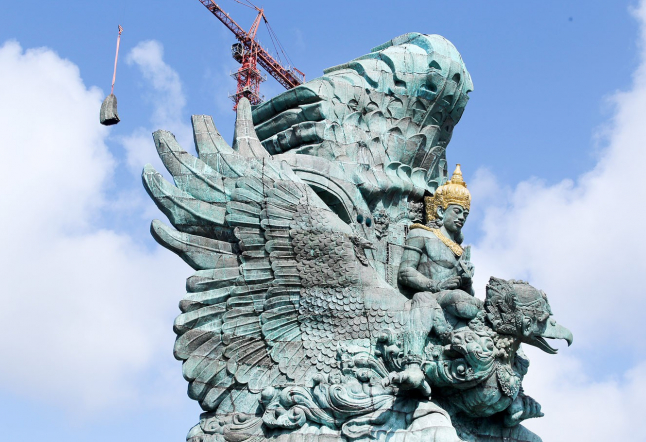 Located in the Garuda Wisnu Kencana Cultural Park on the south end of the island of Bali, the garuda wisnu kencana statue is the second largest statue in the world. At 120m high and 64m wide it is bigger than the Statue of Liberty in height, weight and width! Constructed from copper and brass sheeting with stainless steel frames and skeleton, as well as a concrete core column through the middle, the statue weighs in at 4000 tonnes.
The statue itself is inspired by Hindu mythology and devoted to the Hindu god Wisnu, who is seen astride the mythical bird Garuda.
Wisnu's crown is covered in golden mosaics and the whole monument has an impressive lighting arrangement. The project took twenty-five years and around $100 million in the making and was first built on the island of Java before it was sent over in pieces to Bali by truck to be assembled and constructed.
The enormous scale of the statue meant that it was a complicated project for the engineers involved. To ensure that the monument would last over the next 100 years, special wind tunnel tests were conducted to calculate the impact of high winds. The whole monument was completed on the 31st of July and inaugurated by the Indonesian President in the following month of September 2018.
The 20 hectares of cultural park situated around the monument hosts traditional and cultural events alongside other tourism events. Thanks to the monument's immense size, it can be seen clearly in the distance from locations around the island of Bali and as it is located a short drive from the airport, is one of the first landmarks that can be seen when flying into Ngurah Rai International Airport.
The incredible size of the garuda wisnu kencana statue was not without controversy, local authorities complained that it might disrupt the spiritual balance of the island and that it's commercial nature was also inappropriate. However the local Balinese engineers who were part of this project from its beginnings, believed that it is an important project for the island. Every year Bali relies and thrives on tourism and because the statue represents an important part of the culture, it will ensure that their culture will not disappear and will be remembered.
The dedication of the team of people constructing this immense project is a reflection of their strong beliefs and the belief that they have a responsibility in the building of this statue. A responsibility to preserve and develop their culture, creating something grand that will be treasured and remembered by generations to come.

For more info on Bali's best spots for the modern yogi

| STAY | SPA | PLAY | EAT | SHOP | YOGA | – Download our ULTIMATE BALI GUIDE for free.
If you liked our review of the Garuda Wisnu Kencana Statue, let us know in the comment box below.
Read next >> frangipani