beyond rockwell
Published: 15-09-2015 - Last Edited: 10-11-2022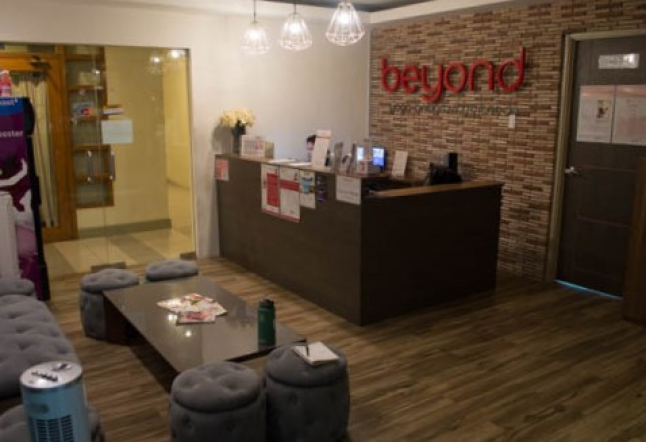 Beyond Rockwell, is one of six branches of the Beyond studios, throughout Manila. This particular studio prides themselves on introducing concepts, people may not experience in the Philippines. In addition to typical yoga classes like Vinyasa and Power Yoga, you'll find unique offerings like, AntiGravity Yoga, Zumba, and Beyond Sculpt. Many of the classes here are hot, so be prepared to sweat!
The yoga studio has large windows with views of the surrounding Rockwell neighborhood on two sides and mirrors on the other two sides. The studio opened in October of 2014, and is a very clean and modern space. Mats and props are set up and ready to go for students. A nice touch, if you ever happen to walk into class late. The props used are also of highest quality. There is a changing area with lockers and shower rooms. The staff at Beyond Rockwell, are very welcoming. If you are new, they will give you a tour of the space. I tried a Hot Vinyasa class.
One of the co-owners, Al Galang, is from Los Angeles and one of the pioneers of Bikram Yoga, in the Philippines. Nearly ten years later, he now teaches a unique style called Hot Primary at Beyond Rockwell. While chatting with Al, it's obvious he is adored by his students, as many have been showing up on the mat for his classes for years, and did not hesitate to tell me how much gratitude they have for him.
If you're looking for fitness, relaxation, and a bit of a challenge in your current yoga practice, Beyond Rockwell, is a great venue. They offer something for all fitness levels and experience.
Price range P 550 (drop-in) to P 46000 (annual unlimited)
Great for Hot Primary and AntiGravity Yoga Classes
Open for morning, afternoon, and evening classes; seven days a week.
Read next >> how yoga saved my happy