bali agung show
Published: 11-06-2015 - Last Edited: 24-10-2022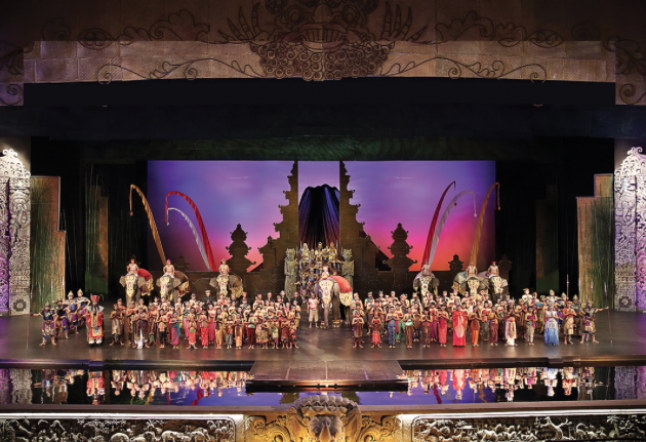 The Bali Agung is an hour long theatrical art show narrated in English and offered by the Bali Safari & Marine Park in Gianyar. It is a powerful performance mixing dance choreography around the subject of a Balinese legend.
The Bali Theatre has a spacious entrance, modern facilities, a well-shelved theatre gift boutique, and very welcoming and well-trained staff. With its impressive stage, the Bali Theatre sets the tone for a moving performance. The seats are comfortable and invite the spectator to chill out and be moved. The Bali Agung show presents a mix of traditional and contemporary dance, modern puppetry, and features the animals of the Bali Safari & Marine Park as co-stars of the show.
A colossal group effort of over 150 performers brings an authentic look at the island's past. Consistant changes of costumes, scenes, dramatic music compositions, and impressive lighting and sound systems, bring spectators to a world of rural traditional Bali where we get to intimately observe the life of Balinese people, their kings and servants. The show is strong in visual aspects through motion, colours and sound awakening every sense. On the left side of the stage, a shadow puppeteer narrates most of the show to his son and reveals important information about the scenes performed by the actors in the middle and right side of the stage. The audience is separated from the stage by a narrow pond, with real ducks herded through the water and boats, which give the opening scenes an immediate dramatic feel, making the king's riding an elephant followed by his loyal subjects and various animals from the Bali Safari & Marine Park an almost natural and evident appearance, 
The epic love tale of King Sri Jayapangus and the Chinese princess Kang Ching Wei is the storyline giving the opportunity to witness with scenes of the island's culture and village life. Romance and heroism depicted in the tale brings a Royal vibe to the show. The performances take you on a journey recounting the romantic, tragic and heroic epic of the two main characters, culminating in the king's intertwining romance with Dewi Danu, the water goddess of the volcanic lake of Mount Batur.
The mega-stage features, customed designed props, gigantic curtains and water cannons, excellent performance of the actors, attention to detail and precise choregraphy bring spectacle and dramatic effect to the whole story. Not to be missed while in Bali!!
For more info on Bali's best spots for the modern yogi STAY | SPA | PLAY | EAT | SHOP | YOGA – Download our ULTIMATE BALI GUIDE for free.
Read next >> GIN conference