awakening NY
Published: 26-02-2018 - Last Edited: 30-10-2022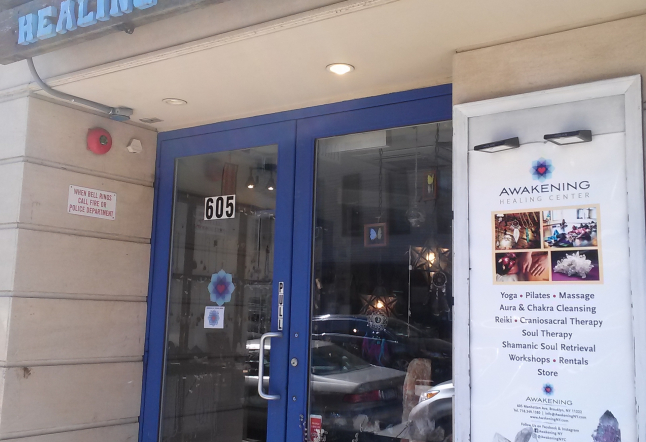 Peacefully existing in a community of hipsters, families, artists, and entrepreneurs in the trendy Brooklyn neighbourhood of Greenpoint, a crystal shining, aromatherapy oil scented healing centre beckons.
Awakening NY on Manhattan Avenue near the Nassau G stop or a healthy walk from the Bedford L stop in Williamsburg, is an urban oasis offering wellness through yoga and pilates classes, massage, reiki treatments, aura, chakra, and crystal healing to name a few of their large variety of healing modalities.
Their mission statement says: "You are perfect. We are here to remind you how to find that in yourself." You can find 1-month unlimited access for $55 and try all the different yoga teachers and classes offered. Their schedule includes Vinyasa, Hatha Vinyasa, Flow & Restore, Kundalini, and Classic Hatha yoga.
I made my way through the shop to the back where there is room to leave your things and enter a studio free from the outside world. The studio is quiet and serene and I could tell the class was filled with regulars. I took 5 different classes with 5 different teachers over the month and enjoyed each one. Every teacher is highly experienced and brought a different perspective to yoga practice.
The Classic Hatha class was definitely something you don't find in most New York yoga studios. Coming from a Hatha background myself, I was really excited for this slower more internally focused practice. The class is challenging yet incredibly rewarding.
The Sunday morning Reiki Flow & Restore class was also particularly lovely and a wonderful balance of two opposite energies, from flowing Vinyasa to stilling Restorative poses.
Awakening is an inviting place where you will feel immediately that everyone's purpose is wellness.
Read next >> yoga to the people st marks