finding kirtan in los angeles
Published: 15-03-2018 - Last Edited: 08-11-2022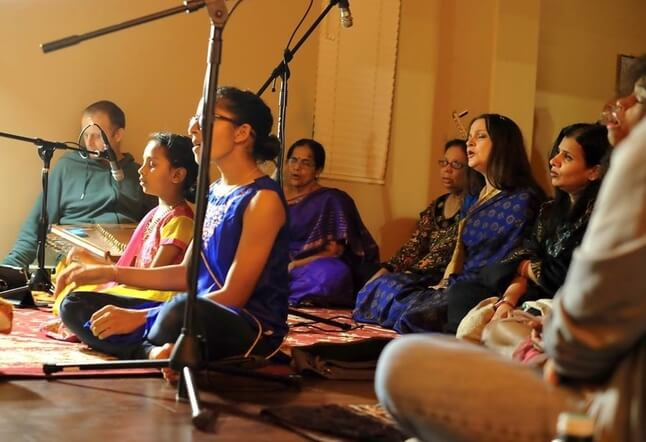 personal experience of
I was intrigued by the growing popularity of kirtan singing and wanted to experience it first-hand. I had just returned from a trip to India and was craving an authentic traditional kirtan here in Southern California.
When I started my search, one name prominently came up: Kamini Natarajan. So, I went on to read all about her, watched her videos, listened to her recordings, and joined her Kirtan MeetUp group. After a quick welcome note, I received an invitation to a Kirtan event. I was excited; I really wanted to go and experience her kirtan in person.
Kamini organizes her kirtans at her home in Simi Valley. I had never met her nor knew what to expect, but since I saw people commenting on her Facebook event page and a number already signed up to attend, I took a leap of faith and went. A day before the event I got a message saying that I needed to bring in my own reusable utensils for a vegan dinner that would be served before kirtan. "YAY!" I thought as I packed a small plate and spoon and off I went.
Parking was easy and plentiful. I removed my shoes as a sign on the front porch instructed and entered a warm house that reminded me of my days in India. I smelled the same divine fragrance of sandalwood incense and, of course, Indian food.
Kamini greeted me with a radiant smile and a warm hug. She looked like a devi herself, draped in an off-white sari and a bindi on her forehead. Then and there I felt so much at ease – almost like I was visiting my own family. There were a lot of people around me, all chatting and musicians setting up. Kamini welcomed the guests and introduced them to her family and friends. It seemed like there were many regulars who visited every one of her kirtans.
After a quick bite of delicious Indian dal, potatoes, rice and other food, I settled myself in the hall where the musicians were setting up microphones, checking sound, etc. Kamini sat down and announced that we were about to begin in five minutes. There was a tabla drum player to her right and another stringed instrument player with his long and big instrument on her left. There were also two other musicians jamming with her. The chants were projected on a white sheet behind her.
We were around 30 or so people, including four kids who also sat in front of us. Kamini closed her eyes and started with three deep "AUM"s. She began a Ganesha Mantra that I had learnt back in India "Vakra Tunda…"
Her angelic voice lifted my spirits up almost instantly. She began with a kirtan for Ganesha in a slow tempo which allowed us time to learn it. Once we got comfortable singing she upped the tempo and all of us clapped and joined her with our energy. There was so much love and warmth in that room that it was almost palpable.
As she moved from one chant to the next, all our energies came together to create a harmonious blend of music, spirit and peace. Her kirtans, her Sanskrit pronunciations and her musicianship were impeccable. The authenticity of her kirtans and bhakti made me feel surrounded in pure bliss. I could say that her notes and words had so much power that they moved me.
It was very refreshing to see all four kids participate. They pretty much sat through the entire kirtan, often clapping and singing with all of us. Kamini even asked them to lead one kirtan and they added so much joy to it all. "We really need to start teaching kids yoga, meditation and kirtan" said Kamini. "They are the future and if we start teaching them all this right now, we are in for a good future, a much more peaceful world," she added. Such a beautiful thought!
The evening concluded with a wave of "AUM"s. Kamini started chanting and we all joined in. "Feel free to go with your own breath and start and stop when you want to," she instructed. What followed was a five minute or so long continuous waves of "AUM"s, rising, falling, and rising again like an infinite ocean. I have truly not felt so much peace in a long time.
Kirtan came to an end with "shanti, shanti, shanti." It has been a few days now but I am still in that bliss. I still feel relaxed and happy.
Experience it for yourself if you live in the Los Angeles area. Kamini organizes kirtan once a month in Simi Valley and also performs at various yoga studios and temples around LA.
Read next >> lightning in a bottle 2013