astanga yoga london | dharma shala
Published: 20-05-2023 - Last Edited: 28-05-2023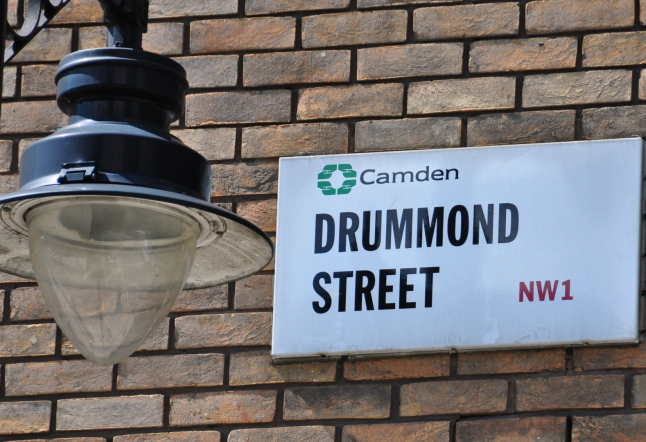 Pure, Authentic, Mysore practice
This is THE place to be for devoted Ashtanga practitioners. It may seem daunting for some at first, but Astanga Yoga London (AYL, also called Dharma Shala) is at the forefront of the Astanga community in the country, and it is simply a welcoming, friendly place to practice.

Forget about the fancy changing rooms, showers, the sweet candle scent, and blissed-out receptionist; this is the closest experience to India and Mysore that you may have in London if not Europe.

The brightly colored walls, warm, sticky air, and proximity of bodies are a reminder that practice is just what it is. Come in, remove your shoes, put your mat down, and breathe.
Authentic Mysore Style Tradition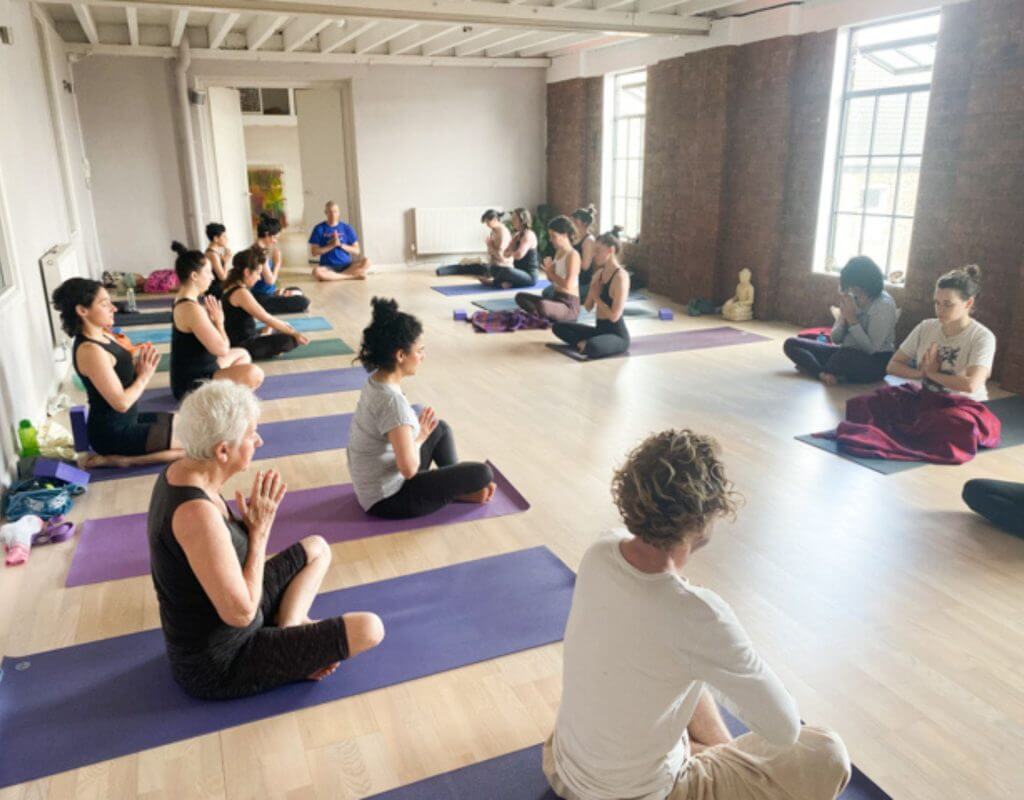 The space is small – the main room holds up to 18 mats, and the 'finishing' room is about 8- given the place's popularity, the 'rush hour' slot, 7-8 am, is often at total capacity.

The room is primarily silent, respecting the 'Mysore style' tradition (a self-led style of practice, originating in Mysore, a south Indian city where the guru Sri K Pattabhi Jois lived and taught), and the sound of breathing provides a beautiful sonic backdrop.
A Welcoming Environment for All
Total beginners are always welcome, and the primary teachers – Hamish Hendry and Anna Wise- will ensure that the basic principles of the practice are adequately taught first before moving on to Surya Namaskar A & B – or sun salutations, which act as a warm-up for the asana practice.

Following the traditional method taught by the late Sri K Pattabhi Jois, postures are gradually added according to the student's ability and memory. Beginners, intermediate level, and teachers practice side by side, and there is always a sense of respect: of space, of being, of practice.
Focused, Rhythmic, and Disciplined
At AYL, there is a sense of focus, rhythm, and discipline. Come here to learn Astanga as it is taught in Mysore. And perhaps, just perhaps, you may leave with a little more: indeed, a conscious Astanga practice where breath and movement are synchronized could lead to deeper states of mind…
Dedicated Teachers and a Supportive Environment
Hamish Hendry is one of the few in the world to have been certified to teach Astanga yoga and leading classes in London since 1999. He teaches with love and dedication, always paying attention to student's needs and abilities, and likewise, all the teachers at the Shala have a sense of understanding and compassion.

An explanation is offered when necessary, and help (whether in a posture or verbally) always comes at the right time without interrupting the class's natural flow.
Convenient Location and Practicalities
Located in Euston, Drummond Street (another Indian fief – restaurants and shops galore), travel is effortless. Students primarily come by bus, train, or tube; given its central location, one could easily walk or cycle.

Parking is limited -and costly during the day- but scooters and cyclists will find space to lock up their bikes.
Prepare for a Sweaty Practice
There are mats available to borrow, but bringing a towel is highly recommended as the practice gets very hot!
Explore Further Opportunities
The website provides all the critical information on the practice, tradition, teachers, and practicalities. There are regular beginners' courses at the Shala and some philosophy classes on Friday evenings.

Whether you are a beginner looking to start your Astanga journey or an experienced practitioner seeking an authentic and immersive practice, AYL offers opportunities for growth and exploration.
Immerse Yourself in Astanga Yoga
AYL's regular beginners' courses provide a structured introduction to Astanga yoga, ensuring newcomers learn the foundational principles before progressing to more advanced poses.

These courses are a great way to build a strong understanding of the practice and establish a solid foundation for your yoga journey.
Deepen Your Practice with Philosophy Classes
In addition to the asana practice, AYL offers philosophy classes on Friday evenings. These classes delve into the rich philosophical aspects of Astanga yoga, providing students with a deeper understanding of the tradition and its principles.

Exploring the philosophical dimensions of yoga can enhance your practice and bring a new level of mindfulness and awareness to your daily life.
A Convenient and Accessible Location
AYL is conveniently located in Euston, Drummond Street, surrounded by a vibrant Indian community with plenty of restaurants and shops to explore. Getting to the studio is easy, as students can commute by bus, train, or tube.

The central location also allows walking or cycling to the studio. While parking may be limited and costly during the day, scooter riders and cyclists will find suitable spaces to lock up their bikes.
Connect with the Astanga Community
At AYL, you have the opportunity to practice alongside teachers and practitioners of all levels and connect with a supportive and inclusive community.

The shared dedication to the Astanga tradition creates a sense of camaraderie and mutual respect among practitioners.

The studio fosters an environment where everyone can feel comfortable and supported in their yoga journey.
In conclusion, Astanga Yoga London (AYL) offers an authentic and immersive experience for Astanga yoga enthusiasts in London.

With its focus on the traditional Mysore style and the dedication of its experienced teachers, AYL provides a welcoming space for practitioners of all levels.

Whether you're a total beginner or a seasoned yogi, AYL offers the opportunity to deepen your practice, connect with a supportive community, and explore the transformative aspects of Astanga yoga. Visit their website to learn more and embark on a rewarding yoga journey at AYL.
Read next >> otto haddad