Bali is brimming with hidden gems–from tucked away villa retreats to crystalline jungle pools, two restaurants with delicacies that I had never heard of before–and I was on a mission to find them.
My first stop was Sumberkima Hill Retreat, in the North West of Bali. Scootering there from Canggu, in the south.You can road trip across the whole island. The farther you drive, the more that the traffic grows sparse, and sunlight filters through the rustling canopy of trees.
The air felt cool and refreshing and, before long, the flat road becomes a steep, mountainous path. Monkey's lounge on the sidewalks, and often, not a single person around for long stretches of time.
In the Balinese culture, there is an understanding of the special energy that exists between the sea and the mountains. You can sense it here.
The ocean is on one side, jagged mountains on the other. Villas that look like they are something out of a fairy tale–most of which have their own, private infinity pool–are nestled into the hill, adding beauty to the natural landscape rather than detracting from it.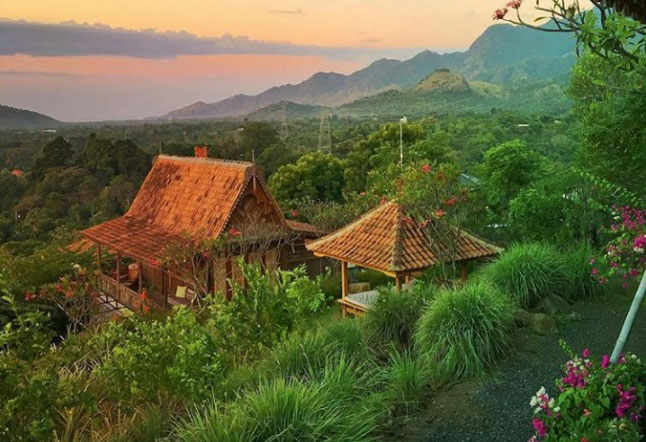 When the sun is setting, look to the west, you can see the towering volcanoes of Java lit up with a golden light far in the distance. Although I was there alone, people often come for yoga retreats with their friends and families.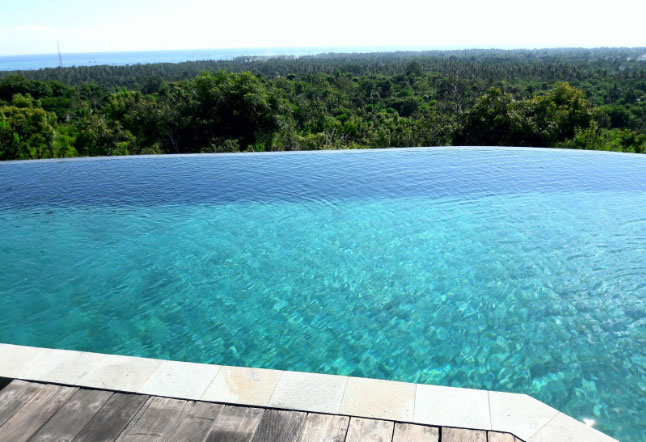 The yoga terrace overlooks jungle, stretching out all the way to the glittering ocean in the distance.
At sunrise, we went through one of my favorite yoga sequence –the sun salutation–and the sky turned lighter and blue. Soon the sun was lighting up the landscape.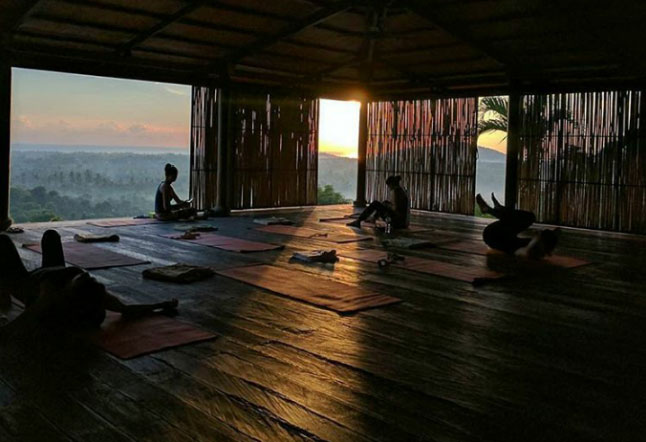 After a few blissful days of doing yoga, relaxing by the pool, and exploring the numerous beaches, I decided to head to Ubud, in central Bali.
The drive was around four hours. Although, the incredible diversity of the landscape never made it boring. Going over mountains, through sprawling rice terraces, and little villages.
When I arrived it started raining hard, making it a good time to explore the city and the millions of shops and restaurants that it had to offer.
There are shops lining the streets selling paintings, blown glass, statues, and every other type of art you can think of… Wandering through them sometimes feels more like going to an art museum. Ubud is known for being a massive yoga and art hub, but there is a lot of history here too. Cafe Wayan, for example, was one of the original restaurants of Ubud when the now-bustling Monkey Forest road was mostly empty.
Once a tiny warung in the 1980's, Ibu Wayan would serve black rice pudding to local farmers, the only people that were in Ubud at the time. They had a television, a rarity in those times, and everyone from town would gather in the evening to watch the news together.
Today it is one of the best restaurants in a busy city. Regardless of the changes, it still has the same original (and absolutely delicious) recipes for many items, including banana pancakes with coconut, lime, and palm sugar, and, of course, black rice pudding, a unique Balinese desert.
You can attend cooking classes and learn how to make many traditional Balinese dishes, all from fresh ingredients and spices.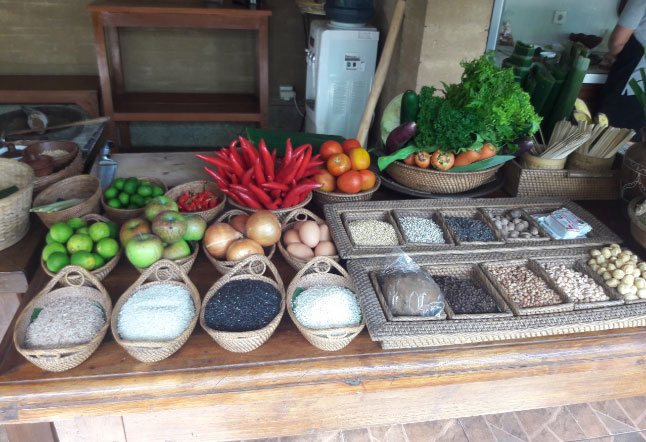 In contrast, the coffee-making technology is as modern as can be, and you can find properly-made and delicious cappuccinos, lattes, and many other drinks. – Cafe Wayan's
If you're looking for a yoga and meditation, one beautiful and unique place is White Lotus Yoga and Meditation Centre, where you can find classes and workshops, ranging from hour-long meditations to full-day workshops. – White Lotus
The next day, it was overcast, but not raining, making it perfect to get on my motorbike and visit a few places. Driving through the rice fields, I heard an ominous clap of thunder somewhere in the distance. Seconds later, the rain started coming down.
Before I could even take in the change, the rain was coming down in bucketfuls. Luckily, shortly after I turned into the parking space for Moksa, a restaurant that I'd been wanting to visit, and happily settled down to read in a cozy chair, with a steaming mug of coconut chai in front of me.
I began listening to the rain hammering on the bamboo roof and giant elephant-ear leaves bordering the terrace, and looking out over Moksa's lush gardens… what else could you want on a stormy day?
Moksa is one of those places where there you find yourself facing a problem– which of the many meals offered should I choose?
Usually, as a vegetarian, I find my selection extremely limited.
Not at Moksa. Everything is vegan, yet the selection is huge. There is a selection of items that are not just vegan, but also raw and/or gluten-free.
Take a second to stroll through the garden behind the restaurant, you see fresh lettuce, aubergine, squash, and many more vegetables.
These are used for their dishes, and after the meals are eaten, the leftovers are turned into compost. Here, food goes from garden to table to garden.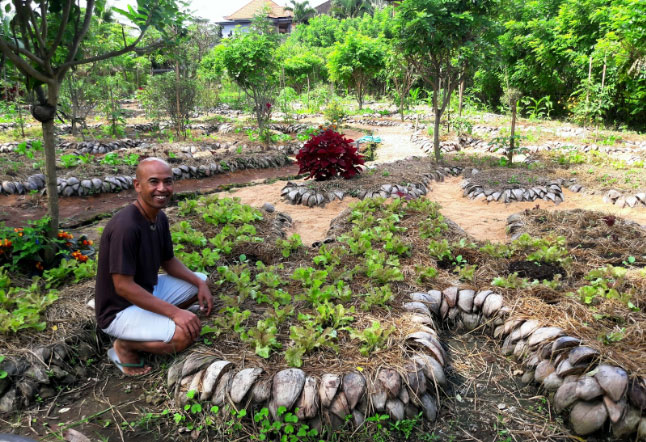 There are many creative items, unlike ones I have seen anywhere else, like barbequed "ribs" made from tempe and served with mashed sweet potatoes and greens. – Moks
For the next several days, the rain poured down non-stop. I was staying at the Villa Constance, where there is a beautiful yoga area in the main room, bordered by floor to ceiling windows.
I let myself enjoy the present moment.
The music of rain, the peaceful, dreamy white curtains and linens and the tastefully placed lanterns illuminating the thatched roof and making it glow golden.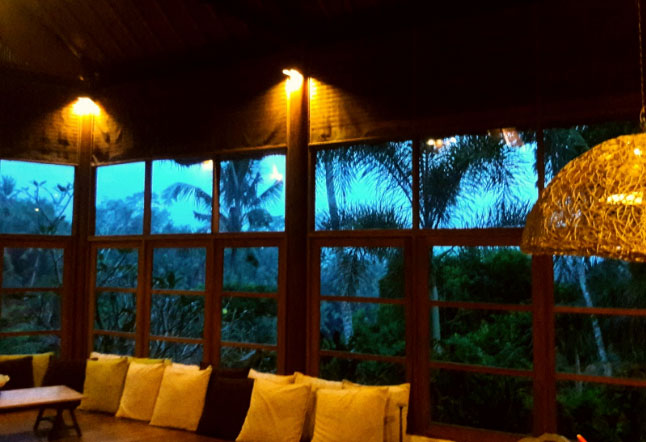 The next morning, the clouds were gone. Sunlight was pouring in through my windows, filtering through the lush tropical plants all around the villa.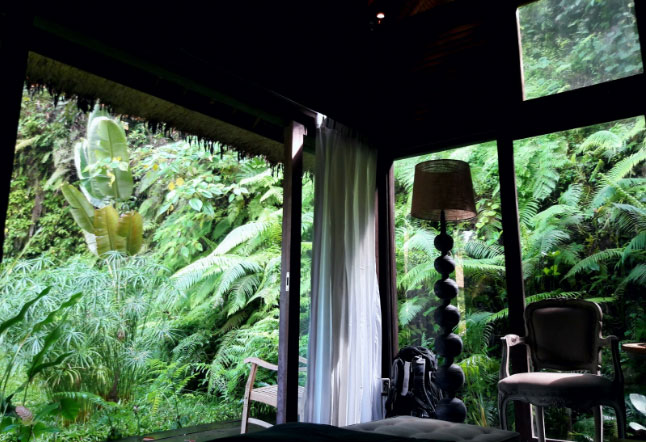 I walked down the stairs, eager to get out and explore.
I'm not sure if there's a better way to start a day than with a smoothie bowl and some good coffee, especially when you are on an island!
Sayuri Healing Foods: There are many to choose from. Whether you want something fruity, chocolatey, savory, or anything in between, Sayuri has it.
And somehow, every single delicious, indulgent item is healthy! The menu is a jackpot collection of plant-based, vegan, and mostly raw items.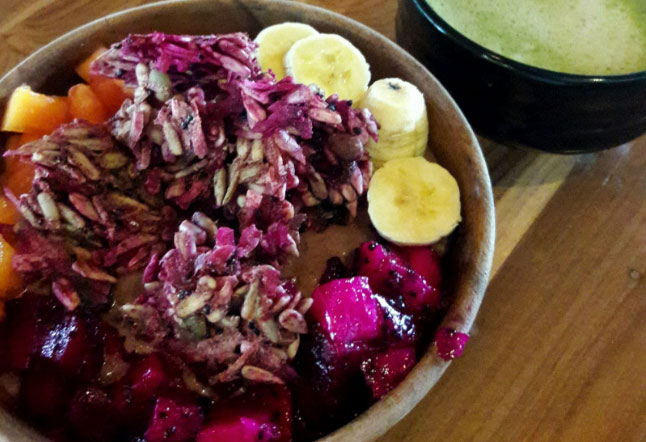 One simple recipe that I learned from their recipe book (which is filled to the brim with many more recipes) was the one for Chocolate bliss balls – Sayuri Healing Foods.
Here is the recipe for you to try!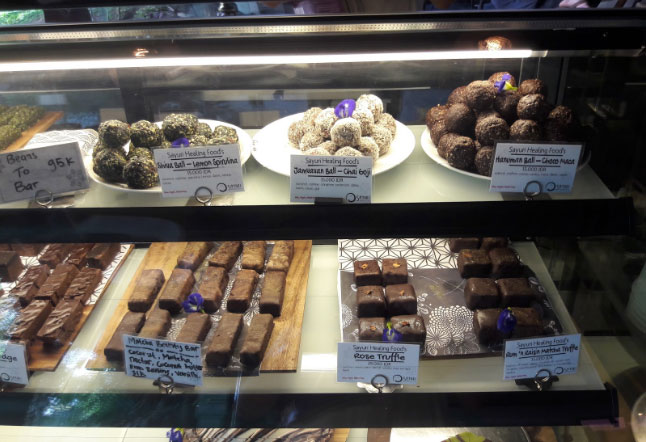 • 2 cups (240 g) walnuts or pecan nuts
• 1 teaspoon vanilla extract
• 1 cup (170 g) deseeded dates, chopped (adjust the quantity depending on softness of dates)
• 4 tablespoons cacao powder (plus a little extra for coating)
• ¼ teaspoon salt
How to make the Bliss Ball
1. Process all ingredients except for dates in the food processor into powder.
2. Add dates little while processing until evenly combined. The consistency should be enough to hold together by hand but not too wet. If it is too dry, add some more dates to process. add some more dates to process.
3 Roll the mixture into small balls and roll in cacao to serve.
Enjoy!
By now, I'd been in Ubud for more than a week. If you like yoga, healthy living, and being immersed in a fascinating culture, I would recommend coming for at least that amount of time–there is so much to explore!
I learned that the villas in Ubud were a significant reason for it being such a great place!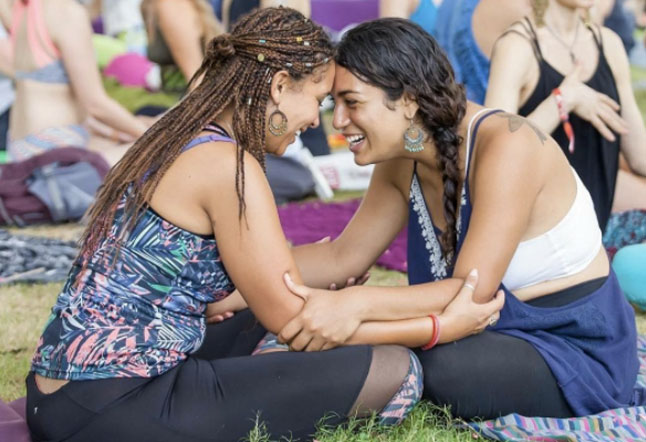 For my last day in the city, I stayed at Villa Awang-Awang, and it was absolutely relaxing and luxurious–the best way that my Bali island exploration could have ended.
Since Ubud is inland, finding a place with a beautiful pool where you can chase away the heat is necessary. It's a very refreshing place to stay, and from the moment you arrive and find a bath full of flower petals already waiting for you.
From the veranda, you can enjoy the view over a deep, jungle ravine, I sat there for quite some time.
The wind blew through the palm trees, and you could hear a waterfall running in the distance. Before the sun starts setting, it's a perfect time to swim in the private infinity pool, bordered by palm trees.
Lanterns lit up the spacious main area and balcony, and I settled into one of the sofas for the night, to read and listen to crickets chirping away in the warm summer night.
It was the perfect ending to my adventure.
For more info on Bali's best spots for the modern yogi STAY | SPA | PLAY | EAT | SHOP | YOGA – Download our ULTIMATE BALI GUIDE for free.
Read next >> hubud