the slow
Published: 07-06-2017 - Last Edited: 19-08-2021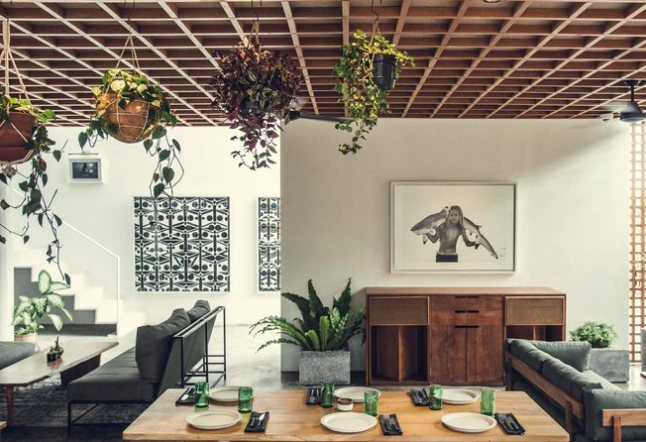 You really do want to take your time when you arrive here, and take it slow (pardon the pun). Every detail in The Slow's gorgeous, minimalistic form is to be savored, along with the wonderful offerings the all-day restaurant offers.
To quench your thirsts from your sunny scooter rides, you can start off with an elixir of Jamu, a turmeric based tonic; something one easily falls in love with here in Bali. Here at The Slow, the presentation is something they are brilliant at. The elixir, named T-01 jamu and made of turmeric, tangerine, and roots, is delivered in the most charming of bottles – perfect for a sip and shot. And with an extraction of watermelon, cucumber, and mint, it's sure to leave you feeling refreshed.
The Slow's motto, "We serve what we love the most at the moment," shines through their cuisine. Their chickpea fritters are delightfully crunchy, and pair perfectly with a sweet eggplant relish and cool mint yogurt.
The color green, which is thoughtfully dotted around the space in the form of hanging potted plants are the perfect complement to the Garden Greens. Crisp garden greens, so fresh that they might have been picked straight from the garden, are laced with zingy ginger miso–this is simplicity at its best.
Sticking with the theme of green, you will be advised the Green Tea Noodles as a must try. Chilled noodles for the hot sunny summer days (isn't it always a hot summer's day in Canggu, Bali?) and you will not be disappointed. Littered with seaweed, crisp cucumber and crunchy edamame, each strand of vibrant green noodle is delicately dressed with a ponzu dressing.
Not only does The Slow has a great dining space, it also provides exclusive accommodation for those visiting Bali who wants to fully immerse themselves in the concept.
Whether you are stopping by for lunch or looking to get the full Bali experience, The Slow is a fusion cuisine lover's dream. Just be sure to savor every last bite.
For more info on Bali's best spots for the modern yogi STAY | SPA | PLAY | EAT | SHOP | YOGA – Download our ULTIMATE BALI GUIDE for free.