the shady shack bali
Published: 21-09-2016 - Last Edited: 12-08-2021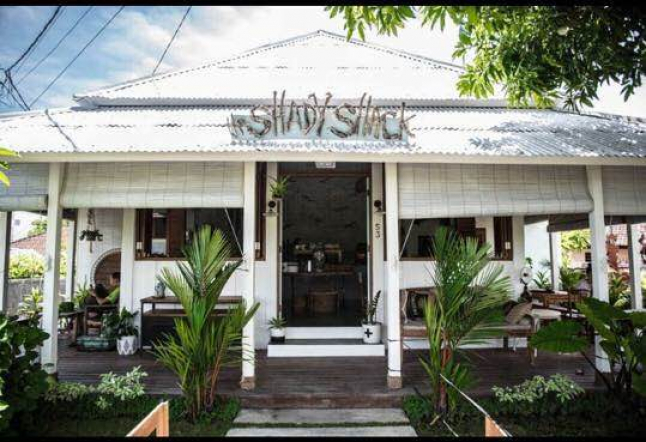 Hungry and looking for a lush place to awaken your receptor cells? Then stopping at the Shady Shack Cafe, a vegetarian, health food restaurant overlooking rice fields is a must.
The Shady Shack Cafe is situated in the beautiful and green Canggu area. It is one of the most favourites hang out places for people from the surf and expat travel world.
As you enter the place, you are welcomed by an aesthetic setting, a tasteful mixture of roughness and modernity, and a touch of wood in earthy tones.
Whether sitting inside the cosy lounge or hiding oneself in the garden with a view of the rice field, the ambient atmosphere brings up the feeling of closeness to nature with a cool breeze of Canggu.
The Shady Shack Bali was born in March 2016. Its owners Justin and Gypsy also own Betelnut restaurant down the street. Justin, the chef, has mastered the enticing menu with its wide variety of tasty vegetarian and gluten-free meals using only fresh, organic food, and mainly working with local suppliers only. Shady Shack is well known for its smoothies, and appetizing salad bowl selection that has an elegant appearance, texture and taste.
Allow yourself a colourful journey with a Haloumi bowl made of grilled Haloumi, pickled beetroot, quinoa, rocket, avocado, and fresh greens served with creamy tahini on the side so you can choose the intensity of the dressing. Take it to the next level and top it up with one of the favourite smoothie bowls like Lost in Paradise or Greenpeace (best sellers!) arousing new food senses.
It can get busy at lunchtime, but there is enough room for everybody. For hungry people, they have rich portions and a selection of vegetarian and dairy-free burgers.
As Justin says, they want their customers to enjoy their meal. They keep it as simple, healthy and fresh as possible. Service is speedy, the staff is warm and won't hesitate to have a giggle with you.
It draws a mixture of people, where you can find friends chatting away and hanging out, expats working on their laptops and dog lovers sitting in the garden area. They infuse their passion and love in food, where altogether it creates a great vibe and relaxed atmosphere.
The Shady Shack is a wonderful place to enjoy breakfast, casual lunch or dinner with friends.
For more info on Bali's best spots for the modern yogi STAY | SPA | PLAY | EAT | SHOP | YOGA – Download our ULTIMATE BALI GUIDE for free.