how to cleanse crystals and how to charge them
Published: 13-07-2022 - Last Edited: 17-05-2023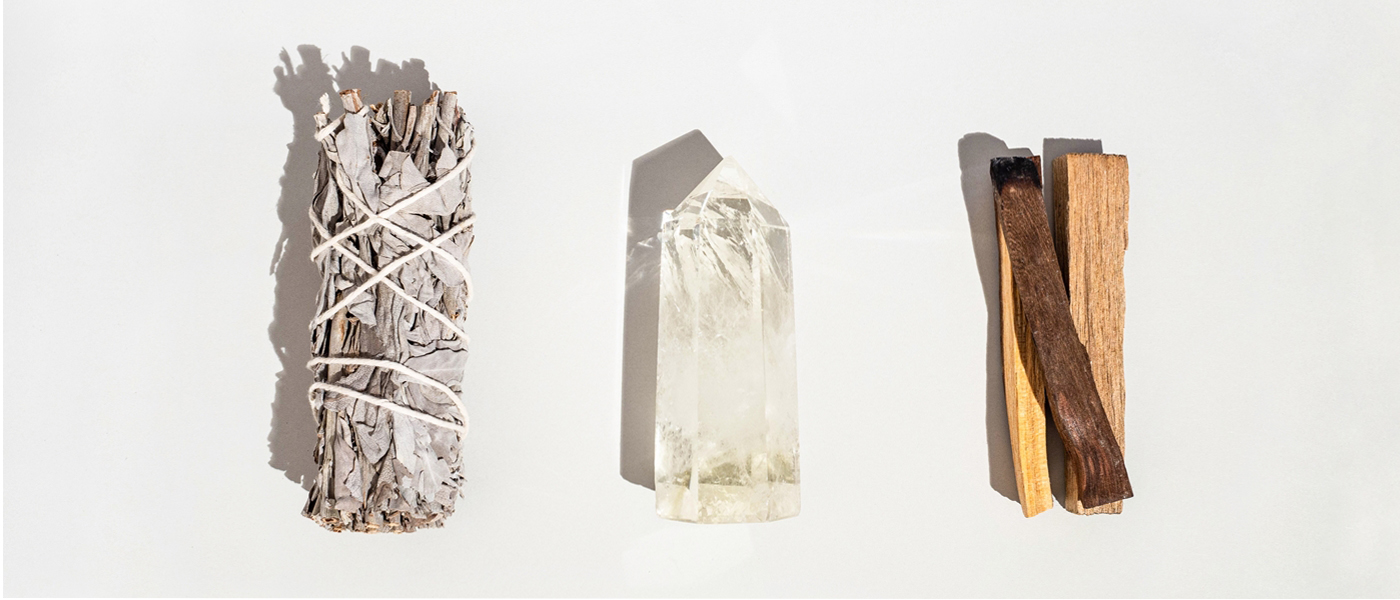 If you have a beautiful colored crystal collection or are new to the world of gemstones, you probably know you need to learn how to cleanse and charge your crystals. You also need to learn how to clean your crystal rocks of physical impurities from time to time. But don't worry. In this article, you'll also learn about why it is essential to know how to cleanse, care for, and charge your crystals.
Many gurus and guides are discussing how to cleanse, charge and clean crystal rocks and gems. I will try to mention the most appreciated ones in this article to make it easier for you, crystal enthusiasts, to find the best suitable cleansing and charging method for your crystals.
Before getting into the topic, let me say that you don't necessarily need to be a spiritual person to own and learn how to cleanse crystals.

Our beliefs influence our minds and way of living, and if you feel crystals could work for you, give them a try.
Why you need to know how to cleanse your crystals
Learning how to cleanse your crystals is essential as these crystal rocks absorb the energy in their environment. And you don't want to use a crystal infused with harmful energies.
Think about it. Crystals and gemstones go through a big journey from the source to the seller. And when they reach the shop, they also get touched by many customers until they reach their final destination.

A lot of energy is accumulated in the stones, which may not align with yours.
Therefore, it is essential to learn how to cleanse your crystals and revitalize their healing energy.
Also Read>>> Red and Orange Crystals
Otherwise, you might feel your gemstones getting less effective or even tired from accumulating too much energetical debris. And is just as important to learn how to clean your crystal rocks from physical impurities, before welcoming them into your home and life.
So we clarified why you need to know how to cleanse your crystals. Now let's explore some of the popular ways you can achieve this.

Feel free to experiment and choose the cleansing method that best suits your lifestyle and tastes. Remember, cleaning your gems first after bringing them home from a shop is essential.
How to cleanse your crystals with smoke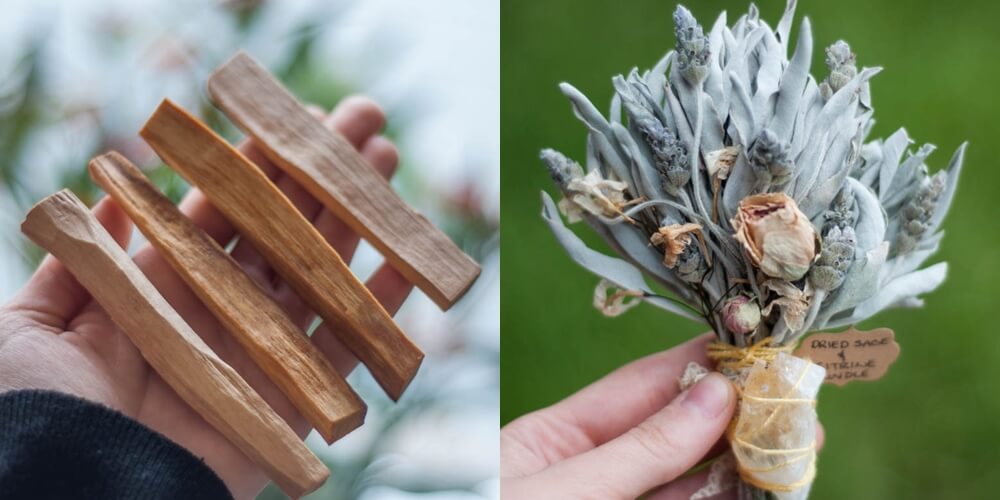 Learning how to cleanse your crystal with smoke can be suitable for you if you prefer a way that takes less time. Cleansing your crystals with smoke is also non-invasive, so your gems won't deteriorate.
You can use palo santo or white sage, appreciated as a sacred plant with multiple healing properties. You can add other dried herbs such as lavender, roses, or chamomile.

The easiest way is to purchase a sage stick that already contains these herbs, but you can always opt for doing them yourself.
Remember that fire is a powerful natural element. Using it with respect, caution, and a calm mind would be best. To learn how to use it to cleanse your crystals, you must first prepare your surroundings. The best option is to smoke your gemstones outdoors.
However, if you have to cleanse your crystals indoors, ensure you do it near an open window. The airflow will allow the smoke to disperse along with the unwanted energy.
You can use a plate to catch the ashes of the sage stick or palo santo. When you feel ready, light the sage and make sure the desired crystal gets surrounded by the smoke for half a minute.
You can choose to hold the burning white sage stick in one hand and the crystal in the other hand and place the gemstone in the smoke until it's clear of negative energy. And if you're wondering how smudging can clean your crystal rocks, note that some believe that burning sage can fight bacteria.
After 30 seconds of smudging, take the stone in your hand and focus on its energy. You'll see as you learn how to cleanse your crystals with smoke that you can decide how long you want to smudge them by how they feel afterward. 
Also read >>> crystal for self love
How to cleanse your crystals using the Moon's light
Now you know how to cleanse and clean your crystal rocks with smoke, but how about using the Moon's light? The power and energy of Mother Nature never cease to amaze me. She provides us with healing and cleansing powerful resources, and the Moon's light is one of them.
The Moon and its cycles affect how we live and interact with others and nature. With its strong influence, you can use the Moon's light to cleanse negative energies and balance crystals' frequencies, as they are part of nature as well.
Some crystal healers say you can use the Moon's light for this cleansing method anytime.

But others suggest you cleanse them with the light of a full moon, as its energy is more powerful and raw.
Wait for a clear and beautiful night with a full moon. Place the desired crystals in a place where the unfiltered Moon's light can shine upon them.

If you have a garden or a patio, you can leave the crystals there overnight if you feel they will stay safe. Maybe check the weather that night; you don't want too much interference with the cleansing process.
If you can't leave the crystals outdoors, you can choose to place the crystals indoors on a window sill. Check the crystals first thing in the morning and see how efficient the cleansing was.
How to cleanse your crystals under the Sun's light
While people believe the Moon's light carries feminine energy, the Sun's light is said to be more masculine. The Sun is all about vitality, life force, and energy. Most of us have noticed how a sunny day can make us more cheerful and active.

But how to use that positive and vital energy to cleanse crystals?
Well, this cleansing method isn't so different from the one that uses the Moon's light. But you must consider what type of crystal you want to cleanse. Some gemstones are soft and can be damaged easily or lose their color and shiny appearance.

So, pay attention to which crystals work best for the Sun's energy.
The idea is to place your crystals in a spot where they can sunbathe, but note that some crystals can't be left under the Sun's intense heat for a whole day. You can leave them on a windowsill for a few hours, but a full day may damage your crystal.
To ensure this cleansing method is safe for your gemstones, find out which ones are unsuitable for a long sunbath. Here are some crystals that can be damaged during the sun cleansing:
• Amethyst
• Aventurine
• Celestite
• Apatite
• Citrine (despite its sunny vibes)
• Selenite
• Clear Quartz
• Halite
• Opal
• Calcite
• Aquamarine
• Smoky Quartz
• Topaz
• Ametrine
The crystals that are best for this cleansing method are:
• Black Obsidian
• Tourmaline
• Howlite
• Jade
• Carnelian
• Black Onyx
• Malachite
• Lapis Lazuli
• Labradorite
• Moonstone (you can also cleanse this crystal under the Moon's light)
• Sunstone
Learning how to cleanse your crystals under the mighty Sun's warm light comes with the joy of holding a sunbaked crystal in your hands. You'll notice how this little moment can fill you with joy and positive energy, and it feels lovely when you do this with a palm stone crystal.
How to cleanse and clean crystal rocks using water
We talked about how to cleanse your crystals with smoke (fire), but we can't ignore the strong natural element of water. Water will neutralize all the energetical debris stored in your crystals, returning them to their natural balanced state. It will also remind you how important is to clean crystal rocks of any physical impurities.
Like the sunbathing cleansing method, you must be careful not to use water for brittle or fragile crystals. You risk damaging your precious gemstones.
Some crystal healers use running water from the tap. You can also do that. Place your crystal under a running water stream and fully submerge it. Hold it there for a minute or until you feel its energy getting lighter. Then dry it on a towel. This will clean both the energetical and the physical debris.
There's also the salty water method. Salt is a great purifier and healer, and it's often used for protection. Saltwater will wash away your gemstones' excessive energy and get them into a gentle, nourishing flow.
It's best to get a jar of seawater and submerge your crystals in it for a few hours or even days. If you don't have access to seawater, don't worry. You can make some yourself.
Prepare a bowl with lukewarm water. Then submerge your crystals. Remember not to do this with gemstones that don't love water. Then add a teaspoon of salt and leave everything to soak for a few hours. Make sure you rinse and dry the crystals afterward.
You can toss the salty water into the soil after you are finished. That way, the earth can absorb the debris energy you just cleansed from your stones. You can choose how to water cleanse and clean your crystal rocks and which method is more straightforward for you.
How to cleanse your crystals using earth
When you choose how to cleanse your crystals, remember they love to be grounded and reconnected to Mother Nature, their energy source. The earth is the most grounding natural element. If you ever felt the grass under your bare feet, you know how the earth can reinvigorate your spirit and mental state.
No wonder earth works well for reinvigorating crystals. You're temporarily returning them to nature. If you bury your crystals just like you would with seeds, the earth will pull the unwanted energy from them and return them to their initial energetic state.
So find a safe spot outside where you can bury your gems. Preferably in your garden or a place where you know the rocks won't be disturbed. You can mark the site after burial to ensure you don't forget where the crystals are.
You don't need to bury your crystals too deep; a few inches under the soil is enough. After one to three days, you can get your crystals back from Mother Nature. Make sure to show her your gratitude for purifying your precious gems.
If you don't have a garden or another safe place outdoors where you can use this cleansing method, don't worry. You can also bury your crystals in a pot near your plants. Or you can take a bowl and fill it with earth, then bury your gems. But make sure the soil is not damp, or the humidity will damage your crystals.
This cleansing works best for crystals and gems that accumulate too much energy and feel heavy, maybe even toxic. This is the cleansing method you want to use when you feel like other methods are insufficient.
The following crystals will love to be buried and reinvigorated with this cleansing method:
• Jasper
• Carnelian
• Citrine
• Calcite
• Tiger's Eye
How to cleanse your crystals using other crystals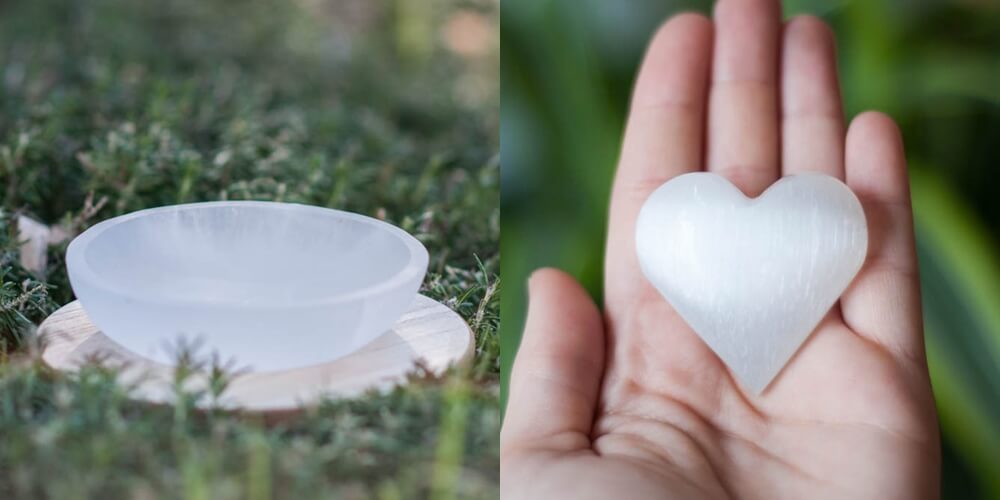 How to cleanse your crystals more quickly than with other crystals? It might sound surprising, but crystals such as selenite and clear quartz have natural purifying and cleansing properties.
But selenite, in particular, is appreciated and known as the best crystal cleanser. Place your desired gem on a selenite crystal (it could be a selenite bowl) will magnify and purify the stone's natural energy. You can leave your crystals there for a day. And the best part is that with this cleansing method, you don't risk damaging your crystals.
You can also cleanse the crystal jewelry that you wear daily with selenite. Have a selenite bowl in your home's entry hall or living room. Place your crystal jewelry on the selenite when you return home from work, and you'll have them ready and cleansed for the next day.
Clear quartz clusters and amethyst geodes are also great crystal cleansers, and they work best in cleansing smaller gemstones. But smaller crystals such as hematite and carnelian can also cleanse other rocks. Just place them near the gems you want to purify and leave them to remove the toxic vibes and bad energy overnight.
How to cleanse your crystals using visualization techniques
You can use your energy to cleanse your crystals if you don't have the meanest to use a different crystal cleansing technique. But to do this, you must feel in tune with your sense of self because you want to be able to redirect your energy to the crystal.
You can begin with a short mindfulness meditation session to clear your mind and ground yourself. Then hold the crystals you minted to purity in your hands. Visualize a warm white light shining upon the crystal. Imagine this light bathing the gemstone and flushing away all the accumulated impurities.
You can continue the visualization until you feel the stone's energy shifting and renewing. With this visualization method, you can learn how to cleanse more crystals at once.
How to purify your crystals using your breath
Using your breath is another way of using your energy to cleanse your crystals. You can start by holding the crystal in your hand and taking a minute to clear your mind. Focus your attention on the stone and bring it under your nose.
Take a big breath and, with short exhales, visualize the negative energy being blown away from the crystal. You can do this for about half a minute and then allow the stone to rest and return to its natural state.
This cleansing method works best for small gems and can not damage the crystals, even if they are soft and brittle. At least if you approach them with care and respect.
What charging a crystal means
Before learning how to charge your crystals, you might want to know what charging or programing a stone means. Crystals have inherent beneficial properties that can infuse your aura with nurturing and healing vibes. But if you want to use a crystal for a specific need or purpose, you need to charge it.
So charging a gemstone means giving it a focus based on your intention before using it. The crystals become like a tool that focuses your intention when you use them in rituals, spells, or for your desire to achieve a beneficial result.
Using the methods we discussed, a charged stone can be cleansed from your intention. You can cleanse it after you finish using it for a specific purpose. Also, if you charge or program a stone multiple times for the same purpose, you reinforce your intent. That will make you feel the focus every time you see or interact with the charged crystal.
So think of charging a crystal as inscribing your thought and intentions into the very essence of the gemstone.
How to charge your crystals
Now that you know what programming a crystal means, you can learn how to charge your crystals. First, consider the purpose and intent you want to inscribe in the crystal. Ask yourself what you need the stone to help you. Do you want to get rid of insomnia? Or maybe you could use some help with attracting loving relationships.
After you decide for what purpose you will use your crystal, choose a visualization scenery that works for you and hold your stone. It could be imagining merging with the crystal's energy. Visualize the bond that is created between you and your gem. Communicate with it mentally or verbally, and let your crystal know your desire.
You'll see this technique is somehow similar to meditation, and you will understand how important it is to learn how to charge your stone. The powerful energy of your crystal will be in sync and focus on your intentions.
How often you should cleanse your crystals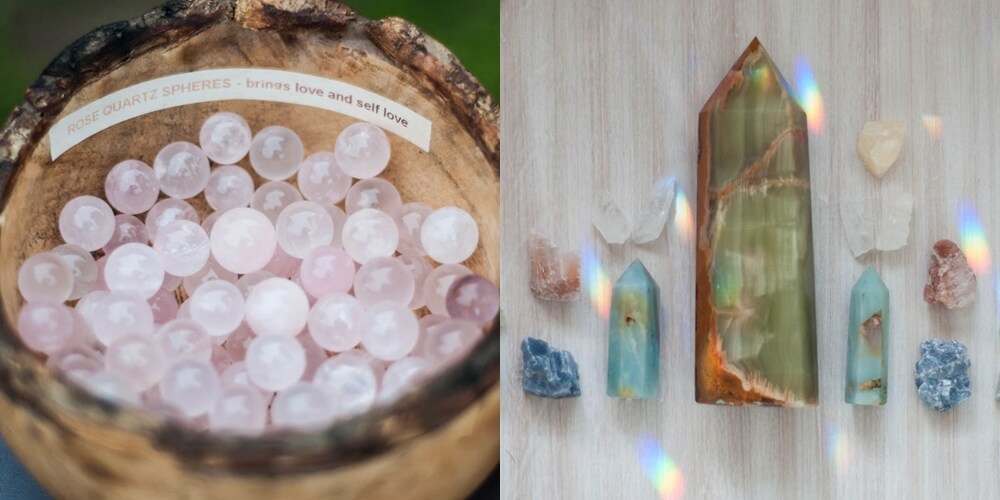 Some crystal healers say you should cleanse your crystals at least once a month. But I believe this also depends on how often you use your crystals and how you feel their vibes. Your crystals will accumulate more energy if you use them and other people interact with them.
So don't wait for your gemstones to feel too heavy. Go ahead and choose when it's the right time to cleanse them. But please remember that if you use one or more crystals for a specific purpose, meaning you charge them, you need to cleanse the gems before using them again.
For example, you use rose quartz for a jar spell to attract love and compassion.
After a while, if you wish to use the same rose quartz to release yourself from an emotional blockage, you need to cleanse it.
Experimenting is the way to choose the best cleansing and charging methods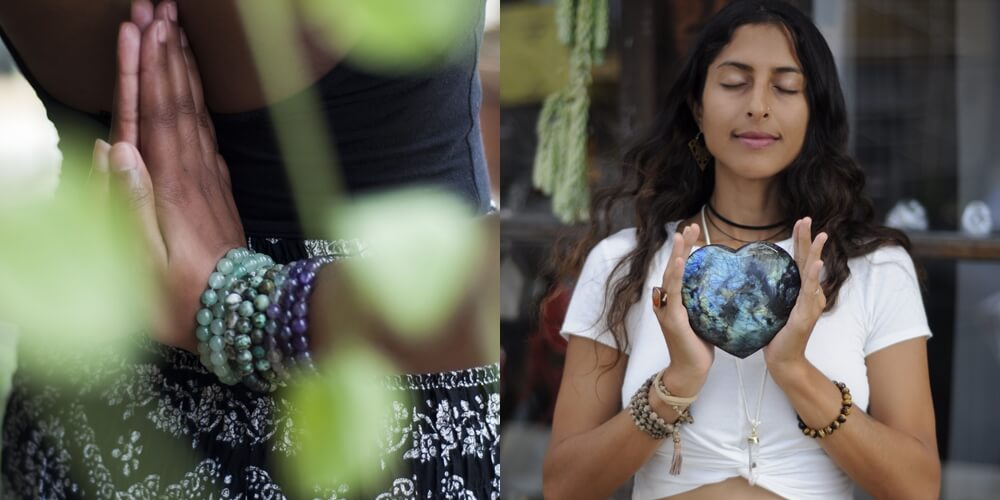 I always tell the people that visit Village Rock Shop to trust and follow their intuition, especially when it comes to crystals. And this applies to anyone who is trying to learn how to cleanse, clean, and charge their crystal rocks.
Try various ways of cleansing and programming your stones and see which ones feel better to you. Learn how to clean your crystal rocks gently and with respect. Don't get discouraged when something does not work as expected.

Pay attention to your body and mind and feel how your crystals respond to you. This is the best and most helpful advice I can give anyone who wants to know how to charge and cleanse their gemstones and crystals.