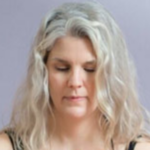 Maria Funk
Maria Funk is a writer in the field of yoga and wellness who is devoted to guiding her readers to a place of calm and equilibrium within themselves.
She received a Bachelor of Arts in Creative Writing at New York University, where she also studied yoga and mindfulness. In her early twenties, Maria suffered a life-altering injury that sparked her enthusiasm for yoga. Since then, she has made it her life's work to spread the word about yoga's curative benefits.
Maria has a strong belief in the importance of relationships, both human and animal.
She finds fulfillment in helping animals in need and making new friends in yoga during her spare time.
Her work is universally accessible due to her kind and approachable writing style. Readers have praised Maria's recent book, "Yoga for Inner Peace:
A Guide to Finding Balance in Life," for its helpful guidance and insightful observations. Maria enjoys spending time with her pets and going on mountain hikes when she's not producing content or practicing yoga.

would you like to turn back the clock – the healing art of yin yoga…