zwier
Published: 31-07-2017 - Last Edited: 04-10-2022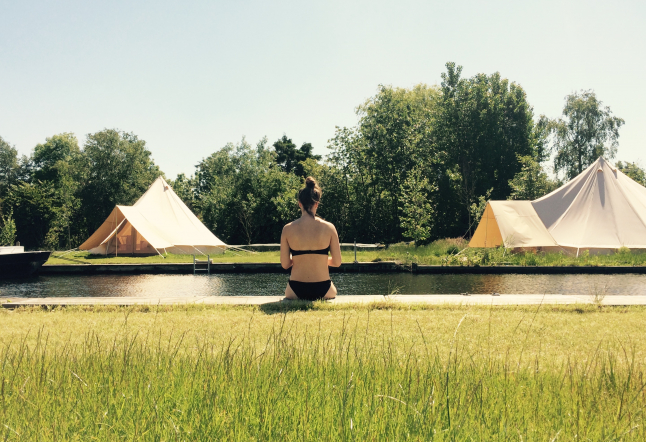 There is a lovely new spot flourishing near town. A hidden gem you definitely want to explore now, before it's discovered by the Amsterdam crowd. This is the perfect place to unwind from your busy city life, surrounded by the beauty of nature. Be active or relax, and recharge with positive energy. Here you'll feel the warmth and creative spirit of the family who has taken care of this beautiful place for 30 years. Now the third generation, Esther, Mariska and Yordi are transforming the old Marina Winkeloord into the modern looking and sustainable glamp site Zwier.
Due to the unpredictable Dutch weather and the hassle it takes for one weekend, camping in the Netherlands normally ends up in frustration. At Zwier, we discovered Glamping–glamorous camping–a very comfortable way of camping. No tent to pitch, no sleeping bag to unroll, no need to bring your own toilet paper. From the moment you arrive at Zwier, your weekend can unfold. Almost directly you will slow your pace, and become familiar with a gentler, less hasty way of life.
Zwier sustainable campsite is surprisingly well set-up. The communal toilets and showers are very clean and maintained to hotel-quality. The campsite is set beside the Vinkeveense Plassen, which means some of the tents have a beautiful view of the water. Have a refreshing swim, use their SUP boards and canoes for free, or rent a boat to explore the lake, islands and Nature reserve Botshol.
They offer well-equipped tents at the campsite for up to 3 people. These tents are light, incredibly spacious and comfortable, including a king size bed, chairs and even a fridge. For up to 4 people they offer a ship to sleep on the water and an island hut. Here you can also join their amazing '24 hours home alone on a island' experience. Give your phone to the boatman, and he will pick you up the next day. Is there a better way to let go of control?
After a very comfortable sleep in one of the tents, we woke up to the sounds of nature, and we unzipped and rolled up the front of the tent to let the view in. We greeted the day feeling refreshed and relaxed. What a difference compared to the feeling we normally have crawling out of our tent after an uncomfortable night on a leaky air mattress.
The day started with a quick coffee and smoothie bowl with homemade granola. Then we joined a great yoga session. Afterward, we gathered in the communal kitchen and joined the fresh and vegetarian breakfast. They offer delicious blueberry banana bread, croissants, Dutch cheeses, peanut butter, eggs, and fresh juices. This morning routine is nice and cozy. We enjoyed the relaxed music, nice chats with our neighbors and the daily newspaper.
During the day we joined a Zwier session, a great workshop to awaken our sleeping ideas. Very inspiring! After that we had a lovely walk to explore the countryside. For lunch and dinner, you can bring your own groceries or buy one of their meal packages and cook yourself.
The evenings at Zwier are meant for night-time stories with a glass of wine, playing a game or relaxing with a book under the starry sky, which we never see in the city. Thank you Zwier, you are magic. We would love to come back one day!
You also might find this interesting: yogafest amsterdam