the yogurt barn
Published: 01-04-2015 - Last Edited: 24-10-2022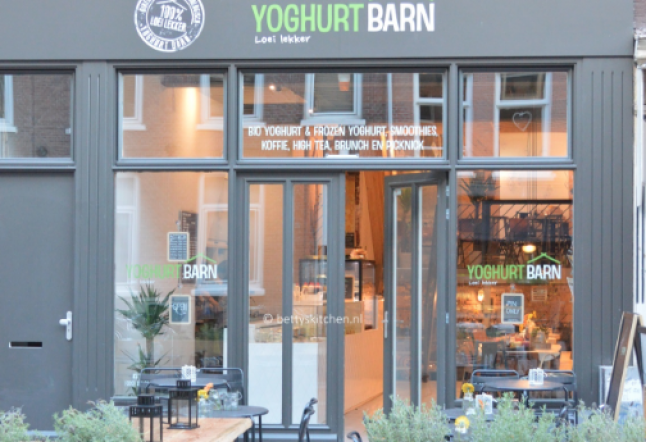 If you're a yogurt lover and you find yourself in Amsterdam, do stop by at the Yogurt Barn! All yogurts are purely biological, organic, come directly from the farmer and all fruit is fresh. Their to-go cups are 100% biodegradable, the Barn is made out of FSC certified wood, they use 95% LED lightning and they work with green energy and CO2 neutral gas. How's that for sustainability? The Yogurt Barn should be on top of your to-do list for healthy and responsible eating by now!
Choose one of the specials, such as the "˜energy explosion', consisting of banana, fresh figs, almonds and honey or combine your own perfect yogurt. You can also choose from a variety of different kinds of yogurts; the goat yogurt is absolutely amazing and adds just that little extra to the energy explosion. Also try one of the smoothies! The Green Monster, consisting of cucumber and mint is one of the many healthy options. The Yogurt Barn really is the perfect place for a healthy breakfast, lunch or late brunch. For those who are lactose intolerant or prefer to eat strictly vegan, soy yogurt is also an option.
The High Tea is a must-try! A selection of yogurt combined with fruits, chocolate chip cookies and nuts are served with a variety of sweets and unlimited tea. Chocolate lover? Go for the High Choc instead of the High Tea. Instead of tea you can pick between pure, milk and white chocolate milk and all sweets and cakes include chocolate as well. Chocolate heaven! What makes this a truly special place though, is the fact that you can order a pick-nick basket full of healthy goodies to enjoy your yogurt and other sweets in the nearest park!
Located near one of Amsterdam's famous markets, the Albert Cuyp market, the Yogurt Barn is definitely worth a visit. Do not forget to make a reservation if you are going to spoil yourself (and some friends!) with a High Tea or High Choc, it does get busy.
Read next >> bagels & beans