yogaworks | the Studio mill valley
Published: 22-12-2012 - Last Edited: 15-11-2022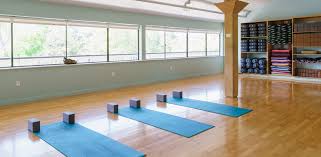 We'd all love to sneak off in the middle of a hectic week and practice yoga in a luxurious spa environment, wouldn't we? If only.
YOGAWorks has heard our plea and created a beautiful, spacious, new yoga studio in San Francisco's Pacific Heights neighborhood. Building on their experience with major studios in Mill Valley and Larkspur Landing, YOGAWorks comes to San Francisco, well-equipped to serve yogis who crave resort-like TLC right here in the neighborhood.
The vision of YOGAWorks Mill Valley, as described by studio manager Joslyn Hamilton, is to be a place "offering quality yoga in high-end clean and comfortable facilities." This is exactly what you will find in abundance here. The studio opened in February with an open house featuring free classes, massage, and people pouring through the door for a sneak preview of the city's newest yoga sensation.
The space is truly beautiful with gleaming hardwood floors, skylights, Zen-like China-white walls, miniature Buddha effigies at the front of each of the three practice rooms, and large leaf statues hanging from the ceilings.
The studio's store offers a vast array of merchandise, all carefully arranged for aesthetics, as much as utility. Almost any color yoga mat you could hope for, is sold at YOGAWorks. Each color carefully organized into its own cubby shelf, bringing a powerful color spectrum to the lounge/lobby area.
Tea is ready, hot, and waiting for practitioners. A whole wall of small cubbies, are available to leave shoes and small extraneous articles before going into class. The studio offers conveniences, like showers, in both the yogis' and yoginis' restrooms.
The studio is served by a full roster of teachers offering a wide range of classes, plus retreats, and teacher trainings. With at least fifteen classes on weekdays and ten classes on Saturdays and Sundays, students have their pick of teachers and styles.
Most of the classes on the schedule are titled according to level, while only a few advertise a particular yoga style. Students, can choose a full membership package in which classes are unlimited, take single classes for $20 per session, or community classes for $12 per session during the weekday, lunch hour.
A particularly unique offering at this studio, is a free personal consultation with Anna Fischer, a knowledgeable "YOGAGuide", who has a background in fitness training, medical centers, and spa management. Anna helps students with the design of a personal yoga class plan, to encourage students to work at their own pace, towards health, healing, and transformation.
Providing a one-stop shopping for yoga practitioners looking for a touch of luxury, Tea Garden Springs, will soon be integrated into the new studio's offerings, in partnership with Marin-based Zenspa.
The spa is currently constructing facilities directly above YOGAStudio's San Francisco space, and will be taking reservations directly through the studio within the next few months.
The chain of YOGAWorks, also has a charity arm, which has helped raise money for Hurricane Katrina relief and demonstrates this organization's commitment to helping people, does not just include people with expensive budgets.
yogaworks the studio millvalley
415.322.0025
650 E Blithedale Ave, Mill Valley, CA 94941, United States
Read next >> baxter bell