yogapalooza!
Published: 23-09-2014 - Last Edited: 03-11-2022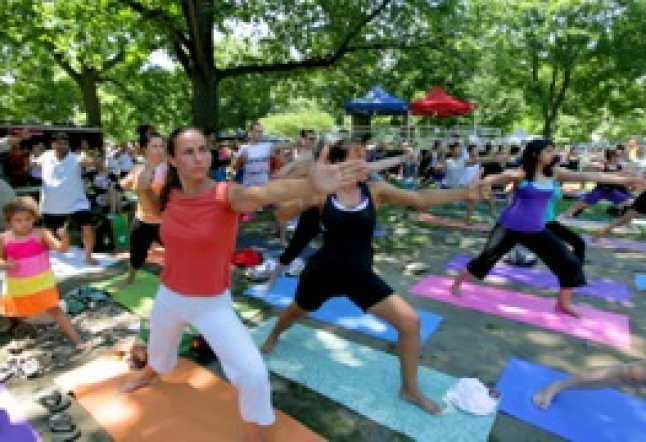 Yogapalooza is one of my favorite festivals to experience. I am extremely grateful that I got to attend such a powerful event in the beautiful city of Toronto! Yogapalooza is the biggest free outdoor Yoga event in Canada, attracting crowds of more than 5,000 people. This leading Yoga event takes place at Toronto's Habourfront Centre every year.
Yogapalooza is a celebration of movement, music and meditation and is truly a festival within a festival. The event collaborates yoga, marital arts, dance and live music for an elevating community experience. The first Yogapalooza took place on July 4, 2010 at Queens Park in Toronto. Throughout the past 5 years it has grown into a multifaceted festival founded by Salimah Kassim-Lakha. It was her vision to bring people from all walks of life together to share the benefits of yoga. Salimah Kassim-Lahka's mission for every Yogapalooza is to inspire and uplift individuals, families and communities through consciousness and open hearts.
This festival is full of amazing classes and workshops in a beautiful setting. As you find your breath, move through different yoga postures, and cultivate inner peace, you are surrounded by inspiring views of the city of Toronto. Simply walking through the event can bring you into a meditative state! It is filled with good energy, higher vibrations, and a community of conscious individuals ready to spread the love, light and healing powers of yoga and elevate global consciousness!
Some of the classes offered include Hatha Yoga, Kundalini Yoga, Yoga for kids, Global Dance Party with a Silent Disco, Meditation, and loads of free goodies and giveaways! There are many amazing yoga teachers, musicians and transformational leaders including Lana Sugarman, Robyn Toner, Brigid Dineen, King Gabriel Quincy Collymore, Elly MacDonald and founder, Salimah Kassim-Lakha.
In the past 5 years, Yogapalooza has expanded and collaborated with a number of like-minded people and events in Toronto. In 2010, Salimah Kassim-Lakha organized the first ever yoga component for Toronto Pride. Yogapalooza provided a sacred candlelit evening filled with Kundalini Yoga and Meditation at Canada's premier South Asian Festival in 2011. The magic of Yogapalooza has spread further with events at the Canadian Conference on Positive Psychology, World Pride Toronto, Simcoe Pride, Bollywood Monster Mash-Up and the Annual Vegetarian Food Fest.
It is beautiful to see so many individuals being of service in the world, motivated to bring healing and love to others all across the globe. Whether you are looking to start a yoga practice, expand your knowledge, dive deeper into your own spiritual practice, be surrounded by a like-minded, conscious community, or simply meditate in good energy, Yogapalooza is definitely worth checking out!
Read next >> daya kaur