mind over madness 2013
Published: 27-06-2013 - Last Edited: 30-10-2022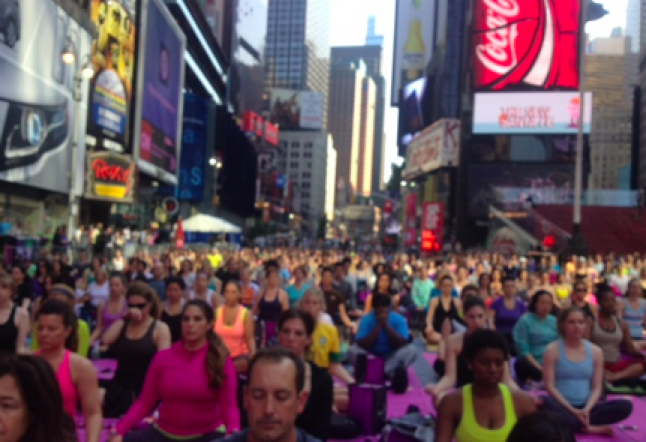 Where is the last place on earth you would expect to find a meditative yoga class? Well, if you guessed Times Square in the heart of New York City, you would be correct! This year Athleta, the popular performance apparel brand for women has teamed up with the Times Square Alliance to produce the 2013 Summer Solstice event in Times Square.
Over 15,000 yogis crammed themselves into the narrow streets of Times Square. As the electric billboards and video screens neurotically promoted an iconic level of mass consumerism, a bewitching stillness filled the air as yogis from around the world moved in unison to a dance of perfectly choreographed yoga postures.
"Mind Over Matter" is the unofficial name given to this event each year and it is aptly referenced for the yogi's ability to transform their physical surroundings into a deep and serene sanctuary – no matter where they are. The ability to transform one's state of being is a truly gift and its benefits are awe-inspiring.
Yogi Times was invited by Athleta to attend the event. This event was perfectly orchestrated from beginning to end starting with a blissful meditation led by 94-year old Tao Porchon Lynch and followed by a gentle warm-up vinyasa class led by San Diego Yoga Teacher, Drisana Carey and supported on-stage by New York Yoga teachers, Kat Fowler and Bee Bosnak.
This bliss continued all day and in between Athleta fashion shows, some extraordinary yoga teachers such as Coleen Saidman Yee and Rodney Yee were on hand to guide students to a blissful state. Other fabulous yoga teachers such as Paula Tursi, Douglass Stewart and Donna Rubin also enchanted students with their diverse yoga flows and meditations.
This event is not only special because of the unique nature of the yoga practice, but it is a once in a lifetime opportunity to fill the streets of New York City with pure love. And who doesn't want to experience that? How often does the energy of love get the opportunity to neutralize the energy of materialism? Not very often. Thank you Athelta and the Times Square Alliance for giving love the chance to do wonders in the world. I was grateful to be part of it.
For more information on Donnalynn Civello, visit her website – Ethereal-Wellness
Read next >> henry's farm to table