yoga and shopping in manhattan beach
Published: 30-11-2012 - Last Edited: 08-11-2022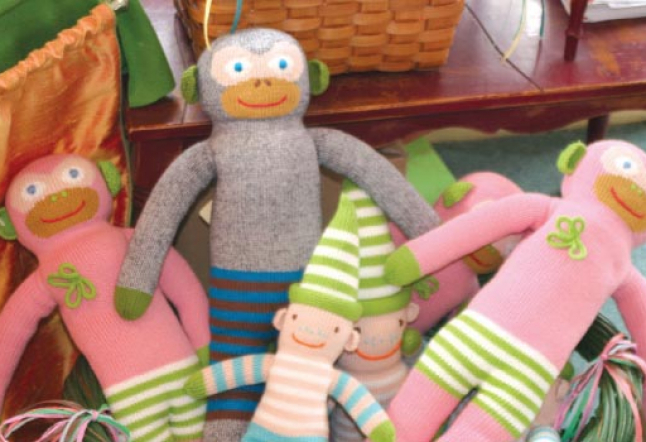 Yogi Times is out to explore the "hotspots" in our community, where yogis can go to find interesting things to do, hidden treasures and mindful gifts off the beaten path. Not your everyday trip to the mall, we search for special spots that will appeal to those who are looking for more than your basic retail. This month, we took a stroll into Manhattan Beach.
Highland ave and Manhattan Beach Blvd, just a few steps away from the Manhattan Beach pier, houses bustling boutiques, spas, and eateries – many are local favorites, and all are enticing places to stroll through after a day in the sun. the ocean air floats over the city, and everyone glows with the feel-good surf vibes. Come for the beach, but stay for great shops and the even more wonderful neighborhood people.
Baby Wright's
Greeted with a charming garden scene outside the store, customers already know that Baby Wright's is more than your average baby store. Featuring European imports and sweet vintage items, their clothes, books, and toys are for baby to enjoy, and mommy to reminisce. This cozy shop has everything from clothes, books, hair pins, and toys to nurture every growing baby.
1143 Highland Ave – 310.546.3122
Manhattan Beach Creamery
The Manhattan Beach Creamery makes all of their own ice creams and offers familiar flavors such as chocolate and vanilla, and fun, inventive ones like Nutella and M&M. Try an old-fashioned malt or celebrate a birthday with a homemade ice cream cake. With their vintage deco and sing along surf tunes, you can have a cone at the creamery, or take one of their 32 delicious flavors home in a pint or quart sized cup of ice cream delight.
1120 Manhattan Ave. – 310.372.1155
Tabula Rasa Essentials
Treat yourself to scented candles and lotions, or pamper your skin with body butters, lotions and oils. With gifts for all occasions and accessories for all lifestyles, Tabula Rasa Essentials has all the exclusive brands and innovative products you need for the body and the home. Notable brands and unique ones, too, are found throughout the shop so you can find the perfect gift or delight yourself to something special.
919A Manhattan Ave – tabularasaessentials.com – 310.318.3385
Body Suite
Body Suite is an aromatherapy store featuring their unique custom-blended lotions and massage oils. Find peace and beauty with their specialty items and in their massage and facial studio above the shop. Offering reflexology and Tui Na amongst their more traditional massages, Body Suite is a modern apothecary for all of your body's needs.
316 Manhattan Beach Blvd – thebodysuite.com – 310.379.484
Trilogy Spa
Newly-opened Trilogy Spa offers a studio, day-spa and boutique all in one. Indulge yourself or that special someone with one of their signature therapy treatments that combine exfoliation with all-over hydration in the room of your choice to fit your mood or skin type. Also available are massages and facials in serene relaxation rooms, and even couple facilities for celebrations and retreats.
451 Manhattan Beach Blvd – trilogyspa.com – 310.318.3511
Le Pain Quotidien
With its pleasant atmosphere and inviting display of fresh organic breads, Le Pain Quotidien bids customers to nourish the body as well as the spirit. Try the vegan soup of the day with any of their signature quality breads, or take the a la carte items home to enjoy. All breads are baked fresh daily by artisan bakers.
451 Manhattan Beach Blvd – lepainquotidien.com – 310.546.6411
Dolly Rocker
Dolly Rocker is a clothing boutique displaying women's vintage chic tees, tanks, and denim. Find the latest clothing brands including Juicy and Milkfed, bath and beauty supplies, and gift items all in this contemporary and stylish store.
212 Manhattan Beach Blvd – 310.374.3396
Shade Hotel
Within walking distance of the beach and all the local shops, the Shade Hotel is a great place to escape for the weekend. For the health-conscious, Sunrise Yoga by Cynthia Bowser is held every morning, as well as a host of other fitness options. All of their standard rooms have 2-person spa tubs featuring color light therapy. Designed with relaxation in mind, the calming lights and the mermaid's tail color scheme create an atmosphere of a soothing home away from home. 1221 N. Valley Drive – shadehotel.com – 310.546.4995
Yoga Loft
Yoga Loft offers vinyasa flow, blending Iyengar and Ashtanga methods of yoga in their classes. Classes and workshops of all levels are offered, from the starting practitioner to the advanced yogi held by different trained instructors. Yoga Loft holds special events too: They will offer a Weekend Intensive March 10-12 to explore all levels of practice and grow with other fellow yoga students, and a retreat to Maya Tulum, Mexico April 29-May 6.
313 11th Place – yogaloftmb.com – 310.375.7334
Uncle Bill's Pancake House
Uncle Bill's Pancake House is a Manhattan Beach institution. Specialty pancakes with berries, bananas, or chocolate chips make a complete meal when ordered with their signature waffles and omelets. Top it off with some fresh squeezed orange juice, and you're ready to enjoy a great day on Manhattan Beach.
1305 Highland Ave – 310.545.5177
Read next >> yoga and shopping in long beach