the yoga retreat
Published: 15-06-2016 - Last Edited: 09-11-2022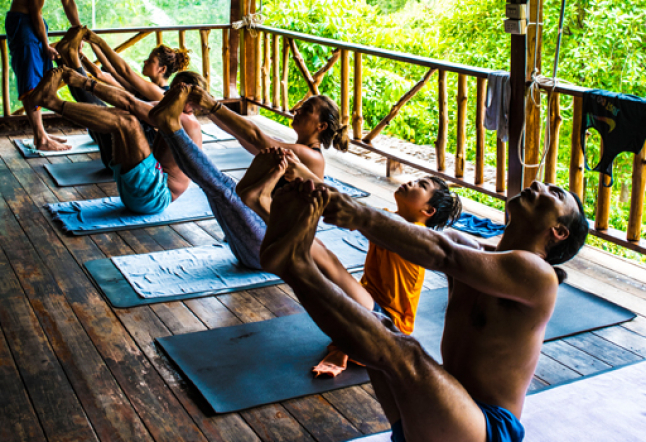 In the North-West of Koh Phangan, on the jungle's edge, you will find The Yoga Retreat. As you step through the doors, you are greeted by friendly staff and instantly made to feel like part of the family. The retreat center runs an array of courses. I participated in the five-day Yoga Retreat, which focused on Ashtanga Mysore Philosophy and Meditation.
At the café, the Hummus Salad included a creamy homemade hummus atop a mountain of brown rice, grated cabbage, carrot, lettuce, tomato, and cucumber. This was a lunch made with yogis in mind. It was filling yet wonderfully lite, and of course packed a punch with chick pea protein.
The next morning I walked upstairs to the shala. The energy in the shala was palpable. I was expertly adjusted and tutored by the teacher Kes, and mindfully assisted by his wife, Teresa. I learned more in this hour than I have in any class I have taken over the years.
After practice, sticking with a raw diet, I ordered the Cacao Power Bowl. The large bowl was filled with fresh papaya, mango, shredded coconut, a medley of nuts, seeds, and raisins, and topped with homemade cashew butter and raw cacao powder. Maybe it's the fact I really worked for this bowl of goodness, or that the ingredients seem fresher and juicier than at home, but this was quite possibly the best breakfast I ever had.
In the afternoon there was time to chill, either at the retreat or at the beach.The closest beach was the postcard perfect Haad Salad, a 10-minute downhill stroll.
I left after my short stay feeling refreshed, and with a deeper understanding not just of yoga but of myself too. I left with a deeper understanding of how yoga reflects life and saw that what I felt on the mat corresponded with the things in life that I was trying to overcome. I fell in love with this crystal island. It will definitely not be the last time I visit the Yoga Retreat.
Read next >> alaya tulum