Yoga-me
Published: 07-04-2017 - Last Edited: 12-08-2021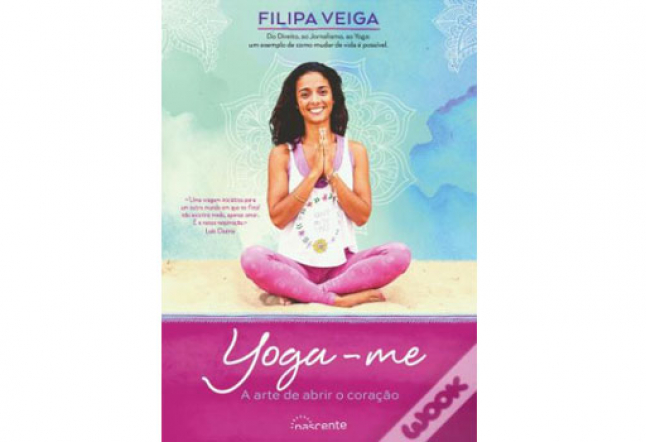 Yoga is a lifestyle. It's all about being good with life and with us. Eating well, having a daily practice, staying strong, and feeling healthy. It's a search for love, a door to the heart opening and the stilling of the mind, as when in a full moon night we see the reflection of the moonlight in a calm and serene lake. It becomes, therefore, a daily search for that state of perfection and oneness. We wish to be that peace.
In
Yoga-me
, Filipa Veiga — mother, blogger, yoga instructor, traveler, life lover —, shares with readers how she found, through yoga, a new intention for living to her life. She explains what yoga is and how practicing it can have a deep effect on body and soul. She tells stories about her childhood in Macau, the return to Portugal to study Law, the clash of cultures, and how this was a determinant to her journey seeking for balance, health and happiness. Also, the unforgettable trips she made to Bali and India are detailed, as they're in the core of her life transformation.
Featuring beautiful photos of Filipa practicing yoga with breathtaking backdrops, along with step-by-step yoga sequences and delicious recipes for a healthy, happy, and fearless lifestyle — Yoga-me is a must for anyone who wants to know the secret for a fulfilled life. The art of opening your heart, as could be read in the subtitle. This book explains how we all can do it.
*note: the book is currently only available in Portuguese.
For more info on Bali's best spots, including STAY | SPA | PLAY |  EAT | SHOP | YOGA – Download THE ULTIMATE BALI GUIDE 2018 for free here: http://bit.ly/BALIGUIDE2018
Normal 0 false false false PT JA X-NONE /* Style Definitions */ table.MsoNormalTable {mso-style-name:"Table Normal"; mso-tstyle-rowband-size:0; mso-tstyle-colband-size:0; mso-style-noshow:yes; mso-style-priority:99; mso-style-parent:""; mso-padding-alt:0cm 5.4pt 0cm 5.4pt; mso-para-margin-top:0cm; mso-para-margin-right:0cm; mso-para-margin-bottom:8.0pt; mso-para-margin-left:0cm; line-height:107%; mso-pagination:widow-orphan; font-size:11.0pt; font-family:Calibri; mso-ascii-font-family:Calibri; mso-ascii-theme-font:minor-latin; mso-hansi-font-family:Calibri; mso-hansi-theme-font:minor-latin; mso-ansi-language:PT;}