yoga on main street santa monica
Published: 10-03-2014 - Last Edited: 06-10-2022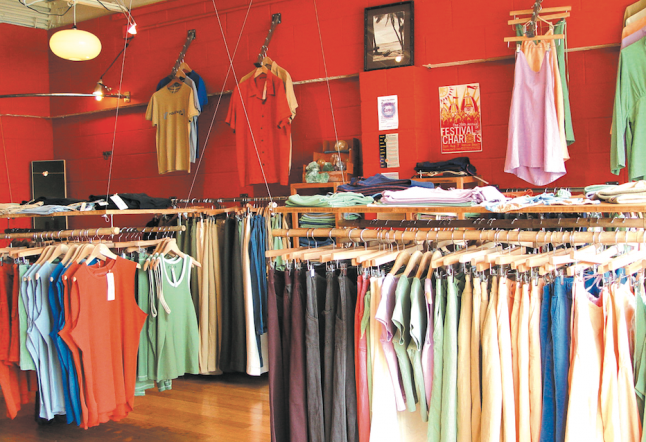 Yogi Times  is out to explore the "hotspots" in our community, where yogis can go to find interesting things to do, hidden treasures and mindful gifts off the beaten path.  Not your everyday trip to the mall, we search for special spots that will appeal to those who are looking for more than your basic retail. This month we took a stroll to Main Street in Santa Monica. For over 100 years, santa monica has been a mecca for sun-lovers and surf-seekers, as well as a favorite among conscious shoppers.  main street, which connects venice to santa monica, bustles with life, energy, and cultural diversity.
Ӣ Yoga works 
2215 Main St. Yoga Works on Main St. is part of fourteen Yoga Works studios in the world that together offer more than a thousand yoga classes a week. Some of Main Street's teaching faculty include Seane Corn, Vinnie Marino, and Annie Carpenter. A staple of the yoga world, Yoga Works has been open for over 18 years. Classes draw from the lineages of Ashtanga, Iyengar and Viniyoga. 310.664.6470 –
yogaworks.com
Ӣ Urth caf̩
2327 Main St. Recently voted the best chain café in LA by LA magazine, Urth café is a favorite amongst yogis. The menu, comprised mostly of organic ingredients, includes fresh salads, sandwiches, and soups, as well as a wide selection of organic teas and coffees; a children's menu offers organic PB+J and macaroni and cheese.  Breakfast is served before 11am, and the pastries and cakes (some vegan) are delicious. 310.314.7040 
urthcaffe.com
Ӣ Thai Teak (vegan)
2400 Main St. In this store you will find a wide array of Hindu and Buddhist statues for your altar.  Intricate carvings, furniture, cabinets and other home accessories are on display. This is an ideal place if you are looking for the perfect deity to bless your home, yoga studio or garden. Most goods are imported from Thailand. 310.581.4255
Ӣ Exhale Center for Sacred Movement
245 South Main St. This sacred space for yoga and healing houses some of the most sought after yoga teachers in town including Max Strom, Eric Schiffman and Shiva Rea.  Founded more than three years ago, Sacred Movement continues to offer vinyasa flow classes, pre-natal yoga and yin yoga throughout the week.  Core Fusion classes are also offered and there is an eclectic boutique out front, featuring a wide a wide variety of yoga clothing and accessories. 310.450.7676 –
sacredmovement.com
Ӣ One Life Natural Foods
3001 Main St. Established 25 years ago as a commune, One Life Natural Foods is a cozy, earthy store catering to the discriminate, health-conscious consumer.  The store features an exclusive Herb Room, juice bar, deli, organic produce, and a variety of vitamins and cosmetics. 310.392.4501
onelifenaturalfoods.net
8. Patagonia
2936 Main St. This world-renowned clothing store makes long-lasting clothes for a variety of activities including yoga, mountain climbing, fly-fishing, running, and surfing.  Patagonia's products are made with the least amount of environmental impact possible from manufacturing, growing, and dying practices. 310 314.1776 –
patagonia.com
Ӣ Groundwork Coffee Company
2908 Main St. This coffee company became one of the very first certified organic roasters in Southern California – it pioneered organic, sustainable and relationship based coffee sourcing.  Groundwork offers a wide variety of coffees including 100% certified organics, fair trade coffees, shade grown, single origins and blends; all coffees are certified Kosher. 310.392.9243 –
lacoffee.com
Ӣ Ritual adornments
2708 Main St. A favorite on Main St., Ritual Adornments carries a vast array of beads from all over the world.  Ritual Adornments is one place that you can find almost any strand of precious or semi-precious stones that can be crafted into your own creation or simply worn as are.  Jewelry making classes are offered regularly and private instruction can be arranged. 310.452.4044  
ritualadornments.com
Ӣ Aura Shop
2914 Main St. The Aura Shop provides Aura photos and readings. Aura readings show you, depending on the color of your aura and the visibility of your charkas, where your energy is at present and how, through various means – crystals, color therapy, etc. – you can potentially raise your vibration.  Owners Kate and Ryan Mitchell (mother and son) handpick every crystal, mineral and gemstone that comes into their store. 310.584.9998 –
aurashop.com
Read next >>
eco fashion in santa monica!