yoga design lab unique eco friendly yoga mats
Published: 10-12-2014 - Last Edited: 12-08-2021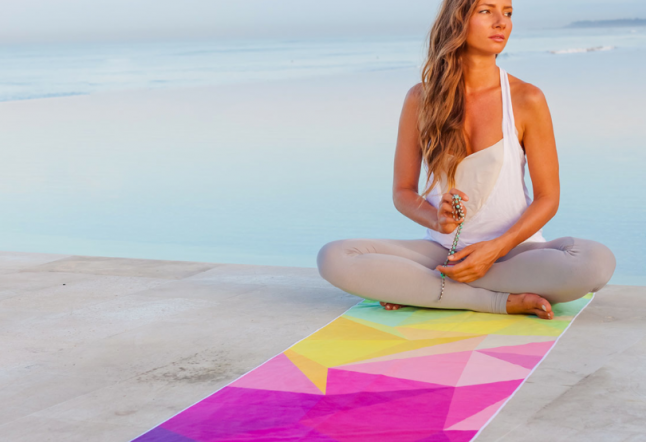 Yoga Design Lab mats and towels are one of the new kids on the block in the industry however they seem to have done their research and work in presenting a truly unique product.
Combining the practicality of a light mat, with the sustainibility of 100% recyclable materials, colored with water based inks that consist of no materials including latex, silicone, toxic glue or phthalates, the Yoga Design Lab brand immediately stands out and offers unique, colorful designs and prints.
Each mat stands for "technical innovation, great quality, plus sustainability." This motto served as the inspiration for Yoga Design Lab founder, Chad Turner. It was his stay in Bali that became the catalyst for Chad's profound desire to bring a new mat to the market. The bio-renewable lack of consciousness of how mats were being produced was a pivitol moment for Chad, who almost immediately decided to research alternative solutions.
These light-weight mats and towels (also made with top quality microfiber and non-fade, eco-friendly water based print) offer consumers a real conscious and sustainable investment. The mat can be used for regular or hot yoga, as it is fully reversible featuring one side the grip of a towel, and on the other side the cushioning of a yoga mat.
But let's be clear here. What truly captured our interest in the first place, before we even knew these mats and towels were healthier for our planet, was their original and colorful prints. For example, there is the fluorescent rainbow colors of The Chevron Mat, the dark purple clouds of the Dreamscape Mat, and the bright and colorful Geo BlueYoga mat. This made us connect with the playfulness of life, so that in the end, yoga does not have to be so serious!….and oh yes, the new collection is out, take a look here.
For more info on Bali's best spots, including STAY | SPA | PLAY | EAT | SHOP | YOGA – Download THE ULTIMATE BALI GUIDE 2018 for free here: http://bit.ly/ULTIMATEBALIGUIDE