yoga barn panglao | Permanently Closed in 2019
Published: 01-04-2023 - Last Edited: 05-04-2023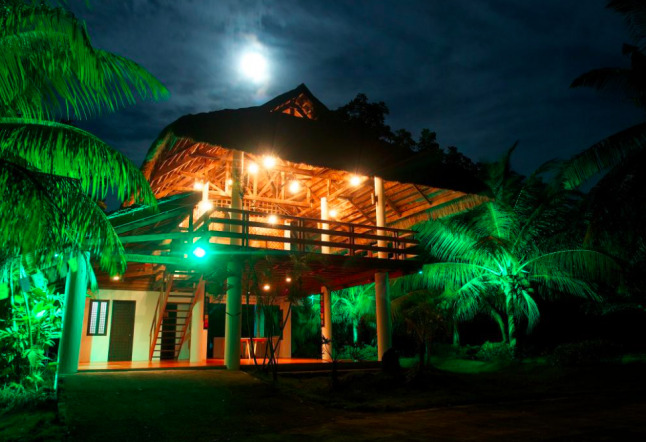 Yoga Barn is now closed, visit Jing Yoga new Studio: panglaoyoga.com/
Most people visit Panglao Island in the Philippines for scuba diving, free diving, snorkeling or hanging on the beach. Yet if you feel the need to stretch out your diving legs, yoga can be the perfect replenishment.
Luckily, we found a charming yoga studio located in the tranquil countryside. Should you feel the need to escape the hustle and bustle of Alona Beach, Yoga Barn Panglao will be your peaceful getaway.
Just 5 minutes by a motorbike, you can take a tricycle or ask a driver to pick you up after the class as well. Truly, this place feels like another island.
Yoga Barn Panglao is the only dedicated yoga facility on the islands of Panglao and Bohol. And actually, it is a great one!
The beautiful barn is situated in a lush tropical garden.
The open air building allows for a nice gentle breeze while practicing. We really enjoyed the great view from the first-floor studio.
Downstairs, you'll find a cozy place with beanbags and walls decorated with uplifting words of wisdom. This is a nice hangout to relax before and after the class. You will definitely meet other yogis to exchange tips of the island.
Barbara is an amazing teacher who loves to share all her knowledge. She is very energetic and enthusiastic and doesn't make yoga too serious.
Her mission is to make you smile while sweating in the most challenging poses. And actually, she does, with her Italian flair and sense of humor.
Yoga Barn Panglao offers various styles of 90-minute classes. We definitely suggest taking an afternoon class.
Starting with lovely sunset light and ending in darkness with all the nice little lamps shining like stars on the roof of the barn during savasana. The palm and banana trees are nicely lit
The students who are attracted to this barn are a lovely mix from all over the world: locals and tourists of all ages, from beginners to advanced yogis. Don't be scared, Barbara is very good with total beginners!
And last but not least for all budget travelers. If you decide to attend more classes after your first one, they are happy to give you a discount on the other classes by upgrading your classes to a bundle.
So should you spend a couple of days on the island…just create your own yoga retreat! Even for those on a strict timeline, Yoga Barn Panglao should not be missed!
Read next >>> yoga, sun and moon