working class acupuncture
Published: 12-05-2014 - Last Edited: 09-11-2022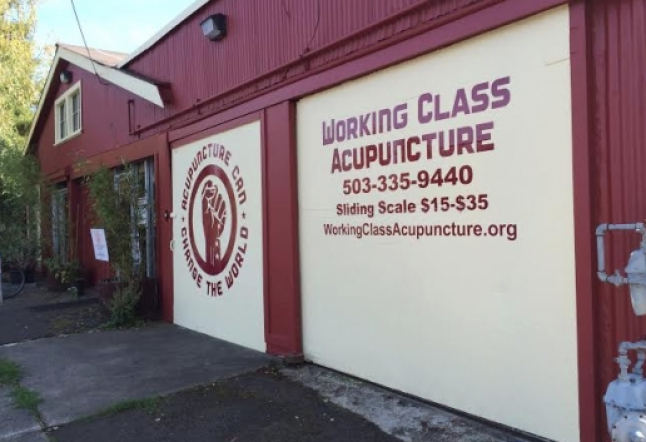 "Acupuncture can change the world." At first glance this statement from Working Class Acupuncture (WCA), an acupuncture clinic based in Portland, may seem quite bold. After visiting one of their three locations and experiencing the many benefits of community acupuncture, one starts to realize there may be some weight to the company's mission.
The three founders of WCA, Lisa Rohleder, LAc, Lupine Hudson, and Skip Van Meter, LAc, have put their words into action by creating the Community Acupuncture Movement (CAM), which promotes a social business model. What does community acupuncture provide that the more western style of acupuncture doesn't? For one, it is much more affordable. WCA uses a sliding fee scale – the patient decides what to pay from $15 to $35. This method allows people who normally cannot afford the average $45 to $100 cost of a typical appointment to have access to the many health benefits of acupuncture. Another benefit is the patient chooses how long the treatment lasts. Those with busy schedules can get in and out in half an hour. Others who want more time to let the needles "do their magic" can stay for over two hours. A third benefit stems from the community aspect of the treatment: a shared healing space.
For those who are curious, here's a snapshot of what a regular appointment at WCA is like: after making an easy appointment online, by phone, or walk-in, choosing an acupuncturist of their choice out of the 1-5 available that day, the patient is greeted by a friendly receptionist, pays for the treatment, and enters into the treatment room. The lights are dim. Mellow music is flowing into the room. Armchairs of many shapes, sizes, and colors are spread around, ready to be filled. Other patients are either reclining peacefully with their needles in, talking quietly with their acupuncturist, or getting in a much-needed nap. After a quick consultation with the acupuncturist, the needles are inserted, and the healing begins.
If it's still unclear how exactly Working Class Acupuncture is aiming to change the world, their mission statement might give some more clarity: "We provide, and advocate for others to provide, accessible acupuncture for working class patients; we support acupuncturists in being social entrepreneurs; and we share our business model for natural health care that empowers patients, builds community and breaks down class divisions." The Portland community should be grateful for having such a forward-thinking approach to healing in their own backyard.
Read next >> Harlow in S.E. Portland