Wolf and Bear's
Published: 16-03-2014 - Last Edited: 24-10-2022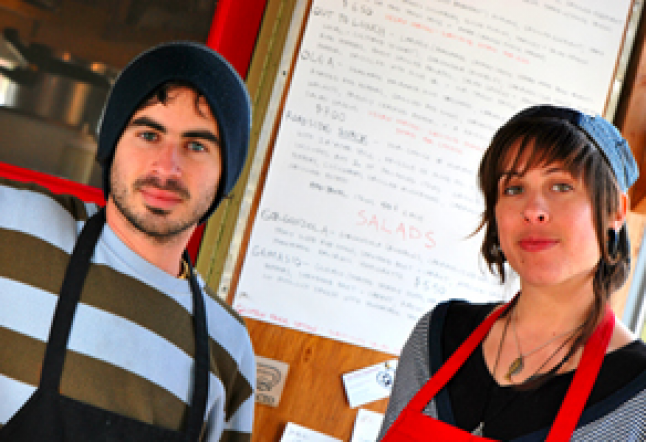 The best falafel sandwich in Portland comes from a food cart. Well, three food carts, now that Wolf & Bear's has expanded. What makes their falafel sandwich so delicious? It's a combination of factors. The falafel balls contain a mixture of herbs and are grilled rather than fried to perfection, cutting the grease factor drastically. When ready to serve, the falafel is joined by grilled eggplant, caramelized onions, and high-quality salad greens, all tucked into a warm pita.
Tanna TenHoopen Dolinsky (nickname: Wolf) and Jeremy Garb (nickname: Bear) opened their first Israeli food cart in 2009. Their small menu is all vegan or vegetarian. In addition to falafel sandwiches, you can choose from four other pita wraps and several salads. The gomasio salad is a combination of toasted sesame, nori, red onions, red peppers, shredded carrots, beets, tahini sauce and raisins on mesclun greens. The sabich wrap contains hardboiled eggs, grilled eggplant, cucumber, onions, parsley, tahini, salad greens, and mango pickles.
The downtown location is open for lunch only, but the north and southeast Portland carts stay open until nine pm and have covered seating areas to shield you from Portland's rainy days.
Locations:
Downtown Portland: SW 10th between Alder and Washington
North Portland: 3925 N. Mississippi Ave
Southeast Portland: 113 Southeast 28th Avenue
Read next >> maoz falafel