the west hollywood food coalition
Published: 23-11-2016 - Last Edited: 08-11-2022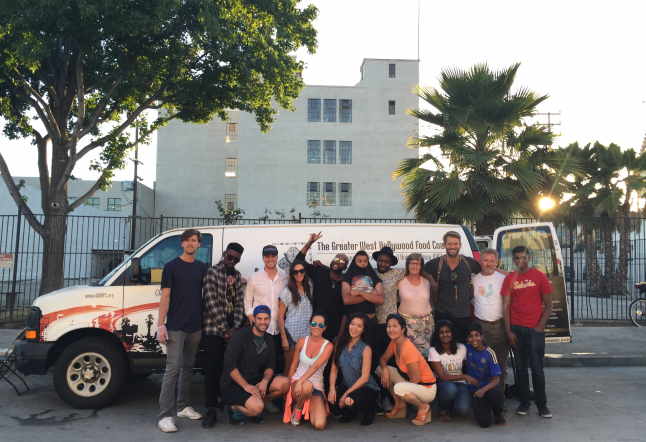 There is a space in Hollywood where people come together to feast on food and give value to each others lives. Side by side they love and care for each other.
Enter the West Hollywood Food Coalition, founded in 1987. Every night, at the corner of Sycamore and Romaine Street in West Hollywood, the volunteer-staffed organization puts out tables stocked with surplus food donated by hotels, restaurants, bakeries, grocery stores, produce markets, caterers, film studios and airlines in the Los Angeles area. The amount is usually enough to feed around 200 people. Compared to the over 80,000 men, women and children homeless on any given night in L.A. County, it might seem like small potatoes, but this coalition isn't just out to fill stomachs. They're out to restore dignity, restore confidence and see their clients for who they are: human beings in temporary distress.
Jennifer Chadorchi has volunteered her eyes, hands and heart for the coalition since she was 16. A resident of Beverly Hills and real estate entrepreneur, Chadorchi's devotion to the cause can be summed up in two words: tikkun olam.
"In Hebrew, tikkun olam means 'to heal the world'," she says. "I believe that all of us should do our part to heal the world. One of my favorite quotes is, 'To whom much is given, much is expected'. We have all been blessed with so much, and we should all do our part to give back."
"I believe that making a difference in one person's life means the world to that one person," she continues. "Sometimes it is overwhelming to see so many homeless people on the streets, then you remember the individuals who have hit tough times and need a helping hand to get back up. It's those individuals that keep me motivated to help."
In 1998 "Project Feed" was launched. It encouraged students in the Beverly Hills School District to earn school credit while helping the cause of the coalition. As a result, over 5,300 students served at nightly tables.
Chadorchi knows that for their coalition, there is always work to be done; but even seeing just one new face among the volunteers is an achievement they're proud to make.
"Success to me is defined in terms of getting new volunteers to take on a leadership role within the organization. It is amazing to see a volunteer come through, be moved by the experience and begin to form their own volunteer group through their friends and family. Our organization is unique because we are all a group of volunteers doing what we can to help."
"They [the clients] are so grateful for the incredible service the West Hollywood Food Coalition provides," Chadorchi says. "They come to us for what could be their only meal of the day. It is a beacon of hope to many who turn to them."
For more information about the coalition or to find out ways you can volunteer, contact Jennifer Chadorchi at +1 310.288.0090.
Read next >> finding kirtan in los angeles