weird fish
Published: 12-04-2011 - Last Edited: 09-11-2022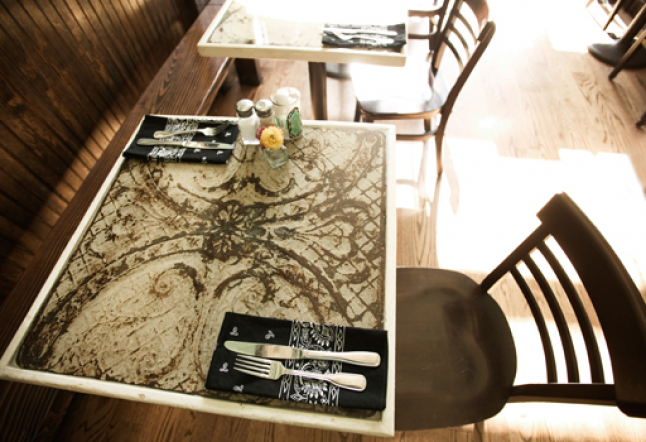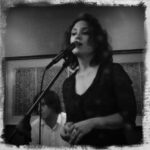 Deborah Crooks
Deborah Crooks is a California-based writer, singer-songwriter and performer. She has…
While the name might conjure up odd new sushi combinations, Weird Fish is not so much weird as quintessentially Mission neighborhood hipster. Decidedly streetwise, the restaurant draws on the liberal, artistic and multi-ethnic ethos of the neighborhood to conjure up a menu that features something for every dietary preference. Breakfast is served until 3pm, overlapping with the 11-5pm lunch menu. You can have both your home fries and your soy cheese on the same plate, and be assured that whenever possible, the ingredients are locally grown and raised.
The restaurant's respect of land and sea reflects the vision of owner Timothy Holt, who grew up boating and fishing on the Chesapeake Bay, and has a special fondness for both manatees and mermaids. Having witnessed firsthand the crisis happening in the fishing industry, he's dedicated to sourcing his seafood from farmers who use sustainable methods, making his restaurant as low impact as possible.
Though Holt is committed to green business practices, the moderate prices reflect the local price point (down the block are several $1 stores and tacquerias). The restaurant composts 75% of its waste and uses low-flow faucets, dishwashers and reduced-electricity lighting. Ingredients are organic wherever possible. Weird Fish sets a premium on health of the body and the earth. Tempeh, tofu and veggies get as much menu time as do crab, shrimp and catfish. Still, the proprietors understand that most folks like a good plate of eggs or fish and chips every now and again. When we ducked into the restaurant one Sunday at brunch time, a cup of the soup of the day""a thick puree of carrots, beets and ginger""got our blood sugar back up to a speed where we could make sense of the decidedly diverse menu. James Brown was playing on the stereo, and most of our fellow diners were tucking into hefty plates of eggs, muffins and hash browns"¦and quite a few mimosas. The soup set the tone for the rest of our meal: clean, healthy and not too filling.
We eschewed Weird Fish's more diner-influenced options ("The Mariner" features two eggs any style, hash browns, English muffin and your choice of catfish or Tilapia). Instead, we steered our ship vegan, sharing a dish of the tacos featuring grilled yam, spinach and avocado.Laced with chipotle sauce, Napa cabbage and sprinkled with the requested soy jack and a sprinkling of pepitas, the tacos epitomized California's melding of influences: healthy and global, homey and modernly democratic. The chipotle provided a subtle kick (heat-seeking fans will want to request hot sauce if they think a Mexican meal isn't real if it doesn't induce a good sweat); the avocado was sliced rather than rendered into a guacamole. And of course, I felt virtuous for eating yams rather than potatoes. The home fries on the menu are also a combo of yams and potatoes, though shredded thin and given a long dose of the frying pan.
The organic spinach salad was straight-ahead, generous and satisfying. The big bowl of fresh greens were sparingly dressed with mint-balsamic dressing and tossed with walnuts, feta and cranberries. The banana pancakes for the child at the table were chock full of fruit and dusted with powdered sugar. Likewise, our dessert of fried apple plantains with vegan vanilla ice cream made for a sweet ending to the meal. Due respect to coffee is given: The Mr. Espresso coffee was served dark and strong (no decaf is on the premises).
On another visit, my fellow diner opted for one of the healthy, grilled fish plates. The firm catfish was blackened and served up with mango salsa and a side of the cilantro rice. A good squeeze of lemon brightened the flavor of everything on the plate. We shared the hefty Asian salad as a starter. The salad, a well-executed toss of impeccably clean ingredients, cucumbers, red pepper, almonds and mandarin oranges, was lightly dressed with a balsamic dressing. We ate the entire thing.
If Weird Fish is any one thing, it is a cool, dependable neighborhood restaurant, kind of like eating in your best artist friend's kitchen. The menu is as friendly and accommodating as the tattooed servers. After the list of side orders, it reads, "Anything else you see, just ask, we will work out a deal." It's the perfect restaurant for a reasonably priced, thought out but not overly fussy meal that won't weigh you down too hard, contribute to global warming or kill your pocketbook.
Read next >> medicine eatstation | closed