mount agung latest news
Published: 21-09-2017 - Last Edited: 29-01-2022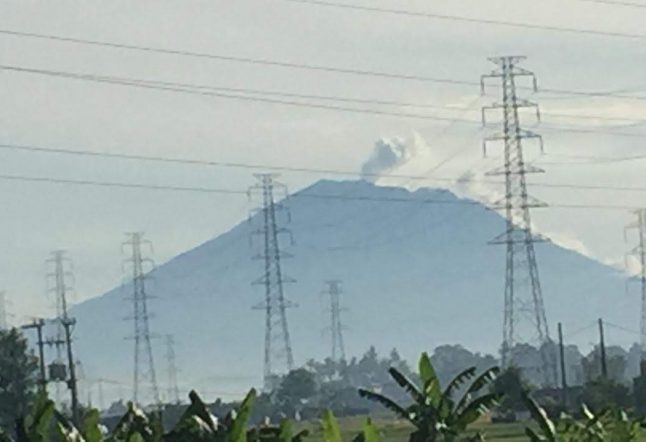 Monday, December 9th, 2019 01:45 pm Local Bali time.
Because Indonesia sits along a seismic strip in the Pacific Ocean called The Ring of Fire, volcanic eruptions and earthquakes can occur regularly. Most recently, in April, Mount Agung erupted in the middle of the night, sending volcanic ash 2 kilometers up into the sky.
Though there is no immediate threat at this time, authorities always urge locals and visitors to remember that alert levels may change on short notice, and they are always advised to take extra care and follow the advice of local law enforcement. Traveling near volcanic areas is discouraged when alert levels are heightened.
Updated Sunday, May 21st, 2019 02:30 pm Local Bali time.
As you may have heard, Mount Agung erupted again this May 18th at 2.09am.
This time the thick, gray volcanic plume of steam and ash shot up about two thousand meters into the air from its peak, which is 5,142 meters above sea level, and spread in southeast and east directions.  According to the seismogram recording, the eruption had a max amplitude of 25mm and lasted for two minutes and 57 seconds.
Indonesian authorities have advised those living around the Mount Agung area as well as tourists, visitors and climbers to not engage in any activities in the demarcated danger zone, specifically in all areas within a 4km radius of Mount Agung's peak.
Watch the video posted by Jacqueline Zwahlen on YouTube below. Scary, or beautiful?
Updated Sunday, March 17th, 2019 01:30 pm Local Bali time.
Mount Agung was observed to have released ash columns as high as 500 metres from the top, on Sunday morning at around 8am. Leaning toward the east, seismograph results recorded the eruption to have a maximum amplitude of 5mm, with a duration time of 39 seconds.
According to PVMBG, the volcano is in standby Level III. Locals and tourists within the community have been warned to obtain a 4km safety radius around the crater. The danger zone continues to be observed and evaluated as it is subject to change depending on further activity.
Furthermore, community members which reside and move around the river have been advised to take extra care. Volcanic mudflows, which are caused by volcanic substances remaining present around Mount Agung, could potentially occur if there is rain.
Updated Tuesday, July 3rd, 2018 01:30 pm Local Bali time.
The Mount Agung volcano erupted once again yesterday(Monday), shortly after 9 pm Bali local time. According to Indonesia's National Disaster Mitigation Agency, the volcano discharged a 2,000-metre cloud of thick ash and solid rocks while lava tumbled down the mounts slopes.
The volcano alert level remains unchanged by the authorities with the exclusion radius remaining 7 km(1.2 miles). The eruption was seen as a mild or "strombolian" explosion by the Indonesian geological agency, lasting around seven minutes and reaching 2 km(1.2 miles) of land around the crater.
Locals were informed and warned of the danger of the fast-paced surge of volcanic debris. Yesterday eruption comes after last week's volcanic ash explosion that closed the Bali international airport canceling travel routes to the island.
Updated Friday, June 29th, 2018 11:08 pm Local Bali time.
Mount Agung started releasing volcanic smoke and ash since yesterday morning, June 28, 2018, and continued today, spreading ash to the west and southwest region. The Mount alert lever remains unchanged at Level 3 as well as the size of the crater zone.
The National Disaster Mitigation Agency announced that 450 flights are canceled due to the emerging volcanic ash occupying the airspace. After the meeting of the Mount Agung Impact Management Committee, it was decided that the airport would be closed from 3 am to 7 pm Bali time. At the present time, the Bali Airport is OPEN.
The airport on the neighboring island of Lombok is currently open, and the port in Gilimanuk in West Bali serving ferries to the island of Java remains open.  The moving ash cloud may cause regional airports to periodically close and re-open.  Travelers should contact your airline for up-to-date information on their flight.
Up until now, according to the national agencies, 75,000 people were affected by the eruption, not allowing them to return to their homes.
Updated Wednesday, February 14th, 2018 10:37 am Local Bali time.
Mount Agung erupted again after the decline in status from level IV to level III had been decided on 2/10/2018. The eruption occurred on Tuesday (2/13/2018) at 11:49 WITA expelling smoke and ash to a height of about 1,500 meters.
This comes after the Minister of Energy and Mineral Resources had declared the safety radius to be decreased to 4km. Head of PVMBG Kasbani added that they have installed advanced equipment in order to provide early warning signals to the local community. The eruption lasted for 140 seconds with no after eruptions. Thin rain occurred around the Pandan Sari Hamlet, Village Dukuh, District Kubu Karangasem. Community activities are running normally and Bali remains safe. There have been no damaging effects.
Up to this point, there are 15,445 displaced people in 146 refugee points. Since Mount Agung's alert status was reduced all refugees are able to return home. The government, the BNPB and BPBD will now begin the process of returning families by preparing infrastructure, such as repairing homes and damaged roads.
Updated Friday November 30th, 2017 9.24 am Local Bali time.
Indonesian authorities re-opened the Bali airport on November 29 at 3:00 p.m. local time.  However, each airline will make its own determination regarding whether or when to resume flight operations.  Travelers can also exit the island of Bali via the port in Gilimanuk in West Bali, with ferry service to Java. The airport on the neighboring island of Lombok is also open, though some airlines have cancelled flights.
Mt. Agung remains at Level 4, the highest alert level, and continues to emit ash.
Airport Status: The Bali airport status may change and travellers should check the status of the Bali airport at www.bali-airport.com/id and the Lombok airport at: lombok-airport.co.id.  Please contact your airline for up to date information on your flight.  Information on the volcano's latest status can be found on the following websites: magma.vsi.esdm.go.id/, www.vsi.esdm.go.id/ and www.bnpb.go.id/.
Updated Friday, November 21st, 2017 20h02 Local Bali time.
Agung experienced a "phreatic" explosion at 5.00 pm Bali time on November 21st, which is a steam-driven explosion. Some translations of this event call it a "small scale eruption." There has not been an eruption that involves lava at this point. Thus far, airports and airlines have not yet changed their flight schedules. It is important to be very calm and monitor your sources.
There is an ash cloud with this phreatic explosion, which is currently heading away from school. Unless the wind changes, it is very unlikely to have any impact on the school. The level has not been raised to level 4. It remains at level 3 (High Alert) at this point.
Communities are to remain calm and to always follow the recommendations of PVMBG has the alert level is still at 3.
Communities around G. Agung, climbers, visitors, tourists are advised not to  climb Gunung Agun and not do any activity within the safety zone which is  within a radius of 6 km from Kawah Puncak G. Agung and areas to North-Northeast and Southeast-South-Southwest as far as 7.5 km.
Estimated danger zones are continuously evaluated and can be changed at any time following the most recent / recent G. Agung observation data.
Areas affected include Br. Br. Belong, Pucang, and Pengalusan (Desa Ban); Dusun Br. Badeg Kelodan, Central Badeg, Badegdukuh, Telunbuana, Pura, Over and Sogra (Sebudi Village); Dusun Br. Kesimpar, Kidulingkreteg, Putung, Temukus, Besakih and Jugul (Besakih Village); Dusun Br. Bukitpaon and Tanaharon (Desa Buana Giri); Dusun Br. Yehkori, Untalan, Galih and Pesagi (Jungutan Village); and some areas of Dukuh Village.
————————————————————————————————-
News from October 20th, 2017
Despite Mount Agung slowly churning in the background, Bali has still managed to run as usual. However, that does not disregard the struggle of approximately 139,000 refugees in 395 shelters who have been forced from their homes in response to this Level 4 crisis. In despite of this, it has been humbling to see the empathy that the community has displayed during this time of need, and with the crisis potentially remaining for another year, it is important that this support continues to run strong. The Indonesian island of Bali is on alert as the threat of Mt. Agung's eruption has reached level 4 which is the highest level of alert.
A 200m-tall column of smoke was seen rising from the mountain early on Sunday, said the chief geologist monitoring the site, Gede Suantika.
He told the Reuters news agency: "We observed sulphuric smoke spewing from its crater and we never saw this before."
So far, nearly 40,000 people have been evacuated from their homes near an active volcano in Bali, as authorities warn it could erupt imminently.
Authorities have imposed a 12km (7.5 miles) exclusion zone around the mountain and issued their highest level alert on Friday.
Some communities have also set up livestock shelters for the cows which they had to leave behind, reported The Jakarta Post.
Many villagers are still visiting their homes in the daytime and life is continuing normally, according to Reuters.
Please note again what this means: The National Disaster Agency of Indonesia (BNBP) has a scale to measure levels of threats for volcanoes. These levels indicate the following:
Level 1: Normal
Level 2: Alert
Level 3: High Alert. This level means make preparations to evacuate if you are in the high risk areas (in this case 15km from the volcano in all directions) and make other preparations in general. People who live very close to the crater usually evacuate at the level.
High Level — Level 4: Imminent. This level means evacuate out of the full range of the danger zones, more than 15 km at the minimum away. Note: moving to this level can mean that an eruption is predicted in 24 hours (as you see on many news sources) but it can also be days or weeks away.
Zone of Impact : Based on the experience of 1963, which was the last major eruption of Mt. Agung, the recommended area around the volcano to stay away from was 15 km. The current recommendation is to stay 12 km away from the volcano. Again, this is unpredictable. For a point of reference, Ubud is 50km away / Green School is 60km away / Canggu is 70km away / Sanur is 60km away from Agung.
Communities in close proximity to Mount Agung are asked to remain updated on changes in status and prepare for possible evacuation. Tourists are encouraged to continue visiting but should be informed while limiting travel to areas outside of the radius — all hiking on the mountain is currently prohibited.
Ubud, Sanur, Canggu, and Denpasar are outside of the radius of a potential lava flow. Green School (near Ubud) remains open and will continue to inform parents of any changes. Meanwhile, Sunrise School (in Badung) as well as Green School near Mambal have canceled all field trips until further notice.ӬӬ
Mount Agung is located on the eastern side of Bali and has been a destination for avid climbers that enjoy summiting the 3,031 meter (9,944 feet) peak. While Mount Agung is the highest peak in Bali, it is also home to Besakih Temple (Mother Temple), which is greatly revered as a spiritual center.ӬӬ The last time Mount Agung erupted was in 1963 and there were 1,100 casualties.
Here are some additional information on how to prepare for the health hazards of volcanic ash and the guidelines on preparedness before, during and after an ashfall.
UPDATE:
The likelihood of Mount Agung eruption is high according to geologists who have been watching the volcano's activity closely since last Friday.
There have been more than 1000 tremors since Monday making it very likely for an eruption- but theicre is no way to predict when it could happen.
However, authorities are prepared for an eruption as more than 100,000 people have been evacuated from the 7.5-mile danger zone and a 12 Kilometer danger zone has been set up around the mountain.
Travelers are to stay out of the danger zone. The main tourists spot Kuta and Ubud are well out of the danger zone, but travelers are still advised to take precautions.
In the case of an eruption, authorities have planned for planes to be diverted, transportation Minister Budi Karya made a statement on Wednesday: "Ten airports will serve as alternatives for flights bound for Bali's Ngurah Rai airport in case it is closed because of volcanic ash."
The designated airports – in Jakarta, Makassar, Surabaya, Balikpapan, Solo, Ambon, Manado, Praya, Kupang, and Banyuwangi – will be the airports used in this situation.
At this point in time- no flights have been canceled or diverted. Please check with your airline for any service disruptions.
If you are planning to travel to Bali, or are on the island for vacation, contact your tour provider and insurance to check your coverage. Most tour operators are under moral obligation to ensure your safely home. Insurance providers may not cover "acts of God" which Volcanos eruptions usually fall under. Additionally, many will not pay out for predicted events.
Make any arrangements for shelter, food, and water if you are planning to be on the island.
In the event of an eruption, please listen to local authorities.
There is a facebook page with a lot of information and advice created by a local Indonesian expat. Like the page here to keep updated on information about the eruption, how to stay safe, and where to get supplies.
https://www.facebook.com/agungvolcanobali
NEW ZEALAND RESIDENTS****
New Zealand residents traveling to Bali are advised to register with Safe Travel
Australia and India have both advised precautions against travel to Bali, however, it is still safe to travel here at this time.
For more info on Bali's best spots, including STAY | SPA | PLAY |  EAT | SHOP | YOGA – Download THE ULTIMATE BALI GUIDE 2018 for free here: http://bit.ly/BALIGUIDE2018