voda spa
Published: 08-04-2011 - Last Edited: 17-11-2022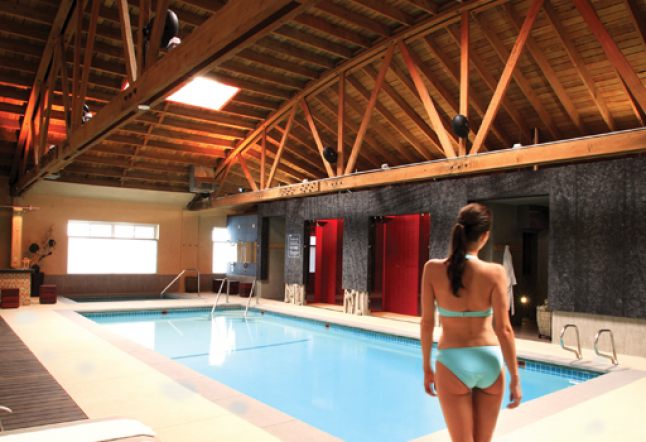 place where you can have all of your beauty and wellness dreams fulfilled
If you are seeking an in-and-out spa experience, then Voda Spa is not the place for you. Voda (Russian for "water") was specifically designed for clients who want a thorough spa experience. It's a place where you can have all of your beauty and wellness dreams fulfilled. Their array of amenities, including their menu of treatments, salons, restaurants and lavish facilities, are colored with uniquely Russian flair.
The architects repurposed a building that was originally a 1930s Packard Car Showroom. Leaving the exterior walls and exposed wooden bow truss ceilings from the original space, they fashioned a contemporary, functional spa facility. Natural elements make up the interior design. Birch, a tree indigenous to Russia, marble, stone, granite and cedar accent the spa. Floral arrangements make use of natural garnishes such as moss, dry branches and rocks. Water, another aesthetic component, flows throughout, from fountains to pools to Jacuzzis. Skylights light the facility, yet the waxing room utilizes natural light best, amplifying every unwanted hair. The outdoor patio yields quiet contemplation and relaxation, with an open sky in place of the ceiling. Architecturally speaking, the spa unfurls as a sequence of premeditated spaces and rooms, with a particular treatment or activity in mind for each area.
At Voda, patrons can get scrubbed, rubbed, wrapped and rapped, with delights like custom massages, exotic body treatments and even a Gentleman's Facial to help with ingrown hairs and shaving irritation. Rooms for individual and couples massages are each equipped with iPod hook-ups so that the client or body worker can select their favorite music. Aside from Voda's variations on the usual spa offerings, they're bringing the Old World tradition of the Russian banya back. The banya is a hot sauna, much drier than the traditional Western saunas, heated by hundreds of pounds of river rocks. The heat elicits detoxification, enabling the body to heal itself. Next, become an unofficial member of the Polar Bear Club, submerging in cold water. After a quick icy plunge, repeat. On the third trip to the banya, the platza is performed""a rigorous massage using a venik, which is a bundle of oak or birch branches. The platza master rhythmically raps the venik on particular areas of the body, releasing essential oils. The purification of the body, increased circulation, and renewal of the spirit will surpass any trepidation about this ancient tradition.
Visitors can also take advantage of state-of-the-art spa facilities before and after treatments. There are poolside smoothies and ice-cold towels strategically placed outside of saunas, steam rooms and banyas. After all of this unwinding, the thought of LA traffic will be less appealing than usual. Instead, head to the salon where finishing touches like blowouts, wet shaves and polishing happen. Still not ready to leave Voda Spa? Dine at the Voda Café, which includes delicious and healthful dishes like Zucchini Carpaccio or Honey Yogurt Mousse Tart. The sleek modern ambiance of the V Room bar and lounge is fully wired to accommodate meetings or conferences. Their exclusive VIP room, with its own spa tub, sauna and treatment room, is made for spa soirees like bachelorette and birthday parties.
For night owls or professionals who work late hours, Voda's therapists and estheticians are available seven days a week to provide treatments until 10pm, and the spa facilities are open until midnight. Voda Spa feels similar to lounging at a posh hotel, sans a room, so making it a place for solitude or socialization is up to you. There are specific days designated to men only, women only or co-ed, giving the option of a single sex spa experience, or not. With the stress of modern times and the bustle of Los Angeles, Old World spa traditions placed in a luxurious setting are ideal for decompressing, healing and straight up pampering.
Read next >> subtle green