villa amor
Published: 12-12-2017 - Last Edited: 12-08-2021
The hills around the picturesque fishing village of Sayulita in Mexico are decorated with stunning summer houses. With Villa Amor in its centre. Here you have best of both worlds: the privacy and facilities of a villa and the service of a hotel. Villa Amor is located on a dirt road at the end of the south coast. We loved being so close to town – just five minutes by foot – yet away from the hustle and bustle.
The 35 rooms are uniquely positioned on the hillside, literally built into the lush green jungle. Studios and villas are available – the villas are larger, with more rooms. Most of them have an open-spaced design with gorgeous views overlooking the beach and ocean. Every room has something unique to offer. You can expect to find traditionally carved wooden doors, carefully selected Mexican artifacts, a private infinity plunge pool, a hanging swing bed or a huge tree growing right through the villa.
We stayed in Villa Escondida. The room is spacious and spotlessly clean. The delicate touch of white curtains juxtaposed with huge rusting Colonial iron doors gives this villa a luxurious feel. The terrace outside offers a fully stocked kitchen, a plunge pool, colorfully artistic mosaic patterns on the ground and hanging swing chairs from a spectacular tree. We loved the jungle and ocean view from our outdoor dining area. We could even hear the waves crashing on the shore and watch the ever-changing hues of the sky during sunrise while lying in bed.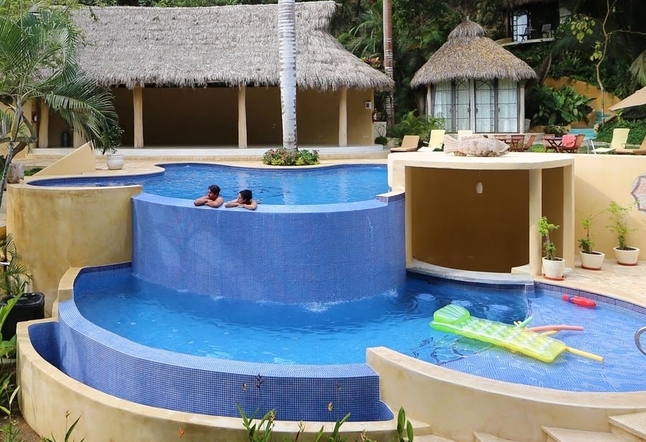 Credit Villa Amor
From our terrace, we saw an impressive local funeral procession. The community, clad with flowers, were singing and dancing their way to the cemetery close by. We found it beautiful and less sorrowful than most Western funeral traditions. If you love these cultural tit bits then this could be a good place to stay during the celebrations of Dia del los Muertos (Day of the Dead). The people of the town hold a communal walk to this cemetery around midnight of this festival, which you can watch from the balcony at Villa Amor. Just a bit further you can find Playa del los Muertos (Beach of the Dead), which sounds creepier than it actually is… We recommend a visit to this little beach, being situated in the jungle it is a peaceful escape from the busy main beach of Sayulita.
In the morning we joined a free yoga class in the yoga shala situated in the communal tropical garden. It was a great class, not to mention the teacher pampering us with essential oils. An appreciated extra touch! You can also use their standup paddleboards to try your – maybe even yoga – moves on the ocean. The beautiful swimming pool for those quick pre-lunch dips and an Italian restaurant with a terrace right on the water, are a few other treats to experience.
We support their sustainable vision to keep this seaside town and their local environment as charming and beautiful as it has always been. The Villa is working on reducing waste, eliminating toxins and conserving natural resources. While also partnering with local, sustainable businesses and support coastal preservation activities.
Facebook Notice for EU! You need to login to view and post FB Comments!