the ecstatic teachings of victor colletti
Published: 03-04-2016 - Last Edited: 08-02-2022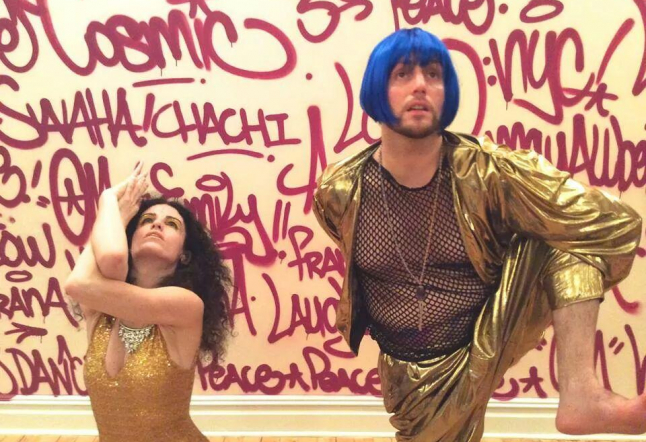 Mesh wearing, boa sporting, wig donning – yoga teacher? Yes. This exists. Colorful, versatile, and seeped in the practice, yoga teacher Victor Colletti exudes a joyful and loving energy that is a gift to experience. Quick to make introductions and always willing to serve, Victor is truly an example of a yoga teacher who lives the yogic principles both in and out of class. His grounding presence and skillful teachings create an ecstatic playground for new and seasoned students alike.
While his classes range from calm and serene to eccentric and wild, they all express his ability to gracefully interweave the spiritual and physical aspects of the practice together. With his consistent reminders to honor your breath and his tremendous focus on community, one leaves class refreshed in body, mind, and spirit.
In addition to his regularly scheduled classes at Laughing Lotus Yoga Center, Victor Colletti also teaches special event classes that are an experience not to be missed. These classes are costume wearing, theme classes that are sure to add a splash of excitement to your Friday night and leave you shaking glitter out of your clothes and off your body for days.
His popular "Soul Sweat: Madonna Edition" is offered several times during the year, at now closed Laughing Lotus Brooklyn. He also teaches one-time only, mash-up classes at Laughing Lotus NYC. Past classes have included "Lotus is Burning", co-taught with the amazing Emily Stone and his "Good Friday" special co-taught with the jubilant Serena Soffer.
Even within these unconventional and lively special events, Victor remains conscious of the higher purpose of yoga by creating a space for mindful reflection on life, relationships, and the spiritual practice.
Victor Colletti used to teach five regularly scheduled classes at Laughing Lotus NYC and two regularly scheduled classes Laughing Lotus Brooklyn. Both are amazing centers with strong, vibrant communities. Last minute walk-ins were welcomed in his regularly scheduled classes, but his special event classes frequently used to sell out. You may want to sign up ahead of time to guaranteed yourself a spot.
Victor teaches now at LL Studio Flatiron, click here for his schedule
Visit Victor's Workshops & Events page – You can reach Victor Collettti though his IG Account here.