via derma
Published: 02-05-2011 - Last Edited: 17-10-2022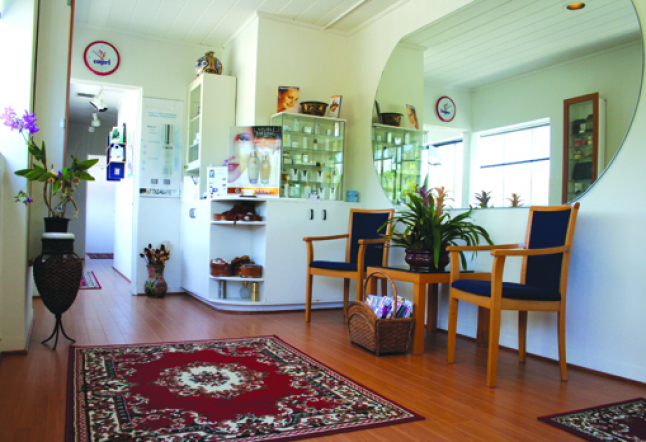 In Europe, it is traditional for spas to operate without advertising or building signage. In Beverly Hills, as it happens, there is a European-style skin care spa that operates in a similarly discreet fashion. Located on a sleepy stretch of Civic Center Drive, the tiny, jewel-like Via Derma offers several European-style, non-invasive skin and body care treatments that are unique to this spa.
Via Derma is owned by Romanian-born Gabriella D'Anton, who has worked in European skin care clinics and her own spas for the past 30 years. With her low-key but caustic sense of humor and radiant skin, D'Anton is youthfully vibrant. In fact, she was wearing zero make-up when this writer visited. (Note to any readers considering plastic surgery: if you start coming to Via Derma, you'll never need surgical interventions. Just think of the money and recovery time you will save.)
With her scholarly approach to analyzing an individual's skin and creating customized treatments devised for each person on the spot, Gabriella is one of the L.A. area's most trustworthy skin gurus. More good news: Via Derma uses nature-based, anti-aging product lines such as Gerovital (which invented some of the first anti-aging skin care products). The philosophy here dictates that products are never hyped during treatments, and customers are never pushed to purchase lotions or potions before leaving. Another plus-factor that makes Via Derma well worth visiting is that booking certain treatments in a series entitles you to discounts; your savings depends on the number of appointments.
Via Derma excels at exfoliating, deep cleansing and nourishing facials that incorporate expert facial, neck and shoulder massage. The Quadruple Exfoliation Facial (about 90 minutes for $135) is a case in point. Enhanced throughout by sequences of stimulating, invigorating and relaxing massage, the process begins with microdermabrasion (a non-invasive exfoliating technique that vigorously clears away dead skin cells while toning skin). Step two involves cleansing, botanically-derived toner and a yummy-smelling pineapple alpha hydroxy and beta hydroxy mask with facial steam. After this comes more botanically-derived toner and then a nourishing herbal and clay mask. One more round of cleansing and toning and a moisturizing mask completes this facial.
As it happens, Via Derma also offers custom-tailored facial treatments for adolescent and adult acne as well as rosacea. Another highly signature service here is the Facial Caviar Treatment (120 minutes for $165). Ideal for normal, dry, and/or mature complexions, this incorporates a soothing enzyme peel under steam, an enzyme scrub with a tiny mechanized brush and manual deep pore cleansing. Next comes intense moisturizing, a skin-specific peel, an anti-oxidant treatment with nurturing ampoules, and an invigorating massage of face neck and shoulders, topped off with a caviar extract nourishing mask.
As Gabriella puts it, "I seriously enjoy helping people learn what they can do to manage their skin and live better. All it takes is a little education, patience and time. The skin is the largest organ of the body," she adds, "and it's actually quite easy to nourish it through proper care and maintenance."
Read next >> the spa at the island hotel newport beach