Govinda's and Movie Room
Published: 17-05-2012 - Last Edited: 09-11-2022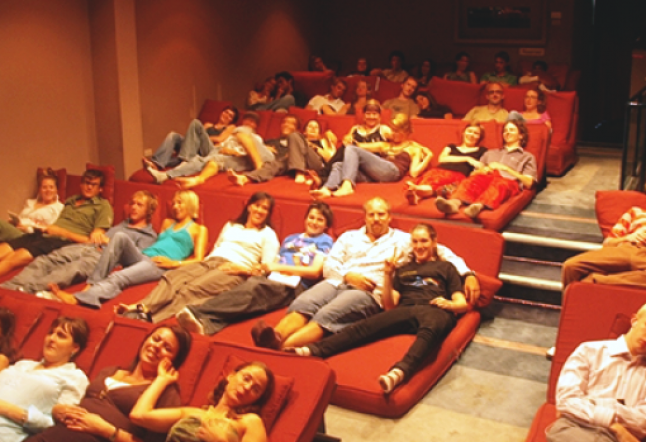 Govindas is a vegetarian-buffet restaurant/temple/cinema, set over three floors in Darlinghurst.
The best vegetarian food in Sydney by far and the menu changes every night ensuring each visit (yes, you will come again and again), will be a chance to try many many dishes. As well as the delicous buffet, they offer a mix of cold and hot drinks; sumptuous desserts (the cheesecake is pallet-perfection) and their world famous mango and strawberry lassi, which is legendary"¦and a great antidote to all those spices.
With walls mounted with Hindu god and goddess's and intimate candle-lit tables, it has the feel that you have stepped into a culinary temple, homed by beautiful sandalwood beaded yogis.
There is no alcohol served or allowed on the premises, which reminds you that you are in a Hare-Krishna run establishment. This does ensure a non-violent, relaxed and friendly atmosphere. You must get your lips around a bottle of Chi – a carbonated beverage on offer. It's packed full of vitamins and the kinda' stuff that will have you feeling alive.
Combining the buffet with a cinema ticket is excellent value for money and costs under $30.00. The short flight of stairs leads you to film-viewing Nirvana; where you can take your shoes off, lounge on a sofa and catch one of the great art-house/post-mainstream release flicks that are on offer. This place is perfect for dates and full of cuddling couples. It's also perfect for sharing the bigger sofas with a group of friends or going solo as there are huge armchairs just fit for one.
Wednesday, Saturday and Sunday, the Lotus Room doors open for Kirtan evenings, where you are invited to join in with chanting sacred Mantras, listen to some uplifting music or be enlightened by lessons from the Bhagavad Gita. Wednesday is the best day to go as you can combine a whole evening of Gita readings, Kirtan and the buffet for only $10.00!
Govinda's is an absolute sanctuary for any wandering yogi who is looking for a perfect space for Satsang, Satvic cuisine and some inspirational film.
Read next >> palapa ganesh