bliss cafe
Published: 01-08-2013 - Last Edited: 09-11-2022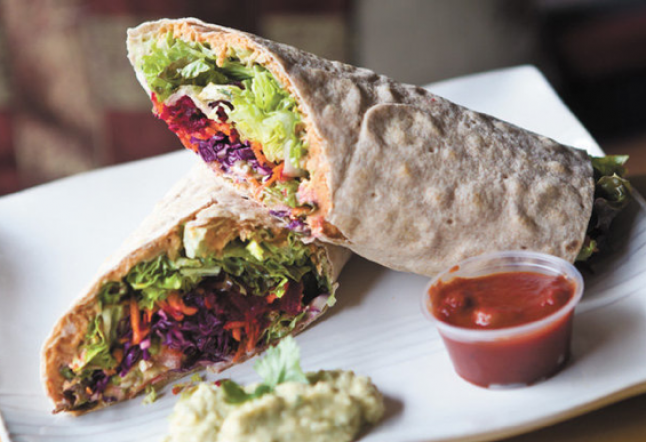 Located in "The Network" of San Luis Obisop, CA (between San Francisco & L. A.) although I caught up with them at the Lightning in a Bottle Festival.
David & Kyle Fintel, restaurateurs of fine vegan edibles with the clash of two cultures, "vegan and the south." delighting first in their delectable omega shakti smoothie enriched with only fresh ingredients: coconut milk, bananas, strawberries, dates, chia, cinnamon & vanilla.
David explained that they only use organic soymilk, coconut milk, fresh & frozen fruits & the use of dates instead of agave nectar as they want to have a richer texture with their smoothies. They succeeded as I have to say it was one of THE best smoothies I've yet to taste. Their menu is broad with appetizers, bowls, main plates & salads along with sandwiches, wraps & burgers, juices & smoothies. they served up their infamous pineapple chutney with my protein style hummus wrap (whole wheat lavash filled with hummus, lettuce, shredded carrots, beets, red cabbage, tomatoes, sprouts & veganaise). Each bite was one bit closer to heaven.
Their staff were joyous as they prepared the food, one as friendly as the next. They delight in preparing delicious vegan meals for their customers but they also host community events. Live music with a progressive twist & they collaborate with conscious groups of raw foodists, rape victims & other causes they feel need a boost with publicity & a bit of aid. Good karma cuisine: dine in, take out & catering available. whole food cafe & market catering to the cause of the healthy consumer at 78 Higuera Street.
Stop in, eat, enjoy. you're certainly be welcomed by them & their proud mother, Marie (she's the one who urged me to try their food.) Their motto: by embracing simplicity, patience, and compassion, we strive to provide with our recipes, a "blissful" state of mind.
Read next >> susi