vardo café
Published: 13-08-2011 - Last Edited: 08-11-2022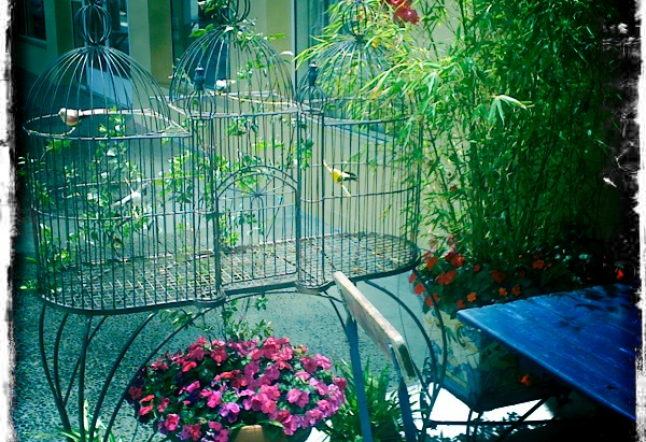 Vardo Cafe is a true find.
Exit Exhale Yoga Studio on Main Street in Santa Monica, turn left and stumble upon this tiny little gypsy inspired wonderland!
As soon as one walks in, there is immediately a sense of a collective and community, for those who seek nourishment for all the senses, you will find it there.
It's the perfect post yoga spot. The menu is a mix of ethnic Vegetarian, Vegan, and Raw delights for all the senses. Try their Falafel or a Gitano's Kale-idoscope salad: kale, red cabbage and carrot tossed with a lemon vinaigrette. Guest favorites are their specialty Vegan Stews. Enjoy their nourishing side dishes: avocado and shallot yogurt, macadamia feta, hummus, and eggplant. 
Farzad Colin Kasrabod and his wife Ava are devoted to beauty and the subtle spaces of experience. With backgrounds in art, architecture, and dance, they find creative ways to bring a special ambiance to Vardo.
They have created a true oasis: swirly iron gates, flowers and birdcages with beautiful outdoor and indoor seating. Crystal hanging lamps adorn the ceiling and large comfy chairs inside surround big wooden tables. Guitars are set in the corners, and not just for show! Sometime guests or waiters play a tune and sing. A creative playful energy flows here in abundance.
Ready for dessert? Try "The Casanova," an aphrodisiac cocktail, sensually spiced, with cacao, rich dark chocolate and cayenne.
Vardo place provides sustenance, sanctuary, taste, friendships, and a home from home for your playful gypsy souls.
Read next >> real raw live