the sticks
Published: 05-01-2018 - Last Edited: 09-11-2022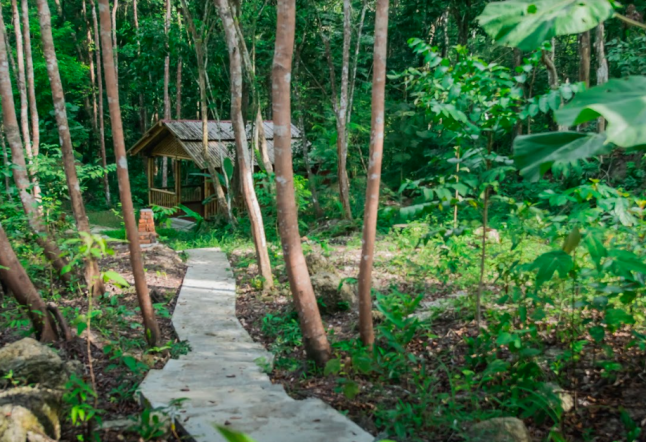 Have you heard of the term "glamping"? In the last few years, this new type accommodation has spread all over the world and offers a unique experience of nature and absolute comfort. Just think "glamour" and "camping" and you got it! This is the end of damp sleeping bags, and rocky bed floors.
On our route to discover Malaysia, we made a stop at THE STICKS, a glamping lodge situated on a former Tin mine, rich in human history, in the rain forest about 1 and 15 minutes north-east of Kuala Lumpur. No need to bring on any camping gears once you arrived at THE STICKS, everything is thought through for you.
The tents (think more like sweet little huts or bungalows) are equipped with double size beds, white sheets and fluffy comforters. The hot shower and very clean bathroom seal the deal on reconciling anyone with the joy of camping. When was the last time you slept in an absolute pitch-dark airy room in the middle of the jungle, while listening to the river go down stream and all sorts of insects chanting and birds chirping? It feels AMAZING, especially when you can "just get up and go" for a homemade breakfast and you don't have to do the dishes afterwards! Which means you can go straight to doing your practice at the small yoga hut, up the hill.
Rubin and Michelle, Malaysian-born couple who will be your friendly and very helpful hosts, have realized their retirement dream, mainly using recycle woods from the forest, building slowly and ethically, creating a place were you feel instantly at home.
Yet, if you are up for a bit of action, there is a waterfall 400 meters away (only open Fri-Sunday and public holidays), jungle guided hiking trails (bring appropriate shoes), and white water rafting and tubing.
The STICKS is for nature lovers, to fully let go of the buzzing city polluting noises and yes, you will be using your "electronic" but only for the flashlight of your phone which will come handy after dark. There is no Wifi on property unless emergency email to the family to let them know how great of a time you are having doing NOTHING!
Read next >> the farm at san benito