the plant café organic
Published: 29-10-2014 - Last Edited: 25-02-2023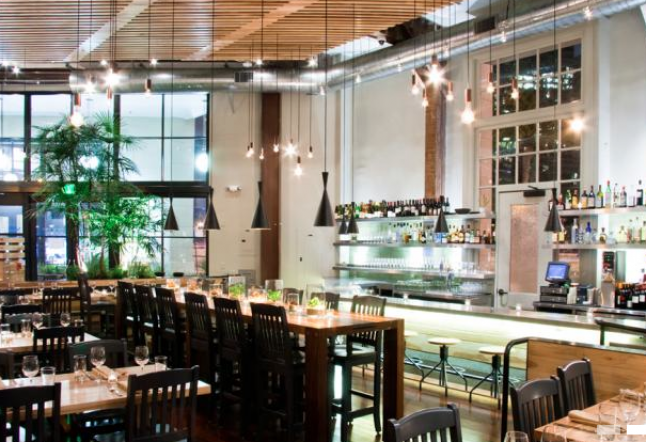 The Plant Organic Café has started a trend here in San Francisco. Their concept is "Fresh. Organic. Local" and they take it very seriously. The café is known for being one of the "greenest" restaurants in the city. The Plantâ's mission is to promote the well being of people and the planet by providing healthy choices and sustainable practices.
The Plant has now has six locations throughout San Francisco, including a location in the San Francisco International Airport. The restaurant menu offers California cuisine with an Asian influence. They serve fresh, local, and 100% organic ingredients fast!
The Plant's convenient downtown location is just a short walk from the Embarcadero BART station and a few blocks from the Ferry Building. If you go there at noon on a Friday, the Plant is bustling and busy. People are lined up on their lunch breaks to take advantage of the café's half price grab and go items such as salads, desserts and pressed juices. Lines and the service are both very fast. It is a loud ambiance, but people working there don't seem to notice, as the atmosphere is very young and vibrant.
If you are searching for that perfect burger that must be fresh, flavorful and not too dry, you will particularly enjoy their house made veggie burger. It is made of lentils, mushrooms, beets, cashews, and bulgur wheat and served on fresh made local ACME sourdough, accompanied by greens and a crunchy pickle.
You are a creature of habit and tend to always order the same thing in restaurants? Try Based to switch things up and order the Dino Kale Salad! The ingredients are dino kale, arugula, red quinoa, cherry tomatoes, avocado, carrots, cucumbers, toasted almonds, and a lemon cumin vinaigrette, and it is delicious! The dressing is light and flavorful and the almonds are a nice, crunchy touch.
Fresh juices to drink, fresh smoothies for dessert, (try the The Blue Green consists of bananas, blueberries, almond milk, coconut milk, and spirulina..yummy!) are also amongst the sweet delights that this restaurant offers.
The Plant Café's structures are also designed and built by green materials, creating a lower carbon footprint. In fact, the first two Plants won the Metropolis IIDA smart environmental design awards US wide for their use of reclaimed wood, recycled tile, solar power, and an array of sustainable materials and design choices. We are happy to support the Plant and their healthy practices. Let's hope their concept and success is everlasting here in San Francisco.
The downtown location serves breakfast Monday-Friday 7:30am-10: 30am, and lunch from 10:30am-3:00pm. Hours of operation fluctuate a bit according to location. The Pier 3 location has later hours and takes reservations, while the SFO location opens as early as 5:00am. Check out our other review on The Plant Organic Café in the Marina here.
Read next >> weird fish