the little green café CLOSED
Published: 27-05-2011 - Last Edited: 15-11-2022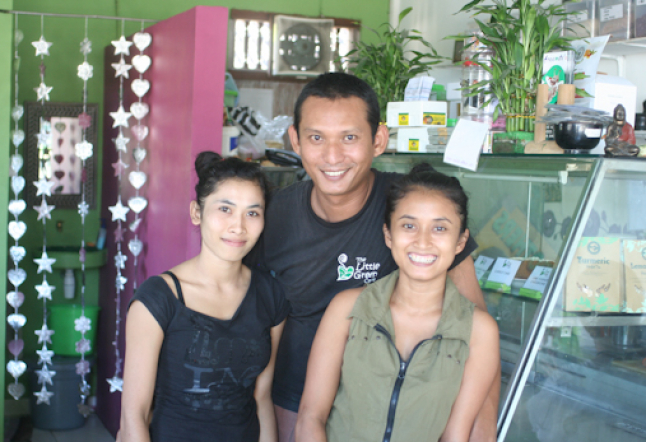 Permanently Closed!
If you are one of those people who will drive and seek places to eat healthy, regardless of where they are located, then you will appreciate the Little Green Cafe, situated in the middle of Kerobokan's traffic on the buzzing street of Mertanadi and a short drive away from glamorous Seminyak.
With all white and…. yes (of course) bright green décor, this café is simply decorated with just about 6 tables made out of local wood, and a mini kitchen that makes the place look like a community café where you would expect to meet the same familiar faces again and again.
Also Read>>> Zali Lebanese Restaurant in Bali
With unique menu items that fit the healthy eater's quest for nutritional ingredients, the owner Joki Mihovilcevic from Croatia, and her small team of friendly staff, prepare up to five different choices of salads, one choice of soup and various freshly baked cookies and cakes on a daily basis, using only healthy ingredients, with at least always one cake being fully vegan. Regardless of the small menu, the "no egg, no dairy, no animal product" policy for most of the dishes, has attracted the local expats and tourists alike to come to the Little Green Cafe, known as a vegetarian/vegan heaven!
Also Read >> Where to buy Yoga Mats in Bali
Also Read >> Where to Buy Yoga Pants in Bali
Also Read >> How much is a Yoga Class in Bali
The service is quick and easy. You pick and choose your salads from inside a glass counter top box just like in a traditional "warung" (small Balinese restaurant), and in this case, with a European twist, it's much cleaner! By the time you sit down and start reading the community messages board on the wall, the soup and fresh bread that goes with your salad is on its way.
Go for a mid-afternoon mouth watering chocolate cake or try a guilt-free veggie burger with a good friend, and let the wholesome and organic ingredients work their magic in your body!
This restaurant is best suited for true lovers of the healthy way of life!
CLOSED
For more info on Bali's best spots for the modern yogi STAY | SPA | PLAY | EAT | SHOP | YOGA – Find our free Bali YOGA Guide here.
Read next >> sugarcane juice paradise | CLOSED