the golden temple
Published: 04-04-2015 - Last Edited: 12-08-2021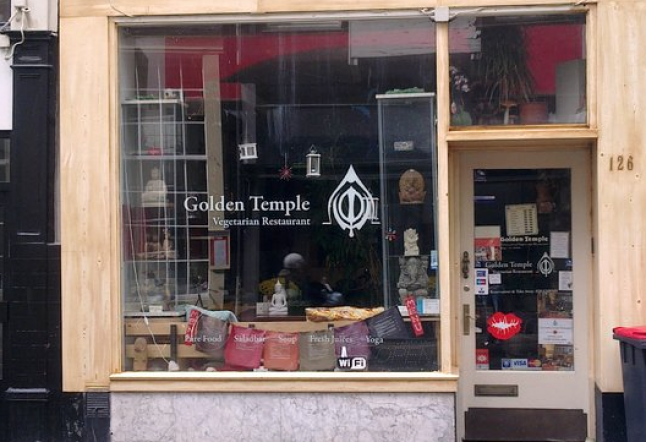 Golden Temple is one of Amsterdam's strictly vegetarian restaurants and is named after the famous Sikh temple in Amritsar in the North of India. Enjoying the typical Indian dishes in the intimate, informal atmosphere, you kind of feel like you're in a far away land! Upstairs is an ideal place to sit with larger groups. Unlike sitting on a long table and only being able to talk to your "˜neighbours' you can sit on the floor and are actually able to interact with everyone. The owners are a yoga-teachers couple and most of the friendly staff is international.
Besides delicious typical vegetarian Indian cuisine, Golden Temple also serves a variety of international vegetarian dishes such as a rustic Tuscan spelt risotto. For those who are a fan of the Mexican kitchen, try the corn tortillas with spicy black beans, sweet potato, lemon, spinach, guacamole, coriander and salad. Although they describe themselves as a vegetarian restaurant, eating vegan, gluten free or raw is also possible at Golden Temple. Try one of the homemade raw cakes for dessert and combine it with a soy-based chai tea latte for the perfect touch! Golden Temple has a daily changing dish of the day, which can also be served as vegan or gluten free.
Having difficulties in finding a healthy, vegetarian, vegan and/or raw caterer? Look no more! Golden Temple also has a catering service for events, weddings and other festivities. Serve your guests the traditional flavours of India, including dahl, saag paneer, bhand gobhi, a coconut curry and homemade chapatti and naan.
Besides serving healthy vegetarian food Golden Temple also offers a variety of workshops in the field of kirtan and yoga. Check out their Facebook page to stay tuned and updated on upcoming events! Located in one of Amsterdam's famous shopping streets full of unique boutiques it's definitely worth a visit!