Table Café
Published: 04-08-2011 - Last Edited: 09-11-2022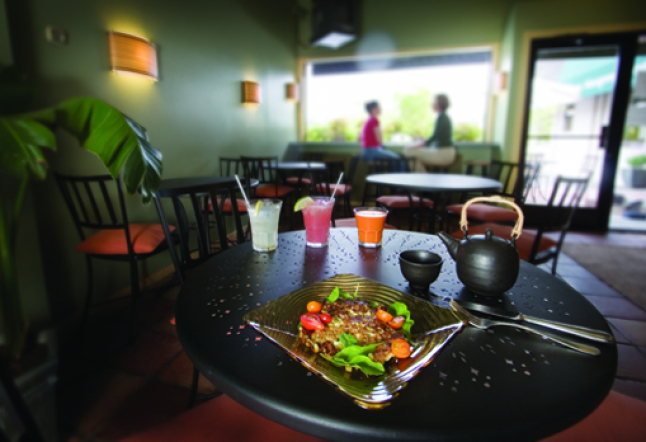 Accessible and unique is the little establishment known as Table Café, nestled among the trees of Larkspur in Marin County. The name refers to the Indian percussion instrument, but can also be interpreted as having something to do with dining and tables. This familiar exoticism keeps in loose theme with the café's menu options, which spotlight the dosai (plural for dosa), an Indian sort of wrap that falls somewhere between a crepe, a burrito, and Ethiopian sour flatbread. The dosai are reminiscent of dishes we know, but also foreign enough to literally spice up the normal, daily lunch routine. Inside Table's dosai are various entrees that are less about traditional Indian spices and flavors and more about California fresh meat and veggies.
Table's California cuisine includes all fresh, local produce that is mostly hand-picked at the weekly farmer's market by owner Suzanne McGoldrick. Because of this, and depending on what organically and sustainably grown produce is available, the menu changes seasonally. Through providing such quality, Table aims to educate as well as nourish. Suzanne works hard and is "always around" in her own words. The personal touch she lends to her semi-new (just over a year old) business gives it a special kind of quality. From observing café interactions, it becomes clear that she knows her customers on a first name basis, as well as their gossip.
The café seems busiest at lunchtime with a loyal clientele. Though not particularly cheap for lunch, at $9-10 a plate, diners receive only the freshest food. The salads are served in very generous portions and would make for an entire meal on their own. The avocado and grapefruit salad was especially delicious on top of being beautiful, with earthy colors similar to the restaurant itself. The smooth cottage cheese side covered in sweet and flavorful chili jam was a particular high point and took the edge off the otherwise acidic citrus flavor. Though the ginger-lime dressing was hard to detect, the bittersweet juiciness of the grapefruit over lettuce was outstanding on its own.
Of the dosai, the grilled portabello and oyster mushrooms with leeks and teleme cheese was very savory. The teleme was key in holding together the other flavors and textures in this dosa while the leeks were tender and sweet. The lamb meatball dosa was also nice, but not nearly as cohesive. The sweet pickled onions were an interesting addition to the spicy meatballs, as were the shredded cabbage and tahini sauce, but the flavors were less unified. The dosai are served with several choices of condiments: avocado-orange salsa, cucumber raita, or peach chutney. Each sauce was fabulous and played an important role in guiding the direction of the dosas' flavor.
The best part of the meal–and I know I say this too often because I have a sweet tooth, but trust me–was the dessert. The herbal "Tea of Light" was gentle and refreshing with hints of lemon verbana that were subtle enough to let chamomile also break through. I tried both the fresh raspberry sorbet and the mint chocolate ice cream. To be explicit, in both cases I felt like I was out in the garden, sucking directly on the plants themselves. Apparently, these desserts are made in batches of only about a quart and a half at a time so that they are superbly fresh. The mint ice cream made me wonder what in the world they must put in packaged brands because I found myself thinking, "this is what real mint tastes like."
Read next >> Alive