studio rasa – CLOSED
Published: 08-08-2011 - Last Edited: 09-11-2022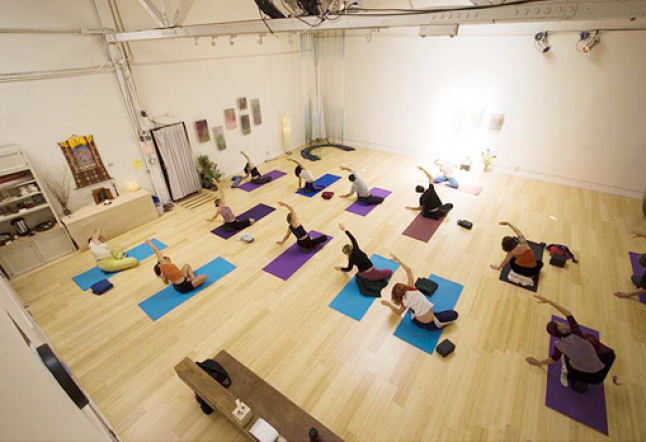 With attractions ranging from kirtans (devotional chanting) to movie screenings, and with classes that include aikido and improvisational dance, Studio Rasa is much more than a yoga studio. However, without much of a storefront to lure in passersby, this resource might be a secret to even the nearest neighbors. Studio Rasa is located in the heart of a building in West Berkeley that is filled with artists of all sorts. Perhaps inspired by the community, Marissa La Magna, owner and founder of the studio, has created a space that doubles as an art gallery and exercises immense flexibility in the type of events that it hosts.
There are various, exciting events that are coming up in the next few months at the studio. These events include a performance by Jai Uttal in early November as well as a benefit hosted by the East Bay Yoga Collective for Hurricane Katrina with music and food on October 22, before the weekly Friday night Transdance. Perhaps the most interesting and unique offering is Studio Rasa's weekly, all-embracing talk on spirituality and religion that is known as the Global Wisdom Circle. The Circle calls on leaders and practitioners of all spiritual paths to come share their knowledge with curious fellow-seekers.
Ms. La Magna is an initiator. She began her yoga practice over 30 years ago in Vermont while working at a bakery. She was one of the first people in her region to practice yoga. She learned in her spare time (during the bakery's slow hours) with the popular and original TV yogi, Lilias Folan. Decades and several careers later, she found herself in the Bay Area, being called to open a studio since a business-owner friend of hers asked Marissa to teach yoga to her employees.
Though it seems that they have little effect on operations now, Marissa has faced her share of challenges this year. The studio suffered a staggering blow when the fire extinguisher system sprung a leak and flooded the building. As if this flood were not enough, she also was affected by Hurricane Katrina's wrath since much of her family is in the South. However, as God blessed Noah after the floods, this seems also to be the case of Studio Rasa, where the resulting need to replace the floors with beautiful light bamboo has delivered a gleaming brilliance to the sky-lit space.
The class that I attended was taught in a circular formation and it was clear that the crowd was full of regulars. The instructor, Jessica Ezra, made sure she knew everyone's name before beginning and in a helpful, but not stifling way, she made rounds with her eyes and commented on each of our poses.
This space has served as sanctuary, not just to practitioners of yoga and art aficionados, but also to various others who stumble into the studio by a stroke of luck. With pride, Marissa tells a touching story of one such elderly man who walked in from the street while no classes were in session to take a rest. Marissa invited him to have a cup of tea and sit on the bench inside the practice room. When he'd rested and was ready to be on his way, he thanked her. "This is the most peaceful I have felt since I went to church," he said. It is no wonder that this space would be conducive to spiritual metaphors as the Sanskrit "rasa" translates to "pure essence."
Read next >> The Yoga Summit | February 2-22, 2017