speaking or not speaking a language?
Published: 28-02-2017 - Last Edited: 24-10-2022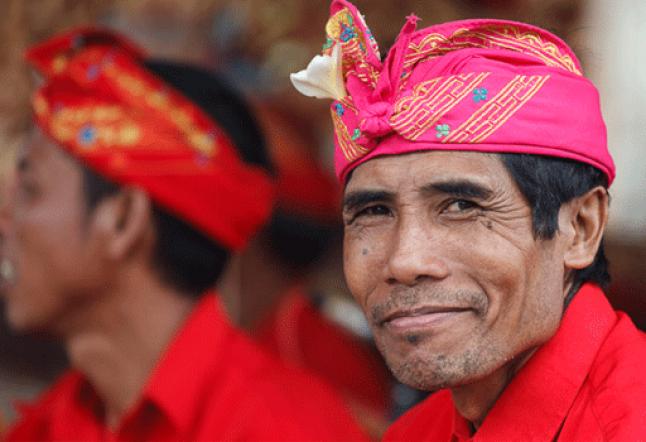 "The choice to live in a country while not speaking the language is an interesting one. Maybe more lazy than interesting, really."
I moved to Bali over six years ago with my then four-year-old son. I thought it would be a matter of months before I was speaking Bahasa Indonesia like a local. Six years later I no longer speak English properly, nor do I speak Bahasa. At all. Perhaps a few building construction words, but those have limited applications. My son, whom I also thought would be instantly fluent, took years to gain enough confidence to roll his r's and be petulant in a second language.
I have learned more Sanskrit than Bahasa in the last six years. Go figure. I can talk building materials with Balinese, and bandhas with Western yogis but, I can't order a meal or pronounce the President's name. Om Shanti.
When most of us say Bahasa we are referring to the Indonesian language. Bahasa literally means language and is used in conjunction with other words – Bahasa Balinese, Bahasa Malay, Bahasa English. You might know this if you've been in Bali for more than a few weeks, but it took me three years to figure this one out.
Indonesia has 23 million native Bahasa Indonesia speakers and 140 million people who speak it as a second language. Regional languages are spoken in most parts of Indonesia: there are over 300 native languages used across the archipelago. Indonesian as a first language is mainly spoken in Jakarta and other large cities such as Medan and Balikpapan. It is estimated that over 200 million people use the language with varying degrees of proficiency. Bahasa Indonesia has been the unifying language since 1945 in a country that spans a wide geographical area and is culturally diverse. Media, government bodies, schools, and workplaces operate in Bahasa Indonesia. It's the talk to talk if you want to get anything done on a national level.
The choice to live in a country while not speaking the language is an interesting one. Maybe more lazy than interesting, really. My verbal communication is restricted to pleasantries, with the odd reference to cement and crossbeams. I have not actually had a real conversation with any Balinese person who is not proficient in English. The only locals I speak with are locals who are already living and working in the tamu (tourist) industry. Even these exchanges are limited in depth and substance. I can't ask the women I see every day in my village anything about their lives. I do what most of us do when we can't talk: I smile, nod and walk away feeling frustrated. I feel that the chasm between our cultures is too big to cross. But it's not. Nor is the dictionary too big to crack.
I've been told if I were to get 800 words under my belt I could pretty much read a newspaper and chat with a farmer. Bahasa Indonesia is also considered to be the easiest language in the world to learn as it has no gender or tenses. That doesn't help me though. I just don't get it.
I feel enabled in my ignorance as the Balinese are fabulous at smiling back and making me feel like my ineptitudes are somehow their fault. Most grin and shake a hand and say "no inggris" like it is somehow their fault that we can't have a good gossip in the local banjar. I graciously forgive these farmers for their lack of English and retreat to my house.
Not being able to use spoken language to communicate means I rely on other means of getting my point across. When we communicate emotions without language, the emotions tend to become exaggerated. Think about it. If we are happy or grateful, we find ourselves bowing and prostrating to a shop assistant. If we are angry or feel ripped off, we frown and use body language to get the point across that the other person's behavior has not gone unnoticed just because we don't speak the same language. It's almost like being two years old again. Some over-the-top combo of handclapping enthusiasm and footstomping tantrums. The results are mixed and rarely satisfying.
What does not learning the language communicate to the locals?
My friend Gede says it's ok. He understands that it's difficult for us to learn Bahasa and it's nice for him to practice his English. And his German. And his Japanese. He likes to practice his French too. Uh huh. I asked him how he speaks all these languages. He said "Oh, because I have a friend from Germany…. And many Japanese come here, so I try to learn with them little bit…. And then I become good friends with many Japanese…".
I asked a longtime expat about my lack of language skills. She said "Dude. Isn't it just frustrating? I mean, seriously." Yes, it is. When I ask myself why I don't speak the language I don't have any clear insight or understanding as to what the block is.
Seven-year cycles… I think my cycle of ignorance needs to come to an end. Learning the language this year will give me a whole new access to Bali. I'll probably move to New Zealand though. My timing may be off…
For more info on Bali's best spots, including STAY | SPA | PLAY | EAT | SHOP | YOGA – Download THE ULTIMATE BALI GUIDE 2018 for free here: http://bit.ly/BALIGUIDE2018
Read next >> a balinese style of eating