sol yoga pants
Published: 04-10-2015 - Last Edited: 09-11-2022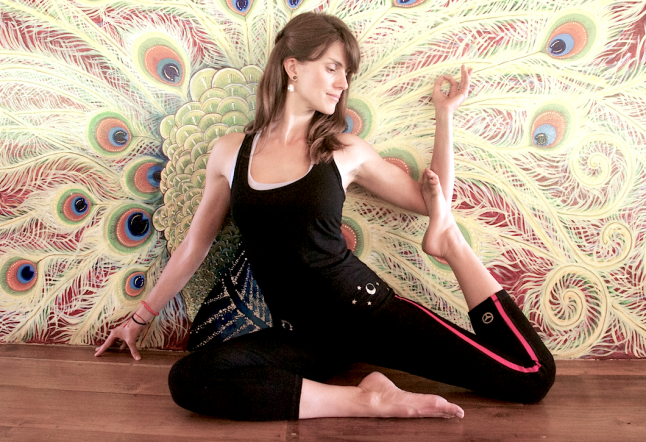 SOL yoga pants are designed by American born Sierra Foster from Colorado, and entirely produced in Bali. This Yoga teacher has been practicing yoga for years her own grandmother. She was also teaching kids in a primary school for a while where she learned great pedagogy tools. This experience lead her to combine her knowledge of yoga, communication and children into a unique DesigToAlign concept.
The line is made out of organic bamboo fabric, the pants have an utility colored stripes that helps to visually highlight your body alignement. In front of a mirror, it makes it easy for you to auto-correct your position during your daily yoga practice. In a classroom, it allows the teacher or any other yogi to check on your pose and provide you advice.
Also Read>>> Carbon footprint of your yoga pants
The Moon and Sun golden printings on the hips are here to remind you to square your hips so it prevent you from self-harming. It can also help for those who get mixing left and right side – some yoga poses can be confusing.
Bamboo does give those clothes the softness, stretchiness, breathability and durability you are looking for your yoga outfit. The large foldable belt area does not leave you with any marks on the stomach.
You can also complete your outfit with a croc top or a simple black top from SOL as well. If you feel like matching your outfit and your little beloved ones, SOL also has some yoga pants for kids.
Those products are sold online via Etsy.com online shop and soon on amazon.com
You can also shop in Ubud, Bali at the three Bali Yoga shop:
#1 – Hannoman Street
#2- Dewi Sita Street
#3- Yoga Barn, display near the information counter at the deck studio.
For more info on Bali's best spots, including

| STAY | SPA | PLAY | EAT | SHOP | YOGA |
Download THE ULTIMATE BALI GUIDE
BALIGUIDE
Read next >> motion firm oil – natural homemade cosmetics