simplylife bakery café
Published: 14-03-2016 - Last Edited: 16-11-2022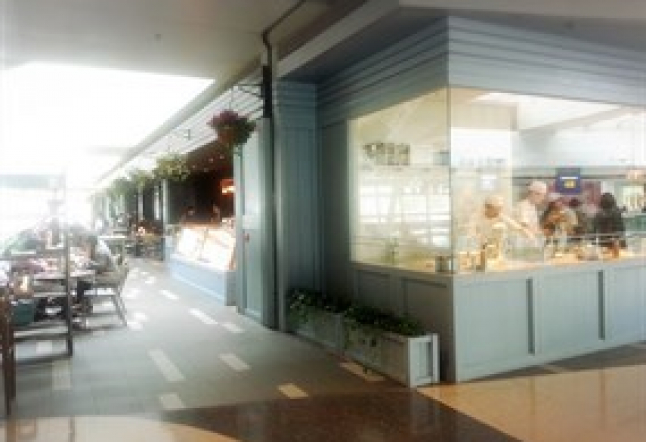 At a mall such as Festival Walk in Kowloon Tong, the word finesse comes to mind with clothing stores like Juicy Couture or Vivienne Tam. However, there's one store that gives contours to finesse — Simplylife, a stylish bakery cafe near the mall's food court that sells homemade pastries and offers an a la carte as well as counterfood.

Its most sought-after pastries are all on display as the chefs prepare dough and all kinds of ingredients to be made into stunning and scrumptious pastries.

Simplylife has a European-style interior introducing the casual and quality living of the Europeans to an Asian audience. Their signature desserts such as "Banana Tart" and "Hazelnut Danish" surely pack a punch.

Equally so, is their impeccable customer service, which begins at their store entrance. The diverse group of staff that dots the place in white and brown checkerboard uniforms will take you to your seat. Your dining experience is heightened when the skating rink below provides spontaneous entertainment free-of-charge with veterans figure-skating and novices making their debut inside the rink. 

A famous vegetarian dish in the cafe is Organic Brown Rice with Pumpkin and Chestnut, it is a creamy risotto that passes with a flying grade. Another popular pasta dish would be Handmade Tagliatelle with Mixed Mushrooms and Truffle Cream Sauce, the dish is well-seasoned and the shredded cheese is a perfect match of the truffle sauce!

With live shows and quality food Simplylife is one to keep on your list!

 
6 Locations throughout Hong Kong:

222, Uny Cityplaza, Cityplaza, Tai Koo Shing Rd, Quarry Bay. t: +852 2967 8163
13 Cleveland St, East Point t: +852 2576 3808
廊Lab Concept 1樓B05-06號鋪 t: +852 2529 6602
Olympian City, 1 Hoi Wang Rd t: +852 2750 1875
LANDMARK, 中環德輔道中12-16號置地廣場B1地庫B32號舖 t: +852 2978 3929
Read next >> khana khazana indian vegetarian restaurant & bar