simplylife bakery café
Published: 14-03-2016 - Last Edited: 03-09-2023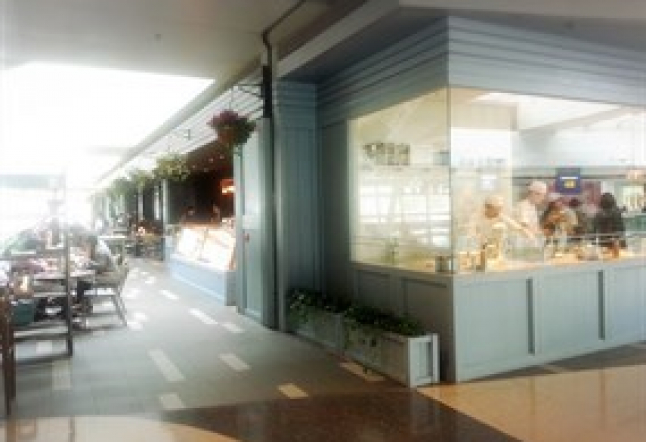 Simplylife is a culinary crown that has successfully reimagined what it means to eat in a shopping mall. It is located in the bustling environment of Kowloon Tong's Festival Walk, famous for housing classic fashion icons such as Juicy Couture and Vivienne Tam.

This bakery café, located away from the sparkle and glamour of high-end shops, draws customers with an attraction that is difficult to resist. It's not just a restaurant; it's a gastronomic adventure that aims to take customers to another dimension with its food.
A European Paradise in the Heart of Asian Energy
Simplylife envelops you in a warm and welcoming gentle hug of European sophistication the moment you step inside. The painstakingly crafted interiors, which are reminiscent of quaint Parisian cafes or rural diners in Tuscany, urge customers to take a break from the frenetic activity of Hong Kong.

Large panoramic windows serve as a see-through curtain, drawing attention to the busy kitchen at the center of the café. They shape, develop, and give life to various pastries as they are entirely absorbed in their work.
A Harmony of the Senses in Both Flavor and Appearance
Simplylife makes every effort to ensure that each product and service is a masterwork by utilizing every available resource. Their "Banana Tart" is a story of sweetness balanced with subtle acidity, and their "Hazelnut Danish" is a dance of textures, with its flaky crust and creamy middle.

Both are available on their menu. However, Simplylife does not only rest on its pastries' laurels as a source of pride. They fearlessly explore uncharted gastronomic lands, where they experiment with new techniques and hone their skills.
Their savory offerings hold their own next to their equally delicious sweet alternatives. The Organic Brown Rice with Pumpkin and Chestnut is more than just a dish; it's a story told via its flavors, textures, and scents, with each component harmonizing with the others but maintaining its identity.

Similarly, their Handmade Tagliatelle with Mixed Mushrooms and Truffle Cream Sauce celebrates European flavors. Each strand of pasta soaks up the creamy, earthy deliciousness of the truffle sauce, ensuring that every bite is an experience to remember.
Providing Service with Heart and Spectacle as a Side Dish
The Simplylife experience takes a holistic approach. It is not only about having access to food but also about having a sense of value. Every member of the crew, who can be easily recognized by their one-of-a-kind checkerboard uniforms, contributes significantly to the creation of an experience that will be unforgettable for the customers.

They direct, provide suggestions, and ensure that every second spent within the café's limits is appreciated.
In addition, as if the atmosphere and the staff weren't captivating enough, the café features a one-of-a-kind spectacle in the form of the nearby skating rink.

It transforms into a stage where seasoned skaters demonstrate their prowess and beginners begin their skating journeys, which adds a lovely visual treat to the experience of dining there.
A Captivating Concluded Statement
Simplylife is not just another place to grab a bite to eat; it is located in the heart of Festival Walk's commercial splendor. It is an oasis, a haven, where the artistic preparation of food meets the most welcoming hospitality.

It illustrates how passion, devotion, and the never-ending quest for excellence can lead to success. Customers are taken on an adventure with each visit, learning new stories conveyed through the cuisine, the atmosphere, and the service they receive.

Life should be on your list of places to visit when you find yourself amid the hustle and bustle of Kowloon Tong's streets. It's not merely a dinner; it comes with a tale that will stay with you forever.
6 Locations throughout Hong Kong:

222, Uny Cityplaza, Cityplaza, Tai Koo Shing Rd, Quarry Bay. t: +852 2967 8163
13 Cleveland St, East Point t: +852 2576 3808
廊Lab Concept 1樓B05-06號鋪 t: +852 2529 6602
Olympian City, 1 Hoi Wang Rd t: +852 2750 1875
LANDMARK, 中環德輔道中12-16號置地廣場B1地庫B32號舖 t: +852 2978 3929
Read next >> khana khazana indian vegetarian restaurant & bar