shanti hot yoga studio
Published: 26-06-2019 - Last Edited: 11-10-2022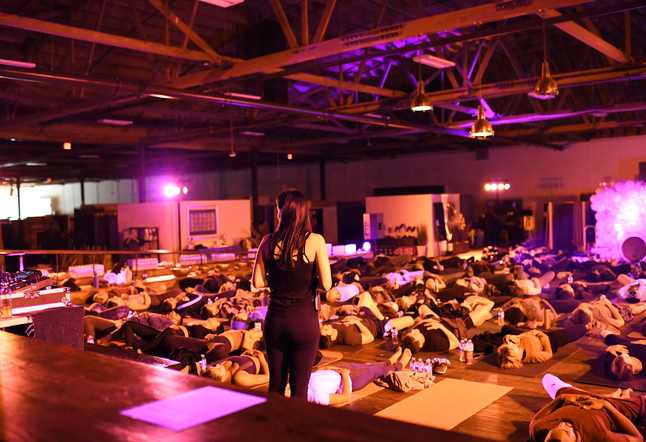 The task of the yogi and yogini is to transform and reimagine what yoga and fitness can be. With purposeful classes designed to heal, recharge, and exhilarate the body and mind. LA's new premier heated wellness studio, Shanti, opened its flagship doors in Culver City on July 1, 2019, delivering a luxury wellness oasis in union with the ancient practice.
Shanti is the brainchild of Star Rader, ERYT 1000+, who has taught in LA for over six years after leaving an illustrious accounting career at one of the major firms in America. Her clientele ranges from athletes to beginner yogis. Star's unique practice and entrepreneurial spirit turned her passion into a reality.
Echoing the Ayurvedic five elements of nature, the studio is designed by LA-based French Interior Designer Belle Vie Interiors. Specializing in hot yoga classes (102-104 degrees), the studio will also offer warm (90 degrees) and unheated classes with a variety of styles reimagined for modern alignment, integrity, and safety: power/vinyasa flow, yin yoga, restorative, barre, sculpt, 26&New, wrist-friendly fusion, breathwork, meditation, sound baths, guest workshops, live musical accompaniment and more. Also, Shanti will be adding additional monthly community events with flow classes, sound bath, and curated vegan dinners.
Featuring a state-of-the-art, safe heating system developed by a leading Doctor of Mechanical and Electrical Engineering, the studio provides constant fresh air circulation, disinfects with UV lights, and optimizes the atmosphere with unique humidification.
The studio features a welcome live plant-waterfall, healing room for acupuncture, and chiropractic care, spa-like locker rooms with rainfall showers, and retail space with Shanti branded swag and beloved brands such as Beyond Yoga, Spiritual Gangster, Alo Yoga, and Onzie.
The studio holds classes in two rooms, 365 days a year, from 5:30 am – 9 pm, for beginner, intermediate, and advanced yogis. Each yoga instructors have a minimum of 500 hours of yoga teacher training, with many having 1000 hours and over 10+ years of experience.
Shanti has several individual membership options: 7 Days of Yoga for $7, Monthly Unlimited, for unlimited classes per month for $99, Shanti Unlimited, which includes a Mat and Towel Service for $119, and Monthly Four membership for four classes per month for $89. Drop-in classes will be available for $28. Jade Yoga Mats and yoga towels are available for rent or purchase.
The studio is located on the corner of Washington Blvd and Wesley Street in the Access Culver City development with two-hour garage parking with validation.

Read next >> workplace yoga, what makes teaching different?