sensorium
Published: 20-02-2019 - Last Edited: 12-08-2021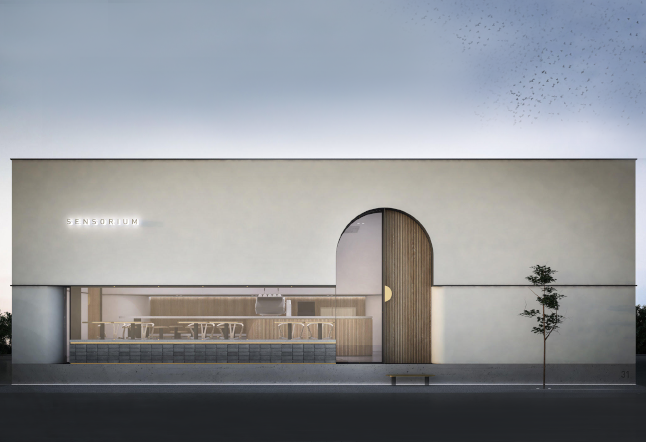 A sense-awakening dining experience has emerged in Canggu at the Sensorium restaurant, with a fresh union of Australian and Asian cuisine. Much thought and attention have gone into invigorating all your senses with its original and unique menu.
The restaurant's interior boasts a beautiful zen space, with clean lines using stone and wood. During your dining experience, hear the sounds from the open kitchen, admire the handmade Indonesian pottery placed before you, and last but not least, indulge in the well thought out plate of delicious tastes.
Chef William is a culinary artist – embracing his inner child in the kitchen to bring a play of tantalizing senses to your plate. His creations emphasize the changing seasons of the island of Bali, an island of inspiration that is also close to his heart. He takes moments from his childhood that also resonates in each and every one of us, into the dishes he prepares. For instance, the beloved childhood ice-cream sandwich becomes an adult delight. It's a sophisticated dessert playing with hot and cold, sweet and salty. The multisensory thrill is expressed in the detail of each dish, with layers of various textures and seasonings, bringing together unique flavors. Nothing is more satisfying than being surprised by a dish with a crunch here, a drizzle of something there – it's a plate of exploration.
The high-end culinary techniques and eloquent presentation come from the owner's experiences working in the world of the Australian fine dining. All ingredients are of the highest quality and well thought out, making it a perfect masterpiece from your first bite to your last crumb. As well as Australian cuisine, Sensorium keeps to a true Asian style, with ingredients such as edamame, seaweed, mushrooms, noodles and local fruits which add to the zesty deserts and a lovely selection of aromatic teas.
This restaurant gravitates around the owner's personal life and desire for the ultimate customer experience. At Sensorium you will find a truly unique culinary experience and amongst Bali's creative and fresh food scene, it is high on the list. Go on an entertaining journey and order a number of dishes, sampling the different flavors and textures. It will delight your senses.



For more info on Bali's best spots for the modern yogi STAY | SPA | PLAY | EAT | SHOP | YOGA – Download our ULTIMATE BALI GUIDE for free.