sea circus restaurant and bar
Published: 14-12-2016 - Last Edited: 19-08-2021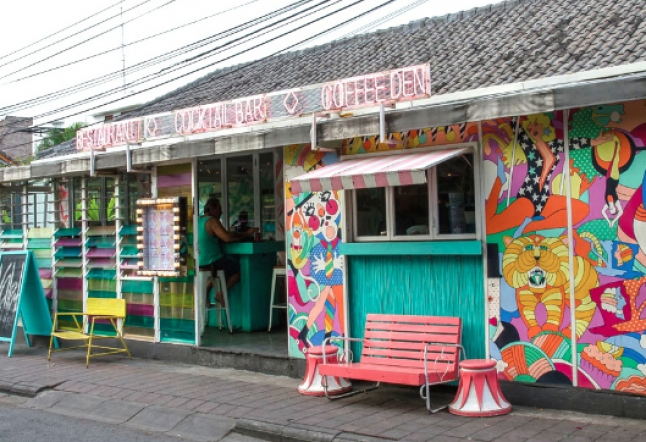 For someone who has longed to go to the circus, you might be in for a treat. Parrots greeting you at the door, elephants serving your food and perhaps a monkey handing you a towel as you exit the restroom. Let's be real, we all come to a tropical place to experience what no one else has. As you stroll down Jalan Kayu Aya in Seminyak, watch out for big bold and bright colours of blues, pinks, and yellows that shout "epic moments happen here." When you arrive at the door a beautiful Balinese girl awaits as she welcomes you inside. OK, so there are no animals hanging from the ceilings, but, the energy is high.
Bali is an island where creativity permeates every corner. Owners, Josh Herdman & Charlie Hunton, advertising notables in their own right definitely nailed it when it comes to whimsy, fun, and creative decor. Sea Circus is no exception. From the servers' dresses to the infamous table designs that provided the incredible Instagram backdrops for their flatlays, you will be pleasantly impressed. The audience is well entertained as you view girls getting up to take a snapshot of their next Insta-sensational photo, (guilty!).
Looking at the menu you're confronted with many choices where you could select various items to suit your fancy for that day. If you're craving to indulge in some carnival fare and some hot churros with chocolate dipping sauce, you could. However, if you're more inclined to honour your vegetarian, uber healthy and conscious lifestyle, you're free to do so. Instead, the lentil salad, carrot juice, and Ayurveda tea were the perfect combination for that afternoon. All ingredients are well balanced, and when it comes to you with a smile it's even better.
While the noise level can be high, the food was delicious and did compensate for it. It is the circus after all! If you're in town, head over to the the place by the sea where you can find a "[ridiculously long and awesomely pink] neon sign that says, we are a 'restaurant". You won't get a performance but whatever you do get will surely excite your taste buds.
For more info on Bali's best spots for the modern yogi STAY | SPA | PLAY | EAT | SHOP | YOGA – Download our ULTIMATE BALI GUIDE for free.