sarinbuana eco lodge
Published: 10-11-2016 - Last Edited: 24-10-2022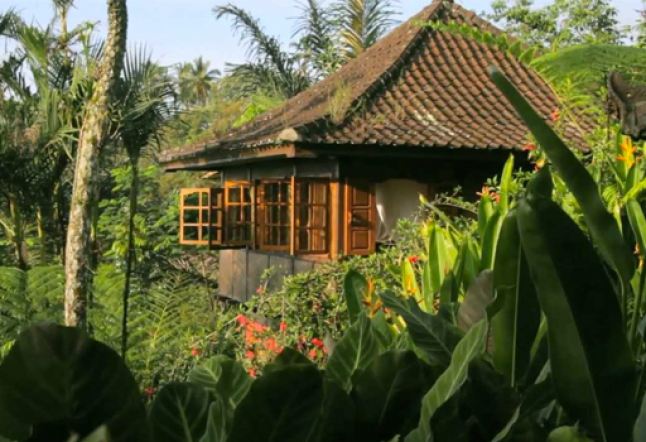 Are you looking for a place to slow down and live in the moment with nature?
We have found a tranquil paradise on the slopes of Bali's Batukaru mountain where you can do just that! Here you can breathe fresh forest air, enjoy tropical delights, and tap into its magical restorative powers. Even after two nights we felt re-energized for the rest of the year!
In 1991 the owners Linda (New Zealand) and Norm (Australia) nestled their eco-lodge near the rainforest. Aside from a tree house for their family, they also built five guest bungalows, which all have privacy, but differ in size and price.
Together with the local people, they have created a permaculture hideaway, which includes a vegetable garden and food forest, where they organically grow coffee, cacao, coconut, and vanilla. Almost everything around this area is edible and you can really see the bio-indicators of a healthy ecological system – including a diverse variety of trees, flowers, and butterflies.
This richness of nature is a beautiful reminder to give back – and this is exactly what the owners want to do with this eco-lodge. They want to inspire people from all over the world to be the change they want to see in the world by working together with nature and local people by growing and eating local organic products. Sarinbuana has also directly improved the lives of 25 local families by providing them with a monthly wage. You really feel the happiness of the lovely, smiling staff working here; like our trekking guide who started as the nanny and now can speak English fluently.
From our bed in the Orchid Bungalow, we had a breathtaking view of the sunrise every morning and were naturally woken up by the sounds of the jungle – chirping birds, the breeze through the trees, and the chanting sounds from the nearby temple.
The Yoga Bale is also just a few steps away. Made from local giant bamboo, this is a lovely place to do your own practice or join in a class in the jungle tree tops. In the Massage Bale, you can enjoy a lovely Balinese massage while the Relax Bale is perfect for meditation. Here you have a spectacular view of the coast of Kuta beach with Uluwatu in the distance.
Take a short walk and you can dive into the incredible waterhole. Although it can be cold, it will leave you feeling refreshed in this paradise. Take the striking hike through the rainforest with the local guide who will tell you everything she has learned about preserving this enchanting area.
And, let us not forget to mention the Sarinbuana Eco Lodge Restaurant. They serve outstanding food, with many raw, vegan, vegetarian and gluten-free options. Try the 'Forever Young Salad' and the 'Vegetable Wrap'. All of the spices, herbs, and fruits & vegetables are picked fresh from the organic garden and prepared with love. Every evening they have a changing menu, which includes Australian wine and delicious homemade ice cream. Our favorite flavors were chocolate, coconut, and passion fruit. We also indulged in the chocolate mousse made out of raw local organic cocoa beans and has no eggs or dairy, yum!
While the look of the lodge is not modern or trendy and the location is very remote (accessed by a bumpy road), it will feel all part of the adventure. If you prefer, they offer a driver service that will come pick you up upon request.
Thank you, Linda, Norm and the staff for creating and maintaining this lovely eco-paradise and for sharing your interesting knowledge about sustainability and eco-tourism!
For more info on Bali's best spots for the modern yogi STAY | SPA | PLAY | EAT | SHOP | YOGA – Download our ULTIMATE BALI GUIDE for free.
Read next >> the purist villas